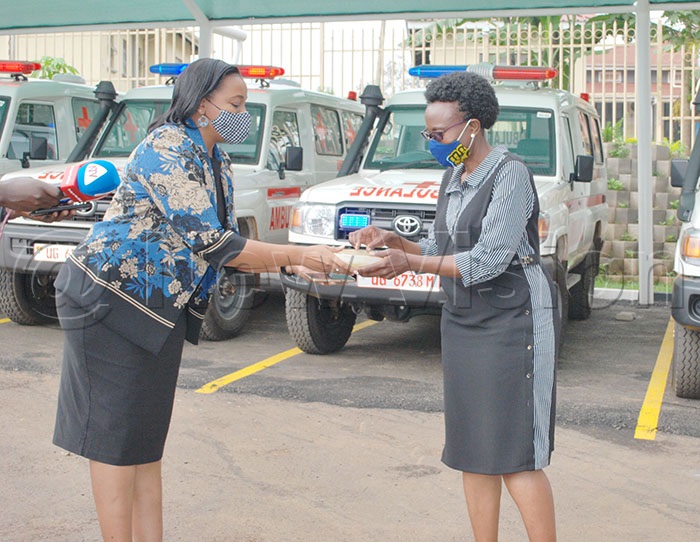 Govt receives five ambulances to fight COVID-19
The donated ambulances are equipped with patient diagnostic, immobilization and life support equipment.
COVID-19|HEALTH|AMBULANCES|DONATION
KAMPALA - Government is providing ambulances at regional level which will evacuate COVID 19 patients, as well as the other patients, the health minister Dr. Jane Ruth Acheng said, Thursday.
"The ambulances will not be attached to health facilities for them to own. They will be deployed per region and we will have call centers at the regional referral hospitals which have isolation facilities. They will be available to anybody in the community or along the road by calling," Acheng said.

She added that the rollout will be phased.

Prior, Acheng confirmed that training for paramedical staff to handle emergencies is ongoing in Masaka and Jinja regional referral hospitals, adding that trainees will ensure that such patients get the care they need urgently.

Dr. Acheng made the remarks during a handover ceremony of five ambulances at the Ministry of Health.

The ambulances were donated by SICPA to boost the health ministry COVID-19 response, classified as type B, or basic life support ambulances.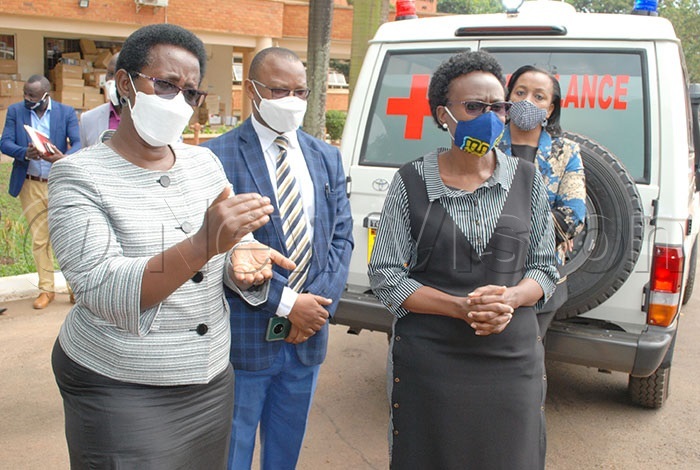 The donated ambulances are equipped with patient diagnostic, immobilization and life support equipment, and were bought at a cost of $300,000 (about sh1b).

SICPA is a technology provider to the Government of Uganda and was recently contracted to implement the Digital Tax Systems, intended to improve tax collection needed to fund the government response to the pandemic

Permanent secretary Dr. Diana Atwiine said the donation comes at a time when the health ministry has set out to strengthen emergency medical services that have been a challenge in the country.

According to Atwiine, the ambulances will be based in Teso, Bugishu, Karamoja, Acholi, Lango, West Nile, Bunyoro, Upper central, Busoga, Ankole, and the Metropolitan region.

Each region will be allocated about 30 ambulances since they serve a minimum of eight districts whereas Island regions will receive water boats.

Uganda has about 235 ambulances, 178 of which are basic and can be used to evacuate stable patients.

However, the ministry is drifting to type B ambulances which are a little more sophisticated and fitted with basic life support.

Atwiine said the ambulances have been managed by health center IVs and hospitals but they have been facing challenges because they do not have a dedicated budget line to track and maintain them or ascertain how much fuel they consume.

"We want to have well-coordinated emergency medical services," Atwine said.

She said the tracking system will sort corrupt drivers who demand money for fuel from patients.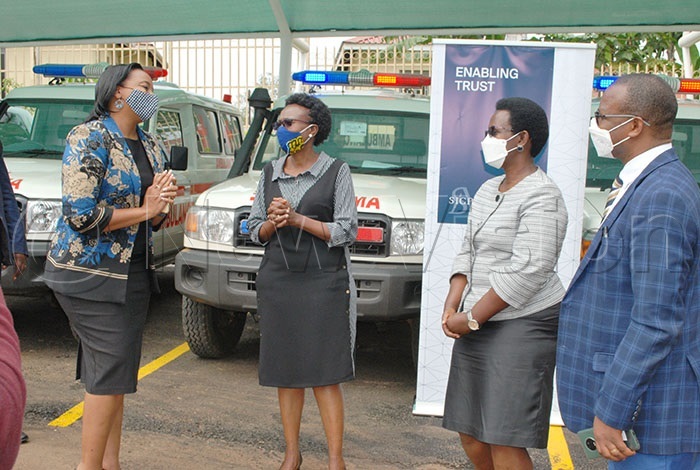 "They will be easier to manage once we install a tracking system because then, we are able to know how much fuel each car has used," Atwine said.

Mrs. Suzan Kitariko, the General Manager, SICPA Uganda, said, "It gives us a lot of pleasure to be part of the struggle to fill gaps as the health ministry fights the pandemic."

Dr. Aceng said Uganda is in phase four of COVID 19 pandemic, where communities are escalating, and there is a high need for ambulances to pick cases and bring them to the isolation facilities.

She said as home-based care starts, there is even more need to pick moderate-to-severe cases as quickly to isolation centers.

"That is why this generous donation will go a long way to support the emergency medical services team that has been facing these challenges," she said