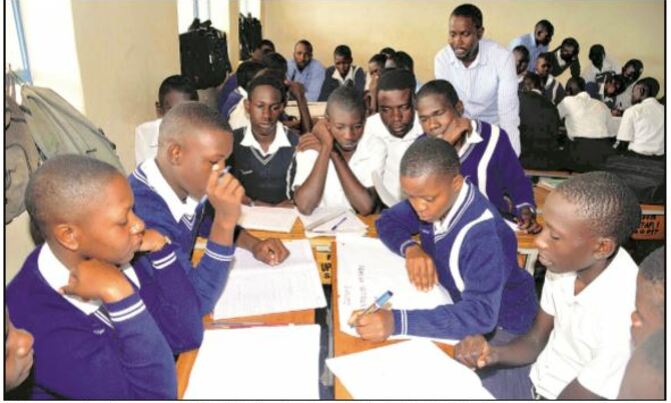 Female teachers make classes safer and more inviting for girls.
In response to staffing gaps and a steady increase in school enrolment of pupils and students, the Government has embarked on a teacher recruitment drive.

In 2017, the Government recruited an additional 3,461 secondary school teachers pushing their number from 61,505 in 2013 to 64,966. The net effect was in the improved student to teacher ratio.

Last year, the education ministry recruited an additional 22,000 primary school teachers after the finance ministry lifted a ban on teacher recruitment. Earlier this year, the Education Service Commission received directives from the education ministry to recruit more than 3,600 secondary school teachers, before June.

While presenting the education sector's accomplishments in the past four years, in May, First Lady, Mrs Janet Museveni and Minister of Education and Sports said an additional 8,300 secondary school teachers were recruited for the financial years 2018/19 and 2019/20.

The presentation was part of the National Resistance Movement Manifesto Week. According to the education ministry's annual sector performance report covering the period July 1 2018-June 30, 2019, a total of 2,454 new secondary school teaching staff were recruited and deployed.

PHASED RECRUITMENT

The report shows that 1,297 teachers were promoted from Grade Five to graduates. A total of 702 teachers were recruited on replacement basis against a target of 3,610 government teaching jobs advertised in secondary schools.

In the financial year 2019/20, the Government also planned for a phased recruitment of 22,000 primary school teachers. The recruitment will be on replacement basis. With more teachers, the ministry will have more than enough teachers who can be evenly distributed across the country, though history has repeatedly shown that Uganda has had a poor teacher distribution policy.




POOR DEPLOYMENT

Education experts have pointed out that poor teacher deployment practices have resulted in poor learning outcomes in many disadvantaged areas of the country and have also brought forth further costs to the Government.

"The equitable deployment of qualified and experienced teachers will be pivotal to improving learning outcomes in the country. In the past, the allocation of teachers to schools has not seemed to follow a clear pattern. There are still many underprivileged or hard to reach areas of the country, which are not catered for in terms of qualified teacher," Reuben Wanasolo, an education consultant and researcher, says.

"With the distribution of teachers, the ministry will, however, have to tread softly. The trend we see now is that most qualified and experienced teachers prefer to work in urban centres and high-income areas. That leaves learners in the rural areas at a disadvantage. The hope is that the ministry will not, as it tries to fill the shortage gap, sacrifice standards and undermine progress by recruiting people with little to no training," he adds.

CALL FOR INCREASE OF TEACHERS

Education experts agree that to achieve Sustainable Development Goal 4c (SDG 4 2030), which specifically calls on countries to significantly increase their teacher recruitment and training, Uganda, like other countries in sub-Saharan Africa, will have to do better.

The United Nations Educational, Scientific and Cultural Organisation recently pointed out in one of its reports that the proportion of trained teachers is falling in sub-Saharan Africa. The agency says the region will need 17 million teachers to achieve universal primary and secondary education by 2030.

Uganda, unlike her neighbours, is projected to close the secondary teacher gap after 2030. Rwanda is projected to close the gap by 2024.

Uganda is ostensibly expected to close the gap after 2030 because of increasing demand for education from a growing school age population and also due to high attrition rates that are out-pacing recruitment rates for teachers.

10 MILLION TEACHERS NEEDED

At the secondary level, subSaharan Africa must recruit 7.1 million teachers for new teaching positions and 3.7 million to replace those who have left.

At the primary level, about 6.3 million primary teachers will be neededUganda's performance against SDG4 indicators on the issue of primary teachers who have thus far received the minimum organised teacher training (e.g., pedagogical training, pre-service or in-service) indicates that 78,921 primary teachers of all genders have been trained. That is, at least according to the (July 1 2018-June 30, 2019) education ministry's annual sector performance report. At lower secondary, 3,581 teachers have received the minimum organised teacher training.




FEMALE TEACHERS NEEDED

Despite the successes registered, the ministry still has a lot of leeway to make up on the issue of recruitment of female teachers.

"Female teachers still remain underrepresented in secondary school teaching positions. They make up a paltry percentage of the teachers' workforce. That does not bode well for girls' education because female teachers not only encourage retention, they also serve as role models and send powerful messages to young girls," Lydia Nakaweesi, an education consultant with the East African Partnership for education in Kampala, says.

"Female teachers can also make classrooms feel much safer and more inviting places for girls and, in the process, encourage them to continue with their education," she adds.

"In the rural areas where girls drop out the most, the ministry ought to provide adequate and safe housing for female teachers, because it is a concern, which has come to the fore repeatedly in recent years," Nakaweesi says.

Recent surveys have also indicated that large proportions of female teachers at the primary level are associated with high gross enrolment ratios at secondary school level.

RECRUITMENT POLICY VITAL

In addition to articulating an effective teacher distribution policy, Nakaweesi contends that the ministry should also strengthen its teacher recruitment policy.

"Teacher recruitment policies are the first step towards developing a qualified and competent teaching workforce. Establishing baseline entry requirements for teaching candidates can help legitimise the profession and attract higherquality candidates."