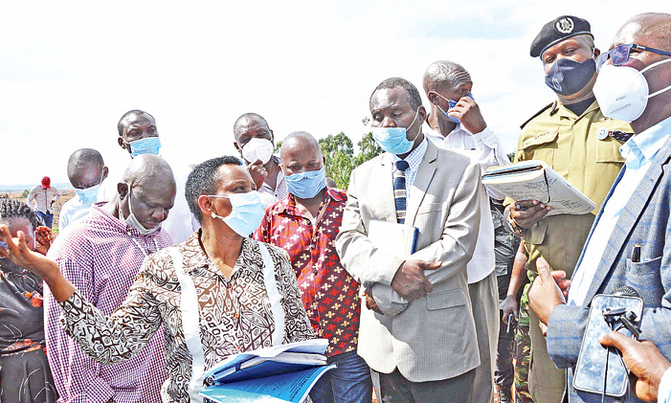 Over 200 people are said to have invaded the land last week and had started to distribute plots to themselves. 
Kisankobe Central Forest Reserve in Mukono district is on the verge of complete destruction after thousands of people descended on it and shared out plots for farming and settlement.

The land in question measuring 500ha covers Nantabulilirwa parish and Seeta ward in Goma division.

It is alleged that the land was fraudulently sub-divided and titled by groups of people.

On Monday, Lt Col Edith Nakalema, the head of the State House Anti-Corruption Unit, visited the area after President Yoweri Museveni asked her to establish the ownership status.

According to the complaints received by the unit, the National Forestry Authority (NFA) land is also claimed by Buganda Land Board.

"It is a protected forest; what claims has Buganda Land Board got on this land?" she asked after touring the land.

"In August, a group of unknown people started cutting down trees, plantations, and also chased away some tenants who had been on the land, while paying revenue to the Government for a long time," Nakalema told residents and government officials during a meeting in the deforested area on Monday.

She also explained that on September 19, another group of about 60 people led by Lauben Turyamureeba moved onto the land alleging that they were former occupants and had been making bricks on it.

Nakalema added that on September 29, between 800 and 1,000 people were ferried by omnibuses onto the land.

"These people were registered by two men after each person paid sh120,000 for a plot of land measuring 50 by 70ft."

According to the complaint received by the Nakalema-led unit, on September 30, another group occupied the area, raising the number to over 1,500 people. These people were ferried from Kasokoso and Bukasa in Bweyogerere parish, while others were allegedly from various parts of the country, including Soroti, Ngora, Mbale, Mityana and Luwero districts.

Nakalema said this, not only raises issues of encroachment on protected areas, but also, security concerns.

Abubaker Musiho, the Mukono district Police commander, said they have also received several claims of ownership on the forest reserve land. He said the people who own land titles on the deforested land include NFA that gave licences to different people to plant trees, companies that possess titles and individuals who claimed to have owned this land as a gift from the Buganda Kingdom.

Musiho said these individuals alleged that when President Museveni returned the kingdom's property, Kabaka Ronald Mutebi allowed them to stay on the land.

Wilson Ogaro, the commissioner in charge of surveys and mapping at the lands ministry, said there is need to open boundaries to settle matters of overlapping titles and establish who the encroachers are so that their titles are cancelled.

Ogaro emphasised that for the boundary opening, the lands ministry will work with NFA and deploy a team of surveyors who will do the work within a week.

WHAT RESIDENTS SAY
"I saw men cutting down my trees using with handsaws.

Besides making an alarm, I could not do anything to stop them since they had land titles," says Catherine Nansubuga, a resident.

Alex Wasswa, the Gwafu West chairperson, said they have been grappling with several land-related issues since 2017 because many people claim to own plots in the forest reserve.

He said some land grabbers who encroach on the forest land were arrested by the Police but their cases do not proceed to court.

"Whenever people approached me and claimed they had land titles in their names, NFA officials would say they are conmen. However, recently, I got a report from the lands ministry indicating that the land belongs to some individuals," Wasswa said.

Nantabulirwa LC1 chairperson Patrick Mpata told Nakalema that in 2018, land grabbers wanted to forcibly take his land amid the firing of bullets in the air.

Mpata said when NFA officials tried to argue with people who claimed to have had land titles, the claimants went back after three days with a grader and cut down trees.

Nakalema's intervention follows last week's operation in which the Police arrested 76 suspected land grabbers who had camped on a piece of land in Gwafu.

Over 200 people are said to have invaded the land last week and had started to allocate themselves plots.

Aisha Alibhai, the NFA public relations officer, said the land was gazetted in 1932 as a central forest reserve managed by NFA.

Dennis Bugaya, the public relations officer at Buganda Land Board, said the board does not work on personal estate of individuals.

"Even if it is a personal estate of the late Daudi Chwa, as Buganda Land Board, the land in Namanve does not fall under our jurisdiction. Our jurisdiction stops with the official office of the Kabaka of Buganda," Bugaya explained.

He said the contending party, the estate of Sir Daudi Chwa, are in their personal capacity, not in the official capacity of the kingdom, adding that Buganda Land Board is not party of that conflict.