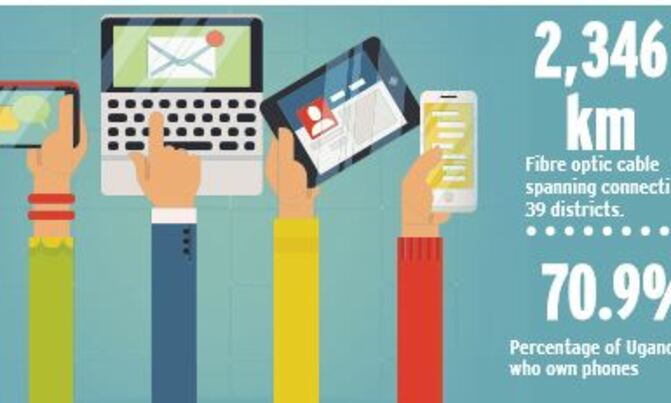 Uganda was one of the first countries in subSaharan Africa to gain full Internet connectivity.
Uganda was one of the first countries in subSaharan Africa to gain full Internet connectivity. The introduction of Uganda Telecom Limited (UTL's) free net service and a special Internet tariff countrywide have increased Internet usage with strong growth of the fixed-line networks and an explosion of cybercafes.

According to Internet World Stats, the national telecom operator and mobile networks operators have revolutionised the telecoms sector. All market segments are experiencing strong growth, while total tele density is still low at less than 9%.

Major initiatives have been launched to bring telecommunication services and the Internet to rural areas of the country, partly funded by the highly successful operators through a universal service fund.

INTERNATIONAL CONNECTIVITY

Uganda depended entirely on satellites for international connectivity until 2009 when several international submarine fibre optic cables landed on the African East coast. The country was then connected via a national fibre backbone extending to its borders, implemented by Uganda Telecom and MTN Uganda.

Since the connections to fibre cables were made, prices for international bandwidth have fallen to a fraction of their former cost, but retail pricing of broadband services is still relatively expensive, considering the purchasing power of most subscribers.

In common with other countries in the region, mobile voice and data services have had a profound effect on Uganda's telecommunications market, given the poor condition of fixed-line infrastructure. This has meant that mobile networks carry most voice traffic and account for the vast majority of Internet connections.

With recent investment in LTE technologies, the reach and capabilities of mobile broadband services have increased substantially. This has led to e-commerce services.

According to Uganda Communication Commission, Uganda is ahead of other African countries in attainment of a countrywide high speed and reliable Internet (4G LTE) connectivity. LTE is an abbreviation for Long Term Evolution. LTE is a 4G wireless communications standard developed by the 3rd Generation Partnership Project (3GPP).




INFRASTRUCTURE DEVELOPMENT

Upgrades in infrastructure have revolutionised the market and enabled the convergence of voice, data and digital media services. Mobile networks now account for the vast majority of Internet connections, Internet World Stats shows.

The introduction of cellular telephony has revolutionised Uganda's telecommunications industry since the first network went live in 1995, with two more following in 1998 and 2001. In 1999, Uganda became the first country in Africa where the number of mobile subscribers exceeded the number of fixed-line users.

The market is consistently growing at around 50% p.a., while market penetration is still low at less than 9%. The introduction of GPRS will enable the mobile operators to play a larger role in Internet service provision.

The Ministry of Information and Communication Technology (ICT) has laid a foundation in terms of infrastructure development, innovation, development of ICT Parks and Business Process Outsourcing.

The ministry's mission is to increase access and usage of ICT infrastructure and services throughout the country, ensure effective communication of government policies and programmes and promotion of a national ideology for socioeconomic transformation. As a result, it has registered a 76% reduction in the cost of Internet bandwidth to $70 per Mbps from $300 per Mbps. \

Government officials in the ICT sector have reasoned that the rationale to investment in infrastructure development such as optic fibre and satellite is meant to make Internet a public good.

"If we cannot have accessible and affordable Internet, we cannot talk about the digital inclusion. We want to use the Internet to reduce the cost of doing business, create new jobs, opportunities and to solve our problems for development," a senior government official said.

Even if the Government had made Internet a public good, there is a small number of Ugandans with smart phones. With the provision of Bulk Internet through the National Data Transmission Backbone Infrastructure (NBI) has seen the reduction of Internet bandwidth cost from $190Mbps per month $70 per Mbps.

Statistics show about 24.8m or 70.9% of Ugandans own mobile phones, according to the National Information Technology Authority Uganda (NITA-U). The UCC 2014 Access and Usage of Communication Services across Uganda study showed 52.3% Ugandans owned mobile phones.

Since 2013/14 financial year, under the strategy for rationalisation of IT services across Government MDAs, NITA-U is currently providing bulk Internet Bandwidth to Government through the National Data Transmission Backbone Infrastructure (NBI).

LEGAL REGIME

According to Kenneth Muhangi, Uganda's representative to the World Economic Forum on Forth Industrial Revolution, Uganda has set committees on ICT and set up innovation hubs for young innovators to leverage.

The Fourth Industrial Revolution is a way of describing the blurring of boundaries between the physical, digital and biological worlds. It's a fusion of advances in artificial intelligence), robotics, the Internet of Things, 3D printing, genetic engineering, quantum computing, and other technologies.

The Fourth Industrial Revolution is paving the way for transformative changes in the way we live and radically disrupting almost every business sector.

FUTURE OF INTERNET

Fibre optic Internet is the future of broadband. Optical fi bre is used by many telecommunications companies to transmit telephone signals, Internet communication and cable television signals. The ministry has laid a 2,346km fibre optic cable connecting 39 districts.

Government and NITA-U in 2012 launched the laying of the fi bre-optic cable network that links Uganda to the submarine cable on the East African coast and provides faster and cheaper Internet access.

The fibre-optic cable is advantageous for long-distance communications, because light propagates through it with little attenuation compared to electrical cables. This allows long distances to be spanned with few repeaters.