Kaducu said the disruptions were caused by the Measles-Rubella campaign and this year's COVID-19 lockdown.
HEALTH IMMUNISATION
KAMPALA - The health ministry has embarked on an immunisation mop-up exercise meant to reach out to children who missed their immunisation schedules due to COVID-19 disruption.

Dr Joyce Moriku Kaducu, the state minister for primary health care said the months of April and October are set aside to raise awareness on integrated child health care.

This is where Government scales up its efforts to minimise preventable morbidity, mortality and disability due to diarrhoea, pneumonia, measles, tetanus, tuberculosis, infections of the throat and chest and cancer of the liver and cervix.

Other diseases include leprosy, poliomyelitis, rubella, vitamin A deficiency as well as lack of energy for childhood development due to blood loss caused by blood-sucking worms in the intestines of children.

"We shall focus on routine immunisation catch-up vaccination, deworming, vitamin A supplementation in addition to family planning services and general health education," Kaducu said during a press briefing at the Uganda Media Centre on Tuesday.

Kaducu said the disruptions experienced in October 2019 due to the Measles-Rubella campaign and this year's COVID-19 lockdown left a total of 1.2million children aged 10 and 11 years who did not get the vaccination against cancer of the cervix.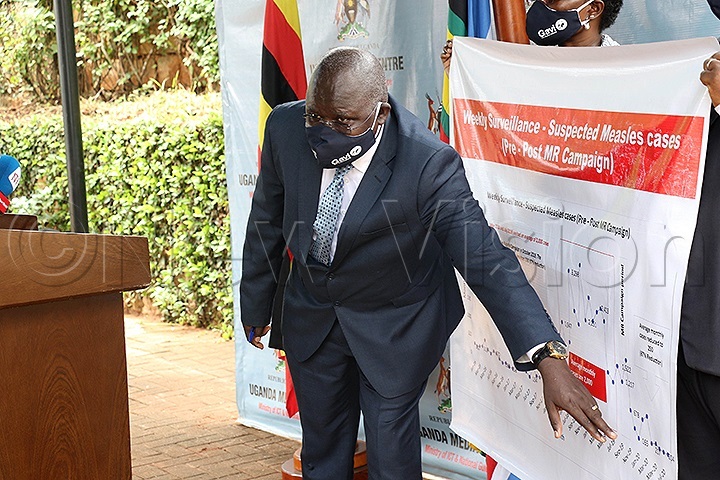 There are also 17.3 million children below 15 years who need deworming to prevent blood loss to worms as well as 7.5 million children below the age of five who need vitamin A supplement against preventable blindness.

According to the health ministry, nearly 500,000 children missed various doses of routine vaccination over time.

Kaducu explained that the accumulation of unimmunised children not only weakens population immunity but is also a risk for outbreaks of vaccine-preventable diseases.

"I, therefore, urge all parents to utilise this opportunity to have their children immunised," she said.

All health facilities are expected to provide immunisation services daily at static points. Both health facilities and sub-county administrations will ensure two immunisation outreach services are carried to every parish in October.

The exercise will also be supported by village health assistants, parish chiefs, village health teams and local council one chairpersons.

Dr Alfred Driwale, the assistant commissioner in charge of vaccines and immunisation at the health ministry said Uganda has not reported any cases of Measles in the last six weeks. He attributed it to the earlier Measles-Rubella campaign that saw several children get immunised.