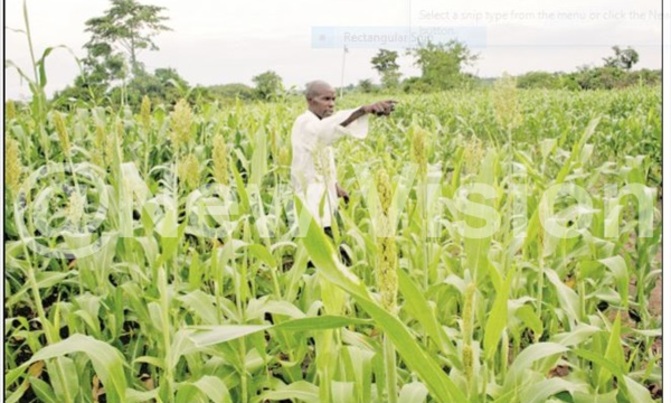 Agriculture is one of the sectors supporting the country's economy, contributing about 32% of GDP and 85% of the total exports.
Agriculture is one of the sectors supporting the country's economy, contributing about 32% of GDP and 85% of the total exports. However the sector has of late been faced with various challenges that are threatening food production, health and the productivity of the sector.

The most felt challenges include declining soil fertility, increased effects of climate change, poor eating habits due to disappearance of food items suh as indigenous vegetables that provide vitamins to the body, pests and diseases and volatile markets for agriculture produce.

For agriculture to remain the driver of Uganda's economy, through its research arm of the National Agriculture Research Organisation (NARO) the agriulture ministry has developed various technologies to help the sector thrive. For example, in the last five years the number of varieties, released into the system for many crops have increased.

The National Crop Resources Research Institute (NaCRRI) which is mandated to produce crop varieties such as cassava, beans, maize, rice, have seen them increase from 32 varieties five years ago to 52 by the end of last year, Dr Anton Bua, the longest serving research scientist at NaCRRI based in Namulonge, Wakiso district, says.

Bua adds that varieties that have been developed address various challenges including malnutrition, market, resistance to pests and diseases, adaptation to climate change, taste, shelf life among the many attributes.




RESEARCHED TECHNOLOGIES

NaCRRI has so far developed nutrional varieties such as zinc and iron rich beans, vitamin A rich sweet potatoes. Also developed maize tolerant to drought, cassava resistant to the cassava brown streak and mosaic diseases, technologies to have disease free plants such as grafting among others.

Iron rich beans to address anaemia among children and women The Uganda Demographic Health survey of between 2011 and 2016 indicated an increase of anaemia among children at 73% in 2006, 50% in 2011, and 53% in 2016. Among women, anaemia prevalence was 49%, 23%, and 32% respectively in 2006, 2011, and 2006.

The survey added that most cases were found in poor household. And the recommendation was to empower households financially so as to access supplements for those suffering from anaemia.

While that was the recommendation, researchers at NARO with support from USAID, Harvest Plus and the International Center for Tropical Agriculture (CIAT) were also busy in the labs to find cheaper sources of iron and zinc to improve the health of more so rural people.

The cheapest was to add iron and zinc into food items such as beans that are consumed by almost all sections of the public. To fight anaemia researchers under the bean programme decided to breed beans with higher contents of iron to be given to farmers to plant so as to have enough supplements.

According to researchers at NARO, anaemia which is an indicator of iron deficiency, affects almost one out for two non pregnant women, and 50% of children under five.

"But once they consume high iron rich beans, iron percentage in the blood also increases, so the beans will complement other strategies in place to fight anaemia," Dr. Stanley Nkalubo, the head of bean programme at NARO, said.

Since then, five varieties of iron and zinc rich beans have been released to farmers across the country. Three of these are bush beans and two are climbing beans to cater for the people in islands such as Elgon, Rwenzori and South Western highland areas.

The beans include NARO Bean 1, 2 and 3 which grow in low land areas while NARO Bean 4c and 5c are climbers grown in high land areas and need support from stakes.




VITAMIN A SWEET POTATOES

Sweet potato is one of the staple foods eaten by all including the young and the aged across the country. It is eaten boiled, roasted, sliced into chips and sometimes eaten raw. However, much as they could be sweet that can be eaten without sauce; they still lack some vitamins that are essential in boosting the immunity of especially children.

According to researchers on root crops from NARO, they realised that buying supplements to increase vitamin A in the body was a bit costly for especially the rural communities. That is why working with partners such as USAID and the International Potato center (CIP) decided to develop Vitamin A potatoes which are currently referred to as orange fleshed sweet potatoes.

The aim is to improve household nutrition and agricultural livelihoods through production and consumption of Vitamin-Arich sweet potatoes. Vitamin A deficiency affects close to 35% of children between 6-59 months and 30% of women aged between 1549 according to the 2011 Uganda Demographic and Health Survey.

Vitamin A deficiency interferes with children's growth, increases vulnerability to disease, and suppresses the immunity making it hard for the body to defend itself from disease causing organisms hence death in some cases.

Information from CIP indicates that 125 grammes of a fresh sweet potato root from orange-fleshed varieties contains enough beta-carotene for the daily vitamin A needs of a child. CIP adds that this particular potato is a cross-bred with local potato varieties. In addition to addressing vitamin A deficiencies, it has fastmaturing yields. To further spread the production and consumption of vitamin a rich potatoes.

DISEASE RESISTANT CASSAVA

Through biotechnology, researchers at NaCRRI under the root crops programme have developed cassava resistant to the two diseases. This after earlier varieties could only resist disease for three years.

The two diseases are mainly spread by the cassava white fly. Once they attack the field, can cause 100% yield loss. However resistant varieties developed under this technology cannot be given to farmers until a regulation for biotechnology crops is in place.

HORTICULTURE

NARO has come up with technologies such as grafting for not only fruit trees such as citrus but also vegetables like tomatoes that are being threatened by the bacterial wilt, also known as kiwotokwa in Luganda Grafting that is currently conducted at NaCRRI involves the cutting of tomato plant in a certain angle and joining the stem with another tomato variety that is resistant to the bacterial wilt, so as to have a plant, resistant to the wilt. Currently this is being carried out with support from the Korea Programme on International Agriculture (KOPIA).

The move according to NARO is to improve the productivity of tomatoes that are widely used in various ways. They are said to be having a lycopene, a substance responsible for killing cancerous cells in the body but also high income value crops for many small holder farmers in the country.




DISEASE RESISTANT CASSAVA VARIETIES

Through biotechnology, researchers at NaCRRI under the root crops programme have developed cassava resistant to the two diseases. This after earlier varieties could only resist disease for three years. The two diseases are mainly spread by the cassava white fl y. Once they attack the fi eld, can cause 100% yield loss. However resistant varieties developed under this technology cannot be given to farmers until a regulation for biotechnology crops is in place.

DROUGHT TOLERANT CROPS

Uganda like other countries in Africa are witnessing various effects of climate change which include frequency and intensity of drought, rising temperatures, unpredictable rain fall patterns and new/emerging pests and diseases. Such changes call for crop technologies that can withstand the changing climate. Of this is the development, varieties that are not only drought tolerant but also resistant to emerging pests and diseases.

Those that have been developed by the NARO through seed companies include drought tolerant maize varieties suxh as Water Efficient Maize for Africa (WEMA) and these are WE1101, WE2106, WE2114, WE2115, WE3106, and WE3109 among others.

OTHER VARIETIES

Other categories of drought tolerant varieties include Longe 10H, Longe 9H, Bazooka, UH5355, UH5051, UH5052, UH5053 and Super maize. Information from NARO indicates that maturity of the above varieties range from 120140 days, making them fit within the length of the cropping seasons. Their potential yields range from between 8-9T/ ha (32 bags each of 100kg from an acre) added Dr Godfrey Asea one of the directors at NARO. Other crops include beans, soybeans, millet, sorghum, green gram, potatoes among others.




SEMI ARID RESOURCES

Under the National Semi Arid Resources Research Institute (NaSARRI), drought tolerant varieties such as groundnuts, sorghum and green gram have been developed and some have already been accessed by farmers.

SORGHUM

For sorghum, it was identified as a crop that can cope with challenges of climate change but also it is the second most important cereal after maize and replacing finger millet for food security.

It has also become a source of income for small holder farmers through cottage and brewing industries using sorghum as the main ingredient. Much as it can withstand harsh weather conditions it is faced with challenges such as invasive weeds like striga, smut, ergot, sorghum midge, shoot fly and stem borer that are threatening the crop existence. That is why new varieties were developed such as (NAROSORG1 which has cream grain such as SESO1 and 100% perfect for making composite flour beer.

The stalk remains green making it a suitable for forage.NAROSORG2 has red grains, blends well with other starchy materials such as cassava for food in addition to having minimal bird damage. NAROSORG3 has chalky white grains and resistant to sorghum midge in addition to giving high forage yield and having minimal bird damage while NAROSORG4 has brown grains such as SESO3 but resistant to covered kernel smut disease and matures relatively early.

GREEN GRAM (CHOROKO)
Green gram also known as mungbean or locally as choroko in several local languages is a popular in eastern and northern parts of the country. Though the crop can be eaten as food crop just like beans, it is mainly grown as a cash crop and its demand is increasing both in locally and in the regionally markets as well as overseas especially in Asia.

Despite the demand, farmers have been growing local varieties whose yields are low (about 300kg per acre) due to lack of better varieties. They also take long to mature, give off small seeds, and easily open up while still in the garden before harvest.

Through the dryland legume research programme based at the National Semi Arid Resources Research Institute (NaSARRI) has released the two new greengram varieties for cultivation in the country. The new varieties (NAROGRAM1 and NAROGRAM2) are early maturing (60-65 days) making them possible to grow in short rainy seasons, are tolerate drought, have large seeds, cook fast, and have higher yields (between 1200-1400kg per acre under good management).

The new varieties are resistant to pod shattering/ pod splitting, easy to harvest/thresh, are tolerant/ resistant to most common diseases such as scab, cercospora leaf spots, powderly mildew, and tan spot.

The improved varieties can be grown both as single crops (mono-cropping) or mixed (intercropped) with other crops such as maize, sorghum since have a straight/erect growth habit.




Irish potato research

The growing demand for processed potato products in Uganda and the East African region has created demand for certain types of potato varieties with specifi c processing qualities.

The increased markets have also led to establishment of potato processing factories in Uganda like Dumpa factories a franchise of Kentucky industries. This has created a demand for unique types of potato varieties that are not available in the Uganda potato seed systems.

The Dutch market was identifi ed as one of the sources of these types of potato varieties that can be used for production of processed products such as French flies. National Agricultural Research Organisation through Kachwekano Zonal Agricultural Research and Development institute with support from International fertiliser Development Centre (IFDC) accessed 21 Dutch potato varieties for testing for yield performance and processing qualities.

The potato varieties were tested at six sites in Uganda including Kachwekano, Kalengyere, Kihihi, Rwebitaba, Zeu, and Buginyanya. The testing was carried over thre seasons and the best performing varieties were presented to the 37th Variety Release Committee and the following varieties were released: Sarpo mira and connect are good for boiling for food, Rwangume (NAROPOT 4) for food and crisps processing, Arizona, Elmundo for French, Sagitta for and mercies were identifi ed for French fry processing. The above are among the many technologies that NARO has been working on in the last fi ve years.