Reform of the extension sector over the last five years has led to increased visibility of extension workers across the country.
AGRUCULTURE|58 YEARS OF INDEPENDENCE|EXTENSION SERVICES
With 30-50% of agro inputs given out to farmers often going to waste, the Government in 2016 reprioritised the role of agricultural extension workers.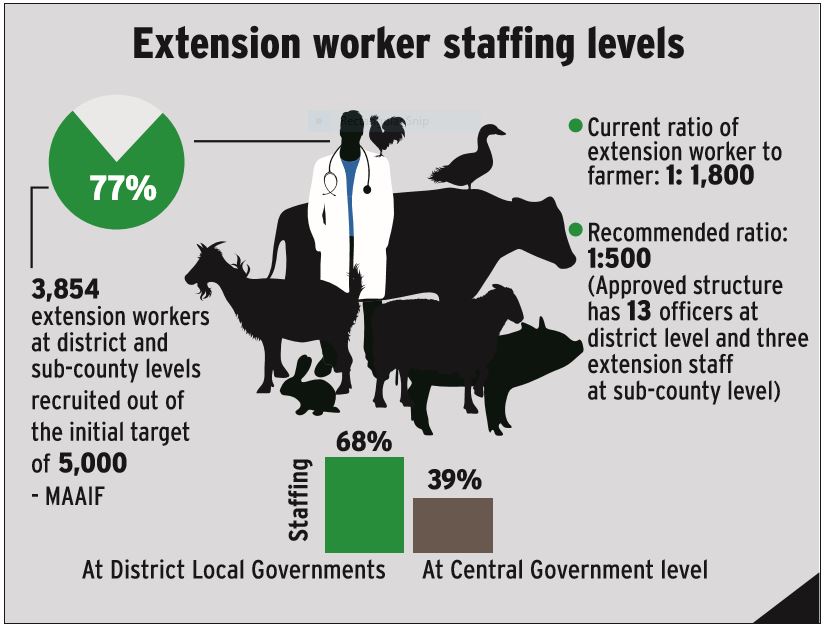 The Ministry of Agriculture Animal Industry and Fisheries (MAAIF) that year observed that farmers were making huge losses due to mistakes in planting and management of crops and, therefore, needed guidance.

Reform of the extension sector over the last five years has led to increased visibility of extension workers across the country.

"For the first time, I have a telephone contact of a government veterinary officer at the sub-county," Maureen Ssembuya, a zerograzer in Wobulenzi town council, Luwero district, says.

"Extension workers are the engine on which agriculture moves. Thier absence means that the vehicle does not move and farmers operate through guess work," Beatrice Luzobe, the chief executive officer, Uganda Forum for Agricultural Advisory Services (UFAAS), says.

Dr John James Okiror, a senior lecturer in the department of extension and innovation studies at Makerere University, in spite of challenges from extreme weather vagaries, locusts and COVID-19, the agriculture sector has largely exhibited resilience and food prices have largely been stable — partly due to improvements in agricultural extension and advisory services coupled with those of Operation Wealth Creation.

"There has been increased visibility of extension workers thanks to the re-alignments in the last few years," he said during the 3rd National Extension Symposium held in July 2020.

However, although recruitment of extension workers in the last four years has improved, there is inadequacy and inconsistency in financing the system.

According to the estimated budget in the implementation plan of th 2016/17 to 2019/20 financial year, the actual approved budget for the agricultural extension function has stagnated at 31%. By the 2019/20 financial year, a budget gap of sh483.4b shall be experienced.

According to the Ministerial Policy Statement for the 2018/19 financial year, MAAIF had recruited 3,854 (77%) extension workers at district and sub-county levels out of the initial target of 5,000 extension workers. As a result, the current ratio of extension worker-tofarmer is 1: 1,800, whereas the recommended is 1:500 (the approved structure is 13 officers at district level and three extension staff at sub-county level).

The 5,000 extension staff were for 116 districts in 2015/16 financial year, but the number of districts has since shot up. This is an addition of 12 districts and 94 sub-counties that has led to inadequate staffing levels both at the district and sub-counties.

Currently, staffing levels at district local governments are at 68% and 39% at central government, of which 8.3% are substantive and the rest in acting positions.




HISTORY OF EXTENSION SERVICES

Dr Patience Rwamigisa, the commissioner agriculture extension and skills management, says extension services in Uganda have been in existence for 122years.

Rwamigisa was speaking at the 3rd National Extension Symposium. She said extension services in Uganda has undergone various transformations since the 1920s.

Between 1920 and 1956, most of the extension services were carried out coercively through chiefs. The chiefs would regularly visit farmers and force them to plant coffee, including caning them. Because of this caning, most of the coffee grown in central Uganda was named 'emwanyi za kibooko' (coffee of canes).

From 1956 to 1963, extension services were largely through progressive farmers. "The emphasis here was on technical advice and support in form of inputs and credit to selected progressive farmers," Rwamigisa said during a recent e-extension symposium.

From 1964 to 1972, extension services moved to the methods phase. Training of extension workers (abalimisa) was in high gear. These were then deployed in sub-counties across the country. However, in 1972 and 1980, there was almost no extension services in the country, largely because of the political turmoil in the country.

REFORMS IN THE 1990s

In 1990, a programme funded by the World Bank to improve extension services in the country was set up. Among the recommendations was that the distinct ministries of agriculture be merged into the Ministry of Agriculture, Animal Industry and Fisheries. One major challenge, however, was that extension services were still centralized.

When decentralisation came into force in 1995, extension services were decentralised alongside other services. The decentralised method gave more emphasis on farmer to farmer extension than before. However, it lacked proper funding and policy, since it was largely run by the old agriculture officers-this time under the districts. The districts were poorly staffed to effectively handle the programme.

ENTER NAADS

Then in 2001, the National Agricultural Advisory Services (NAADS was set up. It subsequently took over extension services. NAADS was projected as the solution to existing agriculture extension challenges. Indeed, during the first years of the programme, extension in many areas of the country rose from around 10% to around 30%.

Demonstration farms were set up and officers were common across villages. Other than the officers at the district and sub-county levels, selected farmers in each parish were supposed to operate as peer trainers using model farms set up under the NAADS programme. But then, a few years into the programme, things started failing.

"There are many issues that affected the system. One of them is a misunderstanding of the role and objectives of the organisation," NAADS executive director Dr Sam Mugasi says.

One of the biggest misunderstandings was that NAADS was supposed to give inputs to every farmer and yet, the initial mandate was only to set up demonstration farms on individual farmers' farms.

"So, those who were not given these demonstration farms started labelling the programme a failure. Then the other problem involved politicians. They wanted to use the system for their personal electoral benefits. When the coordinator failed to meet these political demands, the project was labelled a failure in the area," says a former district NAADS coordinator.

One of the other challenges that faced NAADS was that gradually, the officers who were supposed to offer advisory services turned into procurement officers since they were giving out farm implements. This left the advisory bit empty.

Various reviews of the programme culminated into the re-orientation of the programme in 2013, under which it was reinforced with Uganda People's Defence Forces officers, under the Operation Wealth Creation (OWC) programme. Most of the NAADS secretariat was disbanded and local coordinators suspended.

The Government is now going back to the 'single spine' system, similar to the one that existed before the advent of NAADS. Implementation of this has been gradual and it will only become fully operational after the completion of the ongoing recruitment process, which has been running for the last four years.

Initially, this was to be completed by end of 2020, according to provisions in the National Agricultural Extension Policy 2016-2021.

Okiror observes that because of these reforms, for the first time in over 20 years, agricultural extension officers have gained confidence in their work and being facilitated with motorcycles and other paraphernalia they require.

THE NUMBERS

According to the strategy, the extension services run from the national extension directorate, through the districts up to the subcounty levels. The national level should have a total of 47 staff, who include a director, commissioners, assistant commissioners and support staff. At the moment, 26% of the national directorate is staffed. At district level, it should be 13 staff for each district. At the moment, there are over 120 districts in the country, which brings the total number of staff at over 1,508. These include production and marketing officers, extension co-ordinators, principal veterinary officers, principal crop officers, principal fisheries officers, senior veterinary, crops and fisheries officers, animal production officers, and entomologists, among others. At the moment, 26% of positions at the districts are filled, with another 22% having been project to be added between 2017/18 and 2019.

At the sub-county level, a total of 9,548 staff are targeted. These include veterinary officer, agriculture officer, fisheries officer plus their assistants and an entomologist. Of these, at least 33.4% have already been recruited.

With around 5,000 extension workers already recruited, out of a targeted 11,111 (according to figures in the Extension policy), the ratio of extension workers to farming households is 1:1800. According to Beatrice Byarugaba, the outgoing Director Agriculture Extension (MAAIF). Although this is good growth, this is still far below the internationally recommended 1:500. To bring the figure to the 1:500, around 17,000 workers should be recruited.

Current extension delivery approaches are based on face-to-face contact which is unsustainable in light of the inadequate human and financial resources. This is compounded by the existence of numerous unskilled extension workers that require orientation and skilling. However, MAAIF remains constrained by limited capacity building resources and largely depends on donor projects.




RECRUIT AND EQUIP THEM

In March 2019, a vehicle for each district extension office and over 1,000 motorcycles for sub county extension workers were procured, however this means that there are still over 5,000 extension workers who are yet to get transport. This means that those who are yet to receive vehicles are not operating properly.

"I was recruited to work, so I cannot say I have no transport. Farmers call me and I visit them using my own means," one of the new workers says. He however explains that it is a big challenge. "Fortunately, most of the farmers are willing to contribute something for transport," he adds. Paul Kitooke, a farmer in Kikyusa says that most farmers have no problem giving 'something' to the abalimisa. "As long as they do proper work, we have no problem facilitating them," he says. But then, this is not how it should be, at least under the policy.

Ideally, each district must have a vehicle for the extension staff and motorcycles for each of the three or four extension workers at every sub county to ease their transport. Under the old NAADS system, there was supposedly a vehicle for the district NAADS coordinator and a motorcycle for the sub-county NAADS coordinator.

The vehicles were mainly double cabin pick- ups worthy around sh150m or Honda off road bikes worthy around sh15m each. Government has already bought vehicles for 110 districts, which makes a deficit of about 18. The biggest challenge lies with the sub-county extension workers who have got less than 20% of their transport needs.

E-REGISTRATION WILL IMPROVE ACCESS

In July 2020, an online data base for extension workers was launched by Minister Ssempijja. Organized by the Uganda Forum for Agricultural Advisory Services (UFAAS), the system is intended to not only create a data base for extension workers, but also ease access to extension workers.

"There are many people training and disseminating extension knowledge, but they are not known," says Beatrice Luzobe, the chief executive offi cer of UFAAS-Uganda.

She explained that the process started with government extension workers but will also include private trainers and disseminators. "On completion of the exercise, farmers will be able to access extension workers easily," Luzoobe says.