So far, he has saved sh800,000, which is the equivalent of his monthly salary
The unexpected closure of schools in March after the Coronavirus outbreak and the delay in the lifting of the lockdown made many teachers look at Plan B.
For Abdul Jabar Kwemba, the curriculum deputy teacher of Zai Nursery and Primary School, it is butchery. He is also into fish mongering.
Kwemba, a 29-year-old curriculum deputy teacher at Zai Nursery and Primary School, off Masaka Road. The long lockdown has taken him through a series of business trials until today where he is a butcher.
"The COVID-19 pandemic has caused a seismic tear between many teachers and their normal life. That is why you can now find me, an educator, cutting out meat as a butcher. I prefer to be in an office or a classroom but I also need to survive too," Kwemba said.
Born to peasant farmers, as the 5th child out of 16, Hajji Jawadu Kabwama and Hamina Kabwama of Mutukula in Kyotera district, Kwemba started teaching seven years back at Ramah Primary School in Nsangi before joining Zai Primary school. The school paid them up to the end of March when schools were closed. Without income, it was becoming difficult to maintain his two wives and four children.
"I have now settled into a routine butcher," he said. "It has enabled me to show my children that any public job is acceptable for as long as there is income and ethics. We don't know for how long schools will remain closed and we can't control our surroundings. The only thing we can control is our reactions. We need to embrace the changes and give it our best and stay positive."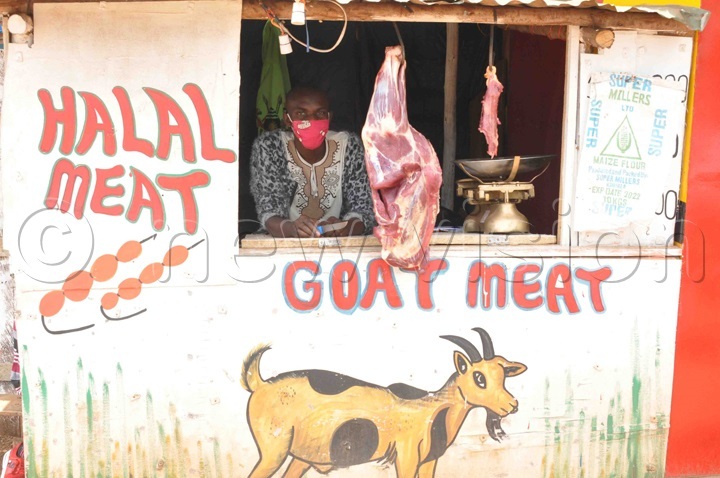 Kwemba first tried fish mongering. He got a bicycle to transport fish to Busega, a three hour's journey. He then shifted into the fish business, buying fish from transporters for sale to Busega Market vendors. His initial investment was sh100,000.
"I used to wake up at 4 am and be at Busega by 5 am. I would buy a kilo at sh7,000 and sell at sh9,500 getting a profit of sh2,500. But there was a big competition with over ten people who had a wider experience. Then I started my own fish business at Katereke, Nsangi," he said.
Kwemba later co-opted a friend, a fellow teacher, and with his contribution, they bought a used motorbike to pick fish from Busega Market. They are still paying the balance on the bodaboda in instalments. Their target, he says, was to start buying fish directly from the landing sites to increase their profit margin.
With a partner now, Kwemba got freer to delve into trading in goats' meat.
"I thought it was less crowded. I would buy goat meat from Kyengera abattoir, a kilo at sh15,500, and sell at sh17,000. At night, I would fry the remaining meat for sale at sh1,000 per stick. I got a kiosk from a parent at a school where I teach, who was impressed by my zeal for business. He charges me sh80,000 per month. I transformed it into a butcher and now buy a whole goat from the abattoir and sell meat from my butcher," he narrated.
He still has challenges from complaining customers who always seem to find fault to whine about the lack of enough capital.
"I also need a freezer to store the remaining meat. My pupils express embarrassment when they find me at the butcher shop. But I make money only that it gets eroded by rent, license, and electricity," he said.
So far, he has saved sh800,000, which is the equivalent of his monthly salary.
After the lockdown, Kwemba plans to go back to teaching and get someone to run the business.