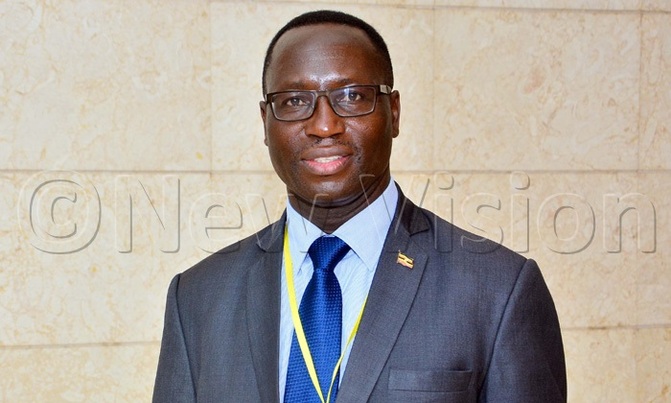 He is coming in the footsteps of his former supervisor, Pius Bigirimana.
SERVICE

Aggrey David Kibenge swears in as the new Permanent Secretary of the Gender, Labour and Social Development ministry on Wednesday.

He is coming into the footsteps of his former supervisor, Pius Bigirimana, who was transferred away from the same ministry late last year.

Who is Kibenge?

Kibenge is a public policy, administration and management graduate with background training and experience in teaching.

He has over 20 years of experience in administration after crossing from teaching to the administrative cadre and has risen from the rank of Senior Assistant Secretary (when he was first appointed in 1999) to Under Secretary (2010).

Kibenge who had a short teaching stint at City High School (1985-88), was an accomplished student/youth leader, and served as Vice Chairman of the Uganda National Students' Association (1989-90).

He played a key role in the formation of the Youth and Women Councils in Uganda; the National Youth Council Secretariat at the Ministry of Gender, Labour and Social Development; and the election of the first Youth representatives to the Parliament of Uganda.

Kibenge says he should have actually been a candidate himself if it were not for the fact that at the time of electing those first Youth Members of Parliament, he was left with a year or so to drop out of the youth bracket on account of the age limit prescribed within the Law.

Rather than falsify his age for temporary gain, and true to his honest character to those who know him, he opted to instead organise and ensure that youth elect their leaders in Parliament.

Kibenge has for the greater part of his public service career served in the education sector (1993-2012) and been involved in the development of policies, strategies and programmes including the Universal Primary Education (UPE) and Universal Post-Primary Primary Education and Training (UPPET), popularly referred to as the Universal Secondary Education (USE) programmes.

As the ministry's Public Relations Officer (1999-2012), he was central in not only development but also marketing of all programmes of the Education Sector.

Following into the footsteps of the indefatigable Pius Bigirimana, once his Supervisor (at Ministry of Education and Office of the Prime Minister), Kibenge takes over as a natural successor, whose work ethic and attention to detail puts him in good stead to succeed at this new assignment.

In addition, he also worked under Christine Guwatudde Kintu at OPM, when she transferred from the Gender Ministry, swapping portfolios with Bigirimana.

The biggest influence, perhaps on Kibenge's Administrative career, was that of seasoned and now retired Administrator, Francis Xavier Lubanga who served at the Education Ministry from 1998 to 2013, during which time Kibenge rose from a Senior Assistant Secretary (1999) to Under Secretary (first in acting capacity in 2009 and substantive in 2010).

Lubanga says, "Owing purely to his versatility and the finesse he exhibited in his work, Kibenge was assigned responsibilities including being Focal Point Officer for a number of education sector priority programmes such as environmental education activities within the Inter-Governmental Authority on Development sub-region."

Kibenge also handled the Deputy HIV and AIDS Sector Coordinator; and, East African Community (EAC) Desk Officer. In his latter role, he served as a member of the EAC High Level Task Force that negotiated the Common Market Protocol.

He gained immense national and international exposure as a result of these and other responsibilities and character.

In February 2012, Kibenge moved to the Ministry of Tourism, Wildlife and Antiquities as the first substantive Under Secretary for this new Ministry, which had just been split from that of Tourism and Industry.

He is remembered, during his brief tenure, for promoting teamwork and setting up systems in this new ministry. In October of the same year, after only 7 months, he was transferred to the Office of the Prime Minister where he served for four full years, before being redeployed, on October 24, 2016, back to the Ministry of Education and Sports.

At the Office of the Prime Minister, and having joined when the dust created by the Kazinda saga was just settling, KIbenge is credited for championing a number of reforms aimed at restoring the image of the Office and confidence of staff. He is remembered at OPM as a great team player, who as Chairperson of the OPM Sports Club worked for greater harmony within staff and promoted social responsibility by the Office.

Kibenge is said to be one of the pioneer students of the Leadership and Change Management programme run by the Uganda Civil Service College (Jinja), where he later served asOPM's representative on the Management Committee that runs this College.

He was identfied to serve as a Facilitator for a number of topics in the programmes run by Civil Service College amongs whose aims is torealise the country's quest for transformation of the public service into an efficient, effective and responsive administrative machinery of Government.

Kibenge has had a stint in development work having supported UNHCR in 1997-78 to implement an IGAD regional environmental conservation programme in the Refugee Settlements of the West Nile Region called the Refugee Environmental Education Project (REEP).

Regional coordination of this programme, on behalf of the Intergovernmental Authority on Development (IGAD), was vested in the UNESCO-PEER Office in Nairobi. Based in Adjumani and working through an Implementing Partner (ACORD).

His interest and experience was to come handy when herecently, chaired the Ministry of Education and Sports' Task Team that developed the Education Response Plan for Refugees and Host Communities in Uganda, with support from the US-based organisation, Education Cannot Wait (ECW). This Plan is the first of its kind in Africa and the world at large, and was launched by the First Lady/Minister of Education and Sports on 15th September 2018.

His new posting to Gender cannot have come at a better time given his profile and for Bigirimana and staff's comfort with regard to the compulsory participation in physical exercise and/or activity, KIbenge is an accomplished leader and sportsman in his own right. He is a retired football referee, once Chairman of the Uganda Football Referees' Association (UFRA), FUFA Delegate, Member of the National Council of Sports (NCS).

He is one of the Founders of Friends of Football, an initiative that pioneered kids/youth football and academies in Uganda. There is, therefore, every reason to expect consolidation of many of the gains of his predecessors as the Ministry of Gender, Labour and Social Development welcomes Kibenge into its ranks.