Monday's was the second fire at the factory in less than two years and the amount of loss was estimated to be worth billions of shillings.
FACTORY FIRE

BUIKWE - An employee of Vitaform Mattress Factory in Njeru division said the fire that gutted the large factory on Monday started from one of the stores and tore through the complex.

This was around 9:15am local time, added Godfrey Kayemba, who also underlined the degree of destruction caused by the fire.

"Fire started from a store as we were doing maintenance and I witnessed over 5,000 mattresses of different sizes and about 400 blocks we made on Saturday burn to ashes. Various equipment also got burnt," he said.

Monday's was the second fire at the factory in less than two years and the amount of loss was estimated to be in billions of shillings - in the form of mattresses and machinery.

Satish Varma, the factory's manager, described the fire incident as saddening. On the positive side, no lives were lost.

"I have to establish the [amount of] loss of property and it will take some time for us to get back on our feet and resume production," he said.

He said the security agencies were swift in responding to their distress call.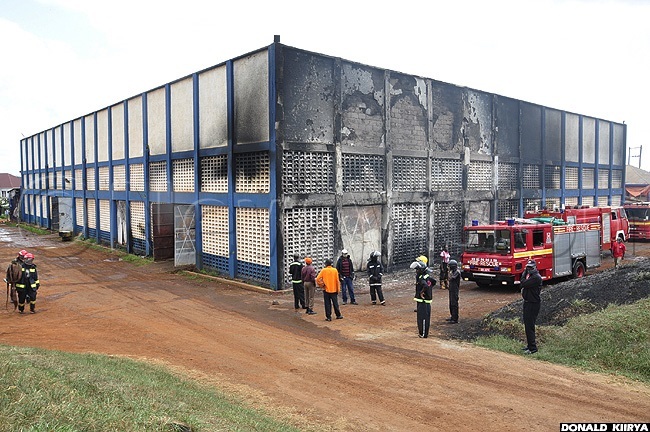 Brig. Peter Omola, the commandant of Uganda Rapid Deployment Capability Centre (URDCC) at Gaddafi barracks, said he received a call from the officer in charge of the fire department at Njeru Police informing him about the fire outbreak at Vitaform.

Omola said military Police had earlier moved in to ensure that the area is secure and property not vandalized.

"Although the cause of the fire is not known, fire brigades from various factories came and supported security agencies like UPDF and Police to suppress the fire in time," said Omola.

Njeru DPCt Hillary Mukiza told New Vision that the cause of the fire is not known and Police have since started investigations into the incident.

He said the scale of destruction has yet to be established.

Mukiza added that they coordinated with other sister security agencies and other fire attendants from various factories like Nytil, Nile Ply an KSL to snuff out the fire. About six fire brigades battled the fierce fire.

Ernest Ssenyondo, the LC1 chairperson of Bukaya East, fears that insecurity will increase in the area due to unemployment since many youth have lost jobs after the factory fire incident.

He requested Police to avail Njeru Police Division its own standby fire brigade for fight-fighting emergencies.