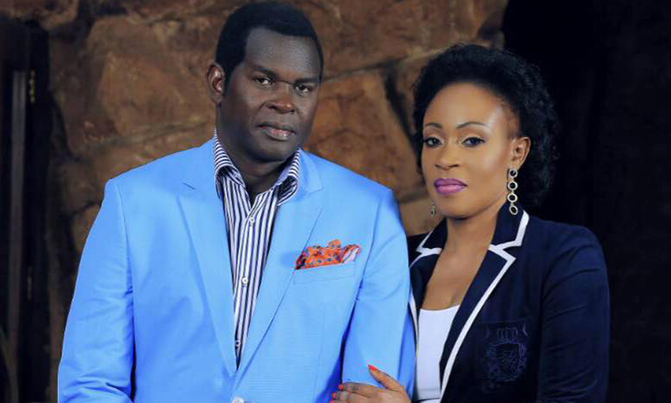 You have been feeding your congregation, how have you managed? Every man of God must have the ability to multiply that which God has given him. Not only for himself but also for the ministry. Feeding the congregation is part of the ministry.
Pastors Robert and Jessica Kayanja of Rubaga Miracle Centre Cathedral have been
inspired by God to conduct a national prayer day which will be broadcast live on Bukedde TV, Urban TV, TV West, Radio West, Bukedde FM, Radio West, Etop FM, Rupiny FM, and the New Vision Facebook page, for two hours starting 11:00 am-1:00 pm.
The prayers have been carried under the theme: 2 Chronicles, 7: 14, "If my people, who are called by my name, will humble themselves and pray and seek my face and turn from their wicked ways, then I will hear from heaven, and I will forgive their sin and will heal their land.
In Hebrew, number four is called dalet and it means: 'you are of'. When we began, it was just 77 days of praying. On the last day, people resoundingly refused to go.
I begged them to go home on the assurance that we would continue with the revival the following day.
The following year, President Yoweri Museveni also attended. We had ambassadors and over 150 nations have been here. We had covered the entire nation by the time COVID-19 struck.
If we had known about coronavirus, we would have used these four years to help people grow more food and save more money to prepare for these hard times. I always preach about biblical economics, but I didn't know that we would have a coronavirus problem that would last long.
How much were you affected by the lockdown? Every ministry has been affected. I remember last September and October, the President toured the country telling people to grow food. Well, while that was his work, I think he was also being driven by a greater vision.
The citrus he talked about is now a prime source of Pastor Robert Kayanja and his wife Jessica celebrating their 25 years in marriage in 2018 Vitamin C that we need to fight coronavirus.
Maybe that is the reason we have not suffered primarily like other nations. What would become of us if we had refused to grow food and kept animals instead?
How would we have been able to run the bucket project if there was no congregation to give offertory? Would we have been relevant in society and for the kingdom of God?
What were the benefits of the 77 DOGs? We have had over 6,000 couples sanctify marriages, 250,000 people gave their lives to Christ and 175,000 got baptised.
People from all walks of life have come to Jesus. For me, victory belongs to Jesus. The 77 DOGs opened my eyes: the majority of our people are saved but are living in the sin of unsanctified marriages because of the cost of weddings.
It is prohibitive and yet, what these people want to do is of God. The sacraments of God are not for sale.
However, somehow, the church started charging people for weddings. That is why we began the mass weddings. We started with nine couples; they grew to 200 and now we are in thousands.
Isn't that wonderful? We got people off drugs, so many young people are on drugs. Actually, drug addiction is a pandemic in this country, but we do not even have facilities to rehabilitate them.
I fear we might lose an entire generation. In my 30 years of ministry, I had never seen people give out beds, cars, houses and land titles to the needy.
The spirit of giving was so alive and you cannot give without caring. We ran rackets of clothes and, to date, we still have a store full of them.
The revival opened our eyes to the plight of people and our ministry is going to be more about helping people overcome their livelihood challenges now that the Government has allowed churches to operate.
Won't that be fronting material benefits before Christian life? In the beginning, one of the first things God did for man was to give him a garden.
Every child of God needs a garden. God wants us to depend on Him for guidance so that we can be independent in such a way that improves our lives.
In the story of the prodigal son, the boy asks for capital to invest, but the father just gives him money without preparing him economically on how to replenish the earth with it.
That is why he squandered it. If we do not prepare young people well, they will lose character and the wrong people will exploit them. Jesus teaches three things; the spirit, the mind, and the body. If the spirit is not right, then the mind will not be right.
If the mind is not right, the body will not be right. Every home must have an economic ability for a startup.
So, before we even ask the Government to help the youth, the families must be innovative enough to support the children on their way to beginning their own lives. In the story of the prodigal son, food is what brought him back.
So, both at the family and national levels, we must deal with the issue of food, just like we do with security. We need to invest in agriculture because that will give security to families and dignity to our people.
Development of the spiritual, mental, and physical capabilities attracts money and possessions because they are just rewards of work. But you cannot build on money and material wealth because they quickly lose value.
In the parable of the prodigal son, Jesus shows that the world can throw money at you but if you aren't mentally, spiritually, and physically developed, you will squander it in a blink of an eye. So personal development is much more than just money.
How then will the revival assembly be relevant in addressing social challenges such as corruption? The problem of corruption is mental, physical, and spiritual. That's why we need to attack it from a spiritual point of view.
If Christians are the majority in a country like Uganda, which ranks amongst the most corrupt, then we do not only blame the government; there is something wrong with the church as well. It is the church to fix this because corruption is spiritual but just manifests itself in a physical form.
I also challenge the Government that every time we gather on national occasions, we should have a preacher speaking against corruption.
You have been feeding your congregation, how have you managed? Every man of God must have the ability to multiply that which God has given him. Not only for himself but also for the ministry. Feeding the congregation is part of the ministry.
I do it to represent Jesus Christ and make the Gospel relevant. In all our revival assemblies, the emphasis was a mass mobilisation of people to pray, that's why we deployed all our resources and, indeed, people turned up.
Even when the congregation is not here, we should care for it. Jesus said in John 12:32: "And I if I be lifted up from the earth, will draw all men unto me." Lifting Christ up is my job.

HOW DID YOU COME UP WITh THE 77DOGS?
It was unprecedented. We were doing crusades across the country. We would also host the district leadership and challenge them on anti-corruption and development.
The last one was a game-changer because it was not on the programme.
We were going to Adjumani, then the Lord directed us to change course and go to Kyankwanzi. When we reached there, there was nothing to use, so we started questioning whether we had heard from God or not.
But we decided to go anyway, fully aware that this was a place for pastoralism and so there would be few people. People showed up in great numbers!
On Sunday, the Spirit of the Lord told me to cancel the district leadership meeting and return to Miracle Centre, so I just recorded the programme and left it to them.
On September 18, the Lord told me we were going to start the 77 Days of Glory. I thought it was just 77 days of prayer and I announced that it would take place every evening. Around that time, I went to the US to see my son during his school break.
While on my flight, all I was dreaming about was dogs. I got scared because spiritually; dreaming about dogs is not a very good thing.
But God played for me Todd Dulaney's Victory Belongs to Jesus. A voice told me that should be the theme song for the 77 Days of Glory.
But that night, the dream came back about the dogs. That's when I realised that the dogs in the dream were an acronym for Days Of Glory. I also had a revelation about the woman in the Bible who came to Jesus for a miracle.
Jesus told her:" I cannot give the children's bread to the dogs." She replied: "But the dog sits underneath the table of the master and that's where they get their bread."
I realized that the 77 Days of Glory was going to be a revival of humility and sitting at the feet of the master's table so that we can be fed the Word of God.
The scripture also talks about Gideon who had reduced his army from 30,000 to 10,000 but God told him to take them down to the water to separate those who drink water like dogs from those who kneel down to drink.
God told him that with the 300 men that lapped like dogs, he would give Gideon victory, so I realised that it is going to be a revival of faith, humility, tenacity and drinking the Holy Spirit.
On September 18, it was only about 300 people and yet our Sunday morning services are always full. God had promised that people would come from all walks of life, but I preached for an entire week with a minimal congregation until the Lord told me to broadcast, which changed everything the following day.