Government recently announced that it had scrapped all non-statutory parking fees levied on taxis and buses and reduced parking fees in gazette areas by 44% for buses and 60% for taxis.
DRIVERS|PAYMENT|TAXES
KAMPALA - Special hire drivers under their umbrella body, Smart Online Drivers Association (S.O.D.A) have been on a sit-down strike for two weeks, over pay and working conditions.

Addressing the press at their head offices, in Kitintale, Kampala, their Chairperson, Kenneth Maroko said they are wallowing in poverty because their business is over taxed yet they get meager earnings.

"It is unfair to make us pay all those charges yet we invest in the business. We use part of the money for servicing our vehicles, data, airtime, insurance and fuel," he lamented.

Maroko said they will call off the strike, which started on September 7, when the app companies revive their fares and better job security.

"We shall not be using online companies that are exploiting drivers. We want them to reduce the commission rate from 25% to 15% due to among others factors, high prices of fuel," he said.

Documents seen by the New Vision, indicate that each driver pays annual street parking fees of sh2.2m, annual road user fee of sh648, 000, annual insurance fee of 74,000 and pay annual rental fee of sh340, 000 to the ministry of works and transport.

However, Government recently announced that it had scrapped all non-statutory parking fees levied on taxis and buses and reduced parking fees in gazette areas by 44% for buses and 60% for taxis.

Maroko revealed that there has been unnecessary deactivation of driver's accounts without consulting them.

"We are partners with the online app companies but policy making or changes in fares are done without involving drivers," he wondered. They mainly complained of Uber, Bolt, Little and Special app companies.

Maroko said there are over 4000 special hire drivers in Kampala and that they are ready to organize themselves so that the government can empower them financially to boost their business.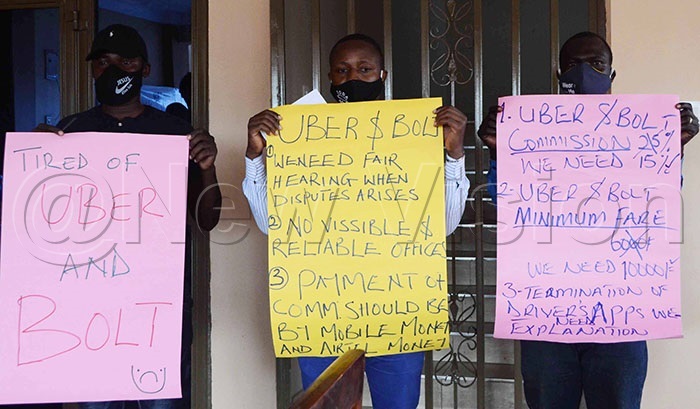 He explained that to register with the app company, drivers are required to submit Interpol letter, passport, National Identity Card and driver's permit, which does not apply to motorcycle riders.

"The app companies should also put in place a measure of registration for the riders so that they do not cheat customers," he requested.

The S.O.D.A head of welfare Nicholas Wanyama revealed that app companies are exploiting them.

"We are being used as slaves by the app owners yet it is the business mostly youth depend on to earn a living in this country," he said.

The S.O.D.A Vice Chairperson, Janat Kateme disclosed that about 150 women have registered for the business.

She, however, says that women find it hard to be engaged in the business because they cannot drive long distances during COVID-19 lockdown.

"Trips are very few and the commission is high. You might only get one trip from morning to evening yet we are many," he said.

Pascal Mbajeste, one of the members of the group said," If you complain of the high fees, they block your app without consulting you."

"The app companies favour customers in case of any complaint. Once a driver complains, the app is deactivated without giving him a fair hearing," he said.

He also complained that they have no issuance policy despite the challenges they go through.

Last month, the drivers petitioned the Speaker of Parliament, Rebecca Kadaga, asking her to link them to the president so that he can scrap the fees as he recently did for the taxi drivers.

The special hire drivers told Kadaga to influence policy makers to make policies and programs, which would empower them economically.

Kadaga promised she would discuss with the president to see how they would also be helped.