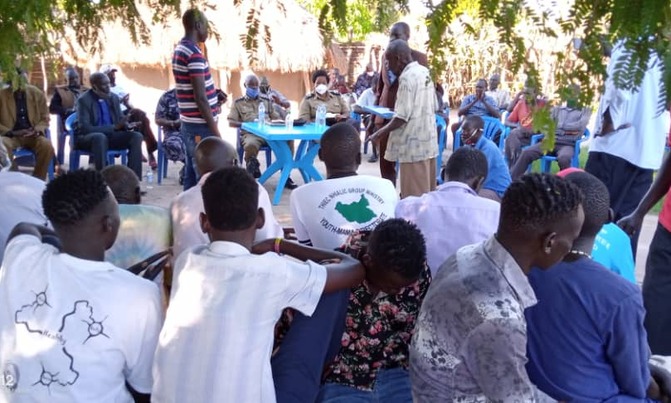 Recently, over 10 people died in a clash that erupted involving refugees at Rhino Camp and the local community.
The Police in West Nile have rushed to Rhino Camp Refugee Settlement in Madi Okollo district to meet the rival communities to prevent the resumption of deadly clashes.
Recently, over 10 people died in a clash that erupted involving refugees at Rhino Camp and the local community.
The West and North Nile Police spokesperson, Josephine Angucia, said that deployment of more forces at Tika Police Post shall be maintained to offer protection in the area so that fresh clashes can be avoided.
This followed the earlier rumours that fresh clashes were likely to occur again.
"A number of refugee leaders wrote to us seeking justice for having lost their colleagues and property as a result of the recent attacks on their camps," Angucia Police.
On Wednesday, the area Regional Police Commander, Richard Okullu, led a group of senior Police officers to visit the refugee camp to continue requesting both the hosts and the refugee communities to keep the peace.
Okullu (centre) and other Policer officers chairing the meeting in Madi Okollo. Photo by Uganda Police
During the meeting, the host community was represented by Balala village LCI chairperson, Swadik Dratele.
"Those spreading bad rumours that there is are likely planned fresh attacks by the host community are just opportunists because there is no such plan," Dratele said.
He, however, requested the Office of the Prime Minister and the United Nations High Commissioner for Refugees, to help them build permanent houses having surrendered their land to refugees.
Okullu attributed the previous attacks on some individuals, adding that about 28 people were arrested and detained at Arua Police Station as investigations continue.
He vowed to deploy more Police officers to guarantee security in the area.
"What goes around comes around. So, there is a need to prevent re-occurrence of the deadly clashes in the future," he said.
He also advised the two communities to report issues affecting them to their respective leaders or Police for proper management other than taking the law in their hands.
"I will ensure that we have scientifically arranged community policing sessions at the settlement as a way of restoring peace and creating awareness and vigilance among the conflicting factions," said Okullu.