The key installations secured by AMISOM's UPDF personnel include Somalia's parliament, Mogadishu Seaport, Aden Abdulle International Airport and the Mogadishu base camp.
UPDF|AMISON|AU|SOMALIA

Across Somalia today, there is renewed optimism in the future far removed from the daily carnage and agony of a few years ago.

Brig. Gen. Richard Otto, the commander of the Ugandan armed forces serving under the African Union Mission in Somalia (AMISOM), says the progress in the country is due to the brave men and women serving under AMISOM, who, in collaboration with the Somali Security Forces (SSF), have sacrificed life and limb in the stabilisation and recovery efforts of the crucial AU-led mission.

But the long road to today's progress has not been easy. In 2007, Uganda was the first to respond to a call by the African Union to deploy troops to Somalia, at the height of internecine conflict caused by the militant al-Shabaab and other armed groups.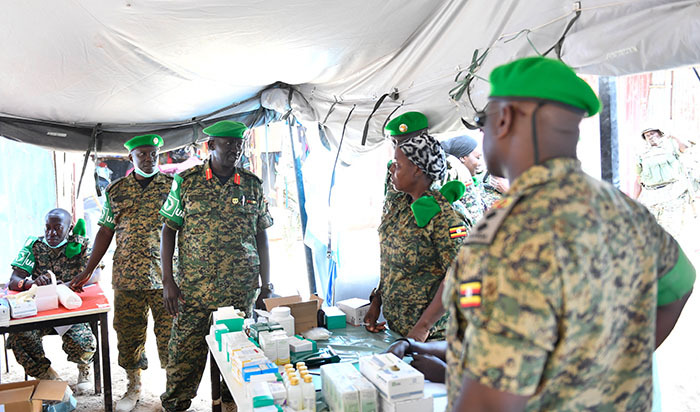 In 2011, a fierce battle was fought to force al-Shabaab out of the capital, Mogadishu and efforts immediately went into more antiterror operations that have seen AMISOM seize territory and push back the terrorists out of their areas of operation.

Thirteen years since that first deployment, following the rotation of several battle groups to the Horn of Africa country, the Uganda People's Defence Forces (UPDF) - alongside troops from Burundi, Djibouti, Ethiopia and Kenya are still hard at work, protecting the civilian population in all liberated areas, conducting patrols, securing critical infrastructure, including roads, hospitals, schools.



They are also a crucial element in supporting ongoing stabilisation and early recovery activities.

Ugandan troops are charged with securing an area that covers Mogadishu in the Banadir region, and the Lower Shabelle.

Together, the allied Troop Contributing Countries (TCCs) have systematically worked to dismantle the al-Shabaab threat to regional peace and security and have done much to bring Somalia closer to enjoy peace and stability.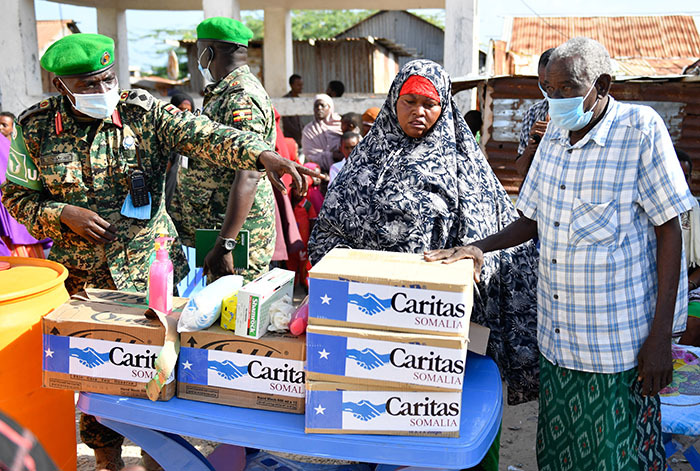 In recent operations in the Lower Shabelle region, victories against the militants were recorded in the strategic bridge towns of Sabiid-Anole, Ceelsaliini, Bariire, Awdheegle and Janaale.

For seven years, Sabiid-Anole was a base where the terrorists assembled explosives, and transported them to cause carnage in Mogadishu and elsewhere, but now it is liberated. And in March this year, the strategically important town of Janaale was captured by AMISOM's UPDF troops, alongside the Somali National Army (SNA). The operation to liberate Janaale,

one of the bridge towns on the River Shabelle, was one of Gen. Otto's first assignments upon his baptism-offi re arrival in Mogadishu, where a car bomb, detonated by al-Shabaab, claimed dozens of civilians' lives on December 28, last year, just nine days after he assumed office.

"When I took over, the operation to liberate Janaale had already been in the pipeline under the code-name Badbaado. This is an operation which was started last year, to liberate all the key bridge towns," Gen. Otto explains.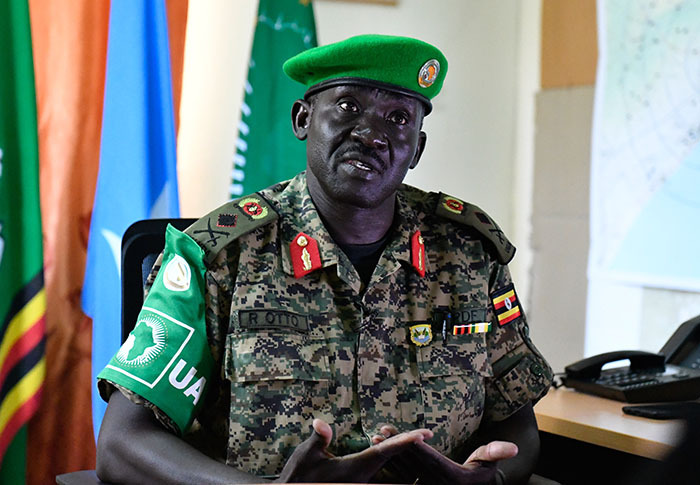 "My predecessor, Brig. Gen. Michael Kabango, had managed to liberate four of them; that is Bariire, Awdheegle, Sabiid-Anole and Ceelsaliini. Janaale was the only one still under al-Shabaab and, so, we moved in and liberated it successfully, together with the Somali National Army, on March 16, 2020. We are still jointly holding it and plans to hand it over fully to SNA are underway," Gen. Otto says in an interview at the contingent's headquarters in Mogadishu.

The past years have witnessed developments on the security front, where Somali Security Forces have shown their increasing capabilities, proving that, given the right conditions, the SNA can attack, win, hold ground and can gradually take over the security responsibility of their country from AMISOM.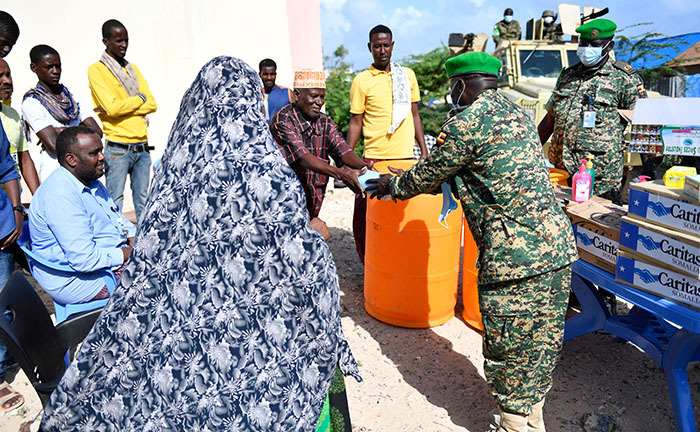 The capture of Janaale led to the discovery of a manufacturing plant for Improvised Explosive Devices (IEDs), a rudimentary weapon of choice for al-Shabaab that has claimed the lives of many. The seizure of this plant heavily crippled al-Shabaab operations.

"Since capturing Janaale, a lot has changed. Al-Shabaab are no longer able to freely cross from the northern part of River Shabelle to the south, so they are contained," Gen. Otto explains.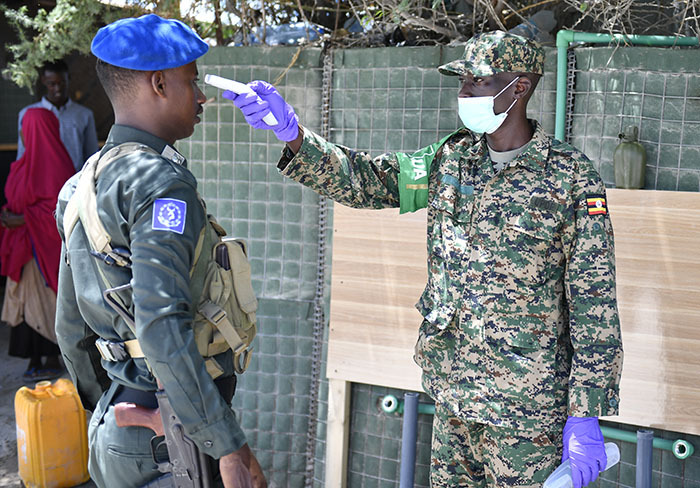 "Right now, there is no place you can refer to as al-Shabaab territory in Lower Shabelle, as the terrorists are disjointed and trying to blend among local communities."

However, the capture of Janaale, Gen. Otto says, also presents challenges of its own as the scattered al-Shabaab, sometimes, launch probe mortar attacks, inflicting harm mainly on the local communities.

"But AMISOM is dealing with that at a different level across the mission," Gen. Otto adds.

Guided by the AU Peace and Security Council, as well as the UN Security Council decisions, AMISOM is, in part, mandated to degrade al-Shabaab and other armed opposition groups, provide support to the stabilisation and security of Somalia, support the implementation of national security plans and assist in the restoration and extension of state authority and institutions.

Steadfast troops

Even with disruptions brought about by the global COVID-19 pandemic and recent troop cuts, AMISOM troops have remained steadfast and continue to implement the mission's mandate against all odds.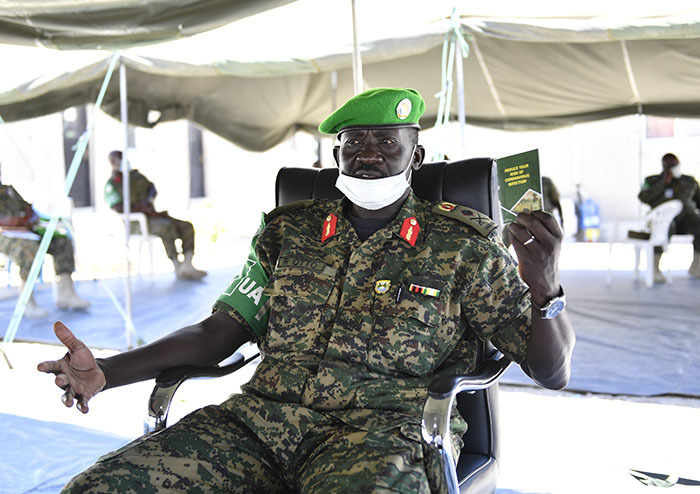 Since December 2017, AMISOM has been reducing its troop numbers, in line with relevant UN Security Council decisions. This year in February, AMISOM completed a further reduction of 1,000 troops across all five troop-contributing countries.

This reduction in troop numbers means that AMISOM has to hand over Forward Operating Bases (FOBs) and other facilities to the Somali security authorities, under what is called the Somalia Transition Plan (STP).

When the latest reduction happened, Ugandan forces drew down by about 300 troops, but Gen. Otto says this has not affected operations under his command, or anywhere else.

Instead, the troops continue carrying out offensive operations against al-Shabaab, are still protecting civilian populations, as well as securing critical installations and main supply routes.

Other achievements

Some of the key installations secured by AMISOM's UPDF personnel include Somalia's parliament, Mogadishu Seaport, Aden Abdulle International Airport and the Mogadishu base camp, which houses diplomatic missions, the UN, the EU, NGOs and other international partners accredited to the Federal Government of Somalia.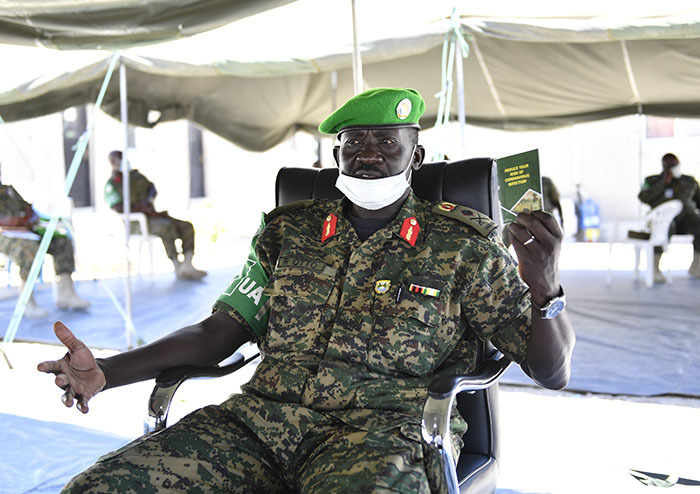 "All the main supply routes under my sector are operational. Vehicles continue to move, even civilian vehicles, from Lower Shabelle into Mogadishu and from Mogadishu back to the liberated bridge towns, including Janaale, going up to Marka and Baraawe," Gen. Otto says.

For AMISOM, maintaining good relations with the local communities with whom they live side by side, in all of its areas of operation, is a critical game changer.

As such, AMISOM has been implementing many projects as part of its Civil-Military Co-operation (CIMIC), to better the lives, and win the hearts and minds of the Somali population.

"Over my seven months on the mission so far, we have conducted several quick impact projects," the general says and reels off many projects they have implemented so far in his Area of Responsibility (AoR).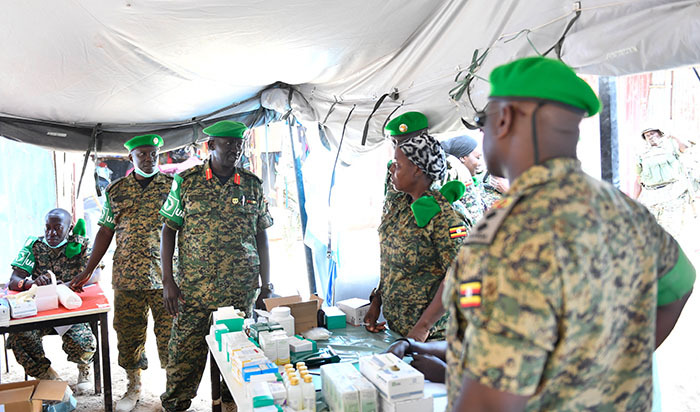 "In Baraawe, my troops have supported the population to repair a bad road connecting the seaport to the airfield. In Marka and Ceel Jaale, we have supported the local people to repair a sports field, and distributed tailoring materials to a group of women in Ceel Jaale," Gen. Otto points out.

Additionally, following the capture of Janaale, AMISOM troops worked with the local community to rehabilitate a road that the alShabaab had dug up and flooded, in a bid to forestall an attack on the town by the joint forces.

"There was also a bridge between Baladaamiin and Mashalaay, which we repaired. And in February, we did a clean-up of Marine Market in Mogadishu and held a medical camp, where we offered out-patient services to the locals," he adds.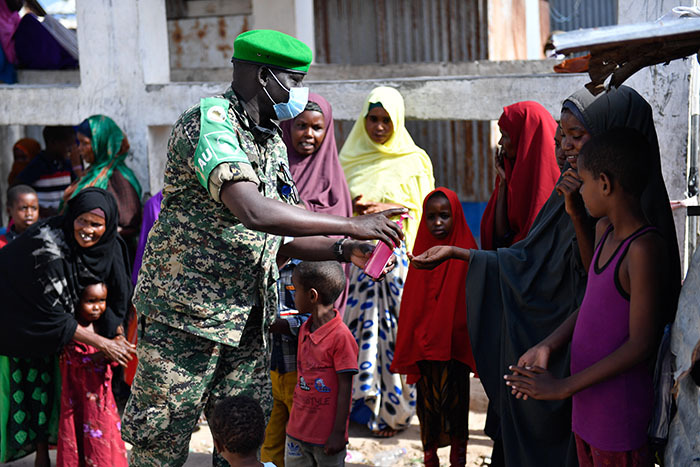 Some of the other projects that the Ugandan AMISOM troops have undertaken since arriving in Somalia 13 years ago, include building, furnishing and renovating schools, hospitals and police stations.

As the brave men and women of AMISOM continue to provide operational support, as well as training and mentoring of the Somali Security forces, Gen. Otto says he is optimistic that once AMISOM exits, a well-trained, professional and capable SNA, will be able to secure the gains made over the 13 years since Uganda first deployed in Somalia.

"As Ugandan forces under AMISOM, we are proud to contribute with tangible results to the peace building process of Somalia," he says.