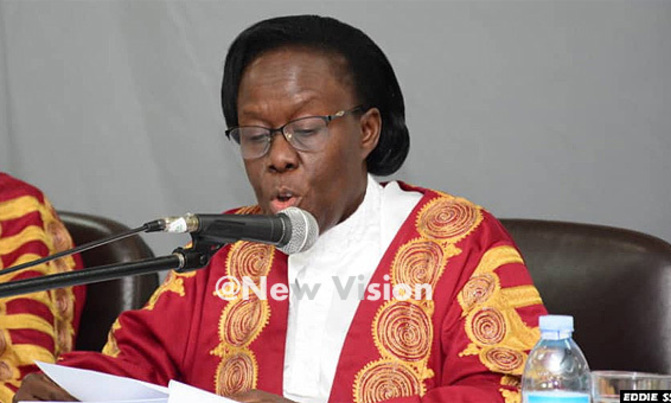 Justice Tibatemwa wants court to award her damages totaling to sh150m to atone for the alleged mental torture she has been subjected to by the Judiciary's permanent secretary, Pius Bigirimana.
COURT|SUIT|JUDICIARY|JUDGE
KAMPALA - Supreme Court judge, Prof. Lillian Tibatemwa-Ekirikubinza has petitioned the court seeking to have the Judiciary Permanent Secretary, Pius Bigirimana, compelled to pay her travel allowances amounting to $8,668 (about sh31m).

In a suit lodged at the Civil Division of the High Court, Justice Tibatemwa-Ekirikubinza contends that she incurred the money in travel allowances on courses she attended in the United States of America and South Africa but Bigirimana has since declined to refund the same.

The core controversy rotates around the letter that Justice Tibatemwa wrote to Chief Justice emeritus Bart Katureebe assuring him that the training was being sponsored by the United Nations but along the way, the judge asked for extra related travel allowances from the Judiciary.

In her law suit she filed on August 13, 2020 against the Attorney General and the office of the Secretary to the Judiciary, Justice Tibatemwa wants court to award her damages totaling to sh150m to atone for the alleged mental torture she has been subjected to after the Judiciary's permanent secretary, Pius Bigirimana allegedly refused to refund her the extra money she used.

The contested allowances are in regard to $ 3,603 as tuition and registration fees, $2,758 being the difference between the UN rates and the official per diem of $570 she was entitled to get for 14 days, $1,140 for extra two days spent for lack of a seat on the flight and $4,759 being upgrade to business class.

The other allowance demands are $1000 for ground travel while she was in the US, $1,146 for upgrade to business, $798 as out of pocket plus Sh300, 000 spent on fuel that she says she used to travel from Kampala to Entebbe international airport and back.

However, she avers that out of the listed refund allowances, former Judiciary Permanent Secretary, Expedito Kagole- Kivumbi, paid her sh24m, leaving an outstanding balance of about sh31m, which balance the current permanent Secretary Bigirimana has refused to pay her.

The travel allowances row stems from April, 2018 when Justice Tibatemwa was invited by the National Judicial College in the US to attend two courses (Advanced Skills for appellate judges and Advanced Judicial writing).

The courses were scheduled to take place between June 18 to 28, 2018.

To that effect, Justice Tibatemwa on May 8, 2018, sought permission from Katureebe to be away for those ten days.

"I have been invited by the National Judicial College, United States to attend the following courses…… the office of the United Nations High Commissioner for Human Rights (OHCHR) will facilitate my participation in the above mentioned course by providing an air ticket and upkeep according to the UN rates," Justice Tibatemwa wrote to then Chief Justice Katureebe.

Adding: "This is therefore, to request for permission to be away from the country from June 16 to 30th."

In reply, Justice Katureebe Okayed her participation on grounds that the same training had been fully sponsored by the UN.

"I refer to your letter of on May 8, 2018, seeking permission to attend the courses mentioned therein. I note that your participation in those courses is fully sponsored by the United Nations High Commissioner for Human Rights," Katureebe wrote back to justice Tibatemwa.

"I have no objection to your participation as requested and I therefore, give you permission to be away from the station during the period of June 16 to 28th 2018." Justice Katureebe further replied.

The allowance controversy started to unfold when justice Tibatemwa stated that the UN had in its invitation, had undertaken to provide her with an economy air ticket and an upkeep of $373 basing on their UN rates and yet as a Supreme Court judge, she is entitled to more than what had been offered.

She further avers that when she approached Kagole-Kivumbi for the extra allowances that she is entitled to, he advised her to use her own money since the Judiciary at the time was financially constrained and that at a later date, she would be reimbursed.

Court records also indicate that after Justice Tibatemwa had returned from attending the US courses, she reminded Kagole about her allowance refund but she didn't get any response.

"While awaiting Kagole-Kivumbi's response, on August 27, 2018, I received information from the Democratic Governance and Rights Unit of University of Cape town, South Africa.

The Chief Justice had nominated me to attend…….I wrote to the permanent secretary and I told him that the organisers had provided me with an economy class air ticket and requested him to upgrade to Business class, I am entitled to." Justice Tibatemwa states in her court documents.

She continued: "In a telephone interview with Kagole, he advised me to again use my personal money and claim a refund on return from the course as the Judiciary did not have the funds to give me at that time. In respect of the South African trip, I spent $1,146 to upgrade the economy class ticket and $798 as out of pocket expenses."

She adds that along the way, Kagole left office and brought the same issue to his predecessor, Bigirimana, who has since not responded, hence the court action since the negotiations haven't resulted in any tangible fruits.

"The callous conduct of Bigirimana coming from a more powerful and influential public official vis-à-vis the applicant (Justice Tibatemwa), in terms of his ability to deny the applicant her entitlements, is harsh, oppressive and unconstitutional entitling me to claim exemplary damages for which, considering my status in society, I suggest shs100m as reasonable," the jurist avers.

She also wants another sh50m in punitive damages for mental torture and anguish caused to her due the purported callous conduct of Bigirimana.

The judge blames Bigirimana for refusing to clear the outstanding refund allowance which his predecessor Kagole had part-paid.

Court had given Bigirimana and the Attorney General fifteen days to file a reply against the allegations.