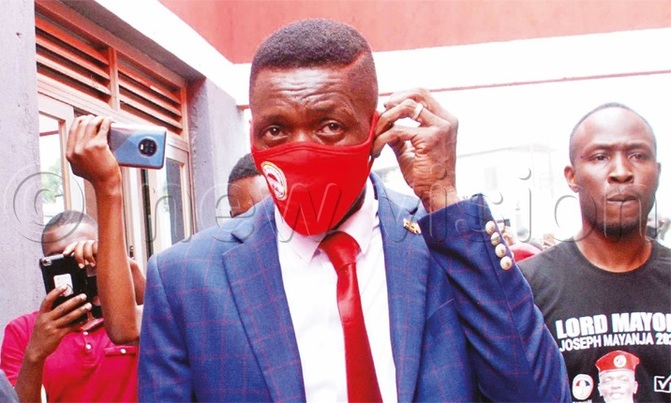 The vetting of the aspirants was carried out by the NUP Election management committee
Two mayoral aspirants, Kawempe North MP Latif Ssebagala and Joseph Mayanja aka Jose Chameleone, seeking to stand on the ticket of the National Unity Platform (NUP) yesterday appeared before the party's election management committee for vetting.
NUP, headed by Kyadondo East MP Robert Kyagulanyi, is currently vetting aspirants seeking to contest in the 2021 election on its ticket.
Another mayoral aspirant, ex-mayor Nasser Ntege Ssebagala did not appear before the committee.
The vetting of the aspirants was carried out by the NUP Election management committee headed by Mercy Walukamba, the chairperson, and Jeremiah Keeya, the secretary.
Ex-mayor Ssebagala absent
Keeya said the party has three aspirants vying for the mayoral position, but Ntege Ssebagala has who recently underwent surgery did not appear for the vetting. He said the party has so far vetted 350 aspirants for parliamentary seats, but did not release the list.
"No one should confuse the public that he is flag-bearer because we still have the results and we not yet declared the flag-bearers for the various posts," he added.
Keeya urged the aspirants that come for vetting at the party headquarters not to do so in a procession of supporters.
He added that during the vetting, the committee considers the aspirant's academic qualifications, loyalty to the party, mobilisation capacity, ability to fund their campaigns, among others.
Chameleone arrived in a huge procession of supporters and bodaboda cyclists.
Asked about his loyalty to NUP, Chameleone said he has been a member of the People Power movement since last year.
"I am an asset to NUP. I have released music albums praising the party and I will mobilise more supporters through my music," Chameleone said.
Ssebagala promised that: "If I am elected city mayor, I will ensure that the KCCA budget is increased to improve service provision."
Ssebagala has been a member of parliamentary committees that approved the budgets of the various ministries and state agencies.
NUP committee also vetted some aspirants for Member of Parliament from Mbale region. They included Robinah Nadunga, a businesswoman, vying for Mbale City Woman MPand Halima Asena, who is also vying for the same seat.
Campaign team
Chameleone, a week ago unveiled his campaign team headed by former presidential candidate, Samuel Lubega Mukaaku. The team also includes Michael Mabikke as deputy chairperson, Henry Lubowa campaign manager, Dr Abed Bwanika named advisor and Vincent Mayanja.
A number of people have expressed interest in contest for the Kampala mayoral position. They include the incumbent Erias Lukwago, who is backed by FDC; Beatrice Kayanja to contest on the DP ticket, Ssebagala's sister-in-law MP Nabilah Naggayi Ssempala and Daniel Kazibwe aka Ragga Dee (NRM).