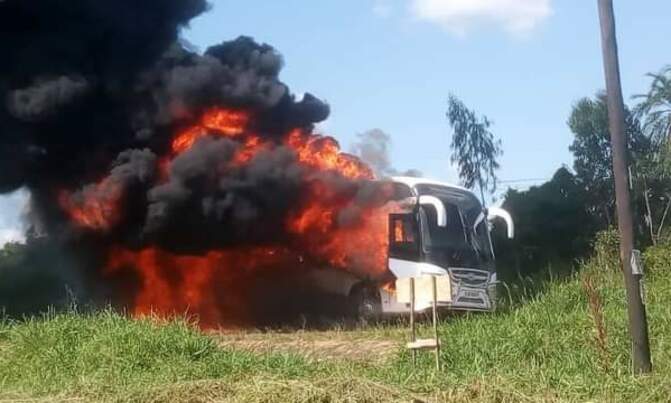 HEALTH VIRUS
At least 25 Covid-19 patients have survived death after a bus they were travelling in caught fire along the Gulu-Kampala highway.

The Parliamentary bus attached to the Ministry of Health was moving the patients from Gulu to Kampala.

"One of our buses that was attached to the @MinofHealthUG and was transporting 25 #COVID19 patients has caught fire on the Gulu-Kampala Highway. All occupants are safe and @PoliceUg is investigating the cause of the fire," according to a tweet by Parliament.

The Ministry of Health spokesperson Emma Ainebyoona, confirmed the incident and said plans are underway to have the patients moved to their final destination.

"We have taken note of that unfortunate incident. We are working with the police to ensure the patients reach their final destination," Ainebyoona said.

The Police is yet to issue a statement regarding the incident.

The burnt bus, is of the four executive coaches (buses), Parliament bought to transport guests during the Commonwealth Parliamentary Conference in September 2019.

This is a developing story (Story has been updated to reflect a statement from the Parliament of Uganda)