In August, US imposed sanctions against High Court Judge Wilson Masalu Musene and a retired judge, Moses Mukiibi on allegations of illegal child adoption.
CHILD ADOPTION|JUDGES|COURT|CRIME
Two High Court judges are being investigated by the Judicial Service Commission over allegations of irregular child adoption.

Acting permanent secretary Ronald Sekaggya yesterday said: "The commission has been carrying investigation into this matter for a long time. We are at the tail end of it."

In a telephone interview, Sekaggya said the commission would issue a report on the matter in due course.

The US administration imposed economic sanctions against four Ugandans over allegations that they participated in a scheme in which young children were removed from Ugandan families under promises for 'especial education' programme and study in the US.

They were subsequently offered to US families for adoption.

Uganda Law Society (ULS) has also lodged a formal complaint against two High Court judges and a lawyer implicated by the US.

In August, US imposed sanctions against High Court Judge Wilson Masalu Musene and a retired judge, Moses Mukiibi. Also sanctioned is lawyer Dorah Mirembe and her husband Peter Echobu over allegations of fraudulent child adoption.

The outgoing ULS president, Simon Peter Kinobe, said the law society had filed a formal complaint against the implicated individuals. ULS is a professional body responsible for the conduct of lawyers.

"As ULS, we have referred this matter to the concerned authorities, the Law Council and JSC for investigation. What I know is that investigations into this matter are ongoing and we are awaiting the outcome," Kinobe said.

Judiciary spokesperson Solomon Muyita said he was not aware of the formal complaint by ULS.

The US administration alleged that Mirembe and Echobu reportedly 'facilitated' bribes to the Uganda judges to procure adoption. They denied the claims.

Justice Masalu

Masalu, the Resident Judge of Soroti High Court, earlier last month denied the allegations. He said the sanctions and visa restrictions are malicious and unfair.

He denied any involvement in the adoption process.

He added that his role only stopped at listening to the lawyers and probation officers in court whether the child was in need of adoption or not.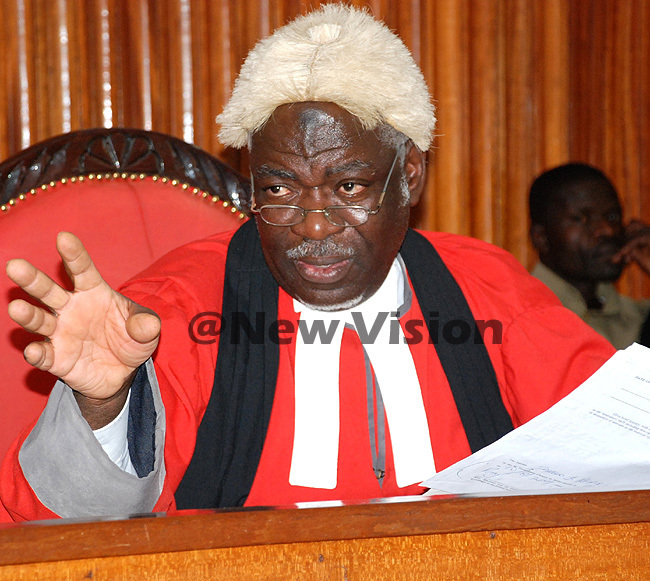 Masalu said he always considered the best welfare principle for each child given. He said he heard about the matter for the first time when he was sanctioned.

"They sanctioned me for the cases I handled in 2013, but I have worked at several other stations, including Mpigi and Soroti. The Americans never rang me or even had the courtesy to get my side of the story," Masalu said.

He said he has handled many cases involving adoption and that he could not point out which particular case the US used as a basis to issue sanctions against him.

"I have handled many cases with so many advocates and probation officers," Masalu said.

He added that most of the cases he handled were considered after examining the grounds that were presented for adoption.

Masalu said: "There were instances where I was forced to deny the adoption, especially when I felt there were insufficient grounds and thought that the guardians were better placed to take care of the child."

Justice Mukiibi

Justice Moses Mukiibi said he was neither contacted by any local or foreign authority concerning any file, nor did the Judiciary in Uganda ask him to explain.

"All the files that were handled must be available. Has any file been examined and found underserving of a grant. I do not know the basis of their condemnation and I do not know what evidence they used. That evidence, if any, was not challenged to test its veracity," Mukiibi said.