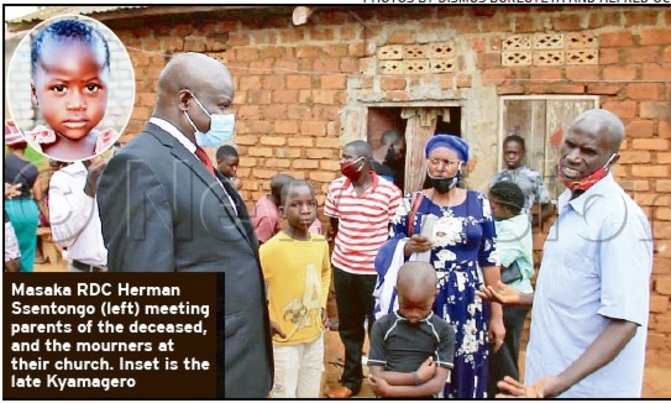 The Police on Monday intercepted and arrested a youthful man Joseph Nuwashaba in possession of a human head at Parliament's security checkpoint, in Kampala.
Preliminary Police findings indicate that on Monday, Nuwashaba was a resident in Masaka, but originally from Bushenyi district.
The head of the Criminal Investigations Directorate (CID), Grace Akullo, said at about 10:00am Nuwashaba, arrived at Parliament carrying a box containing an item wrapped in orange gift wrapping. At the checkpoint, he was asked about the wrapped item.
In his response, according to Akullo, the suspect said: "It is a gift I have brought for the Speaker." "When the officers demanded to see the gift — they discovered a human head.
As a policy, all gifts to legislators are checked by security," Akullo explained. Police authorities said the head belonged to a child; a girl possibly aged between five and seven years.

HOMICIDE TEAM
Subsequently, a homicide team from the CID lead by Monday Johnson Agaba, forensic offi cers from Police headquarters in Naguru and other authorities from Central Police Station Kampala were dispatched to Parliament to begin investigations.
Later (about 2:45pm), the suspect was transferred, under tight security to the CID headquarters in Kibuli, Kampala.
According to Police sources, the youthful man told detectives that he was sent to deliver the 'gift' to the Speaker of Parliament. He also claims to have been paid a fee. However, Agaba's team declined to give further details for fear of jeopardising the investigations.
At CID, Nuwashaba asked for a 'sanitiser' to clean his handsbefore he would sit to the detectives' interrogation. The use of hand sanitisers was introduced as one of the standard operating procedures to fight COVID-19. The head was taken to Mulago mortuary for a postmortem examination.
STRANGE BEHAVIOUR
According to other sources, while at Parliament, the man was behaving in a strange manner and made incoherent statements, that suggested he could be having a mental problem. At one stage, the man stated that "this is a small gift, at times I carry bigger gifts"
. He reportedly also hinted that he had asked for sh1m as his fee to deliver the 'gift', but did not say who had sent him. The man further mentioned that at one time he resided in Rubaga, Kampala.
But Police sources said Nuwashaba's actions during the incident did not suggest that he was mentally unstable.
Shortly after his arrest on Monday, Police authorities in Masaka revealed that a headless body had been recovered in Namajjuzi swamp near the National Water and Sewerage Corporation plant in Masaka city.
New Vision has since established that the body was that of a three-year old child, Faith Kyamagero, suspected to have been murdered by Nuwashaba. Kyamagero was the daughter of Pastor Charles Ssenyonga and Gloria Ssenyonga, who took in Nuwashaba about three months ago as a casual labourer during the COVID-19 lockdown.
According to Pastor Ssenyonga, during the lockdown Nuwashaba decided to leave Kampala and return to his home in Bushenyi. Since he had no money, Nuwashaba opted to walk all the way to the village. Quite exhausted, he made a stopover at Ssenyonga's makeshift church located close to the highway on the Masaka bypass. When the pastor saw the young man, he took pity on him and decided to employ him as a labourer.
Pastor Ssenyonga described Nuwashaba as hardworking and friendly to children. However, he added that they had noticed he was "Zzolo" (not mentally stable).

On Sunday, Nuwashaba allegedly got hold of a knife and claimed he was going to look for herbs because he felt unwell. He went along with the child in the absence of the parents. That was the last time he was seen.

A preliminary Police report (Masaka CRB 601/2020) seen by New Vision, indicates that a case was reported by Herbert Okodi, 34, a security officer/ supervisor at National Water and Sewerage Corporation (NWSC). According to the report, a body of unknown female juvenile about four years was found without a head, dumped on the fence of NWSC's premises on September 13 (Sunday) at 7:00pm at Namujjuzi zone, Kijjabwemi in Masaka.
The body taken to mortuary pending investigations. Pastor Ssenyonga, who talked to New Vision before learning about Nuwashaba's arrest, said they were shocked by the murder of the child. According to the Police, the body had been mutilated with some parts, besides the head, missing.
The annual crime report indicates that 4.9% of the cases reported in 2019 were child-related with 10,596 cases where children/juveniles were direct targets/victims of crime.

Additional Reporting by Steven Turyarugayo