Anite claims a few of the members have been called to join other parties, giving herself as an example.
Seven members of Parliament of the ruling party National Resistance Movement who lost in the just concluded primaries have expressed their interest to reorganize the party.
The MPs are focusing on reconciliation and re-mobilisation for the party, claiming that there are a few problems that they have decided to address, and they will also traverse the country to campaign for the party chairman, President Yoweri Museveni.
They have raised issues including; lack of a party register that they can use during the primaries, malpractice in the voting system, voter bribery and corruption among others.
Speaking at a joint press conference, Koboko Municipality MP, Evelyn Anite called on the party chairman to crack the whip on the corrupt officials.
Anite unveiled a team of MPs who lost at the recently concluded party primaries and conceded defeat, whom she says will focus their attention on mobilizing for the party.
They include; Charles Ilukor (Kumi County), Michael Tusiime (Mbarara Municipality), Evelyn Anite (Koboko Municipality), Lillian Nakate (Luwero Woman), Abraham Byandala, Amos Mandera (Buyamba County), John Bosco Lubyayi, Grace Freedom Kwiyucwiny (Minister Northern Uganda Affairs), Rose Tumusiime (Entebbe Municipality), Kasirivu Atwooki (Bungangaizi West), Okello Oyrem (State Minister Foreign Affairs), Gabriel Agedra (Minister of State for Finance-(General Duties), Juliet Kyinyamatama (Rakai Woman), and John Byabagambi (State Minister Karamoja Affairs).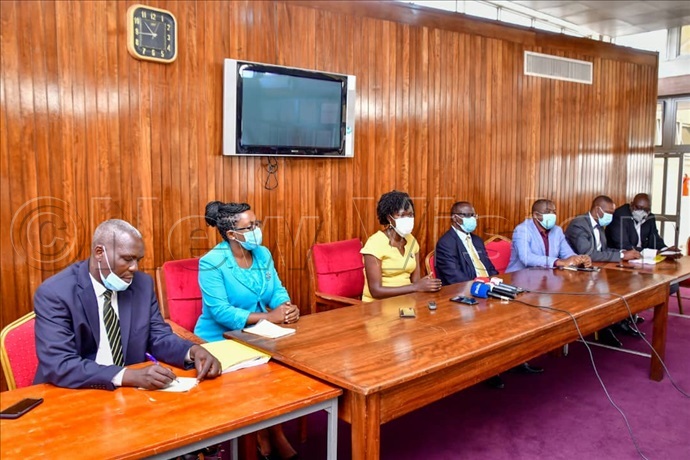 The team is in talks with other members of the party who lost in the primaries, by stopping them from contesting as independents or crossing over to other parties.
Anite claims a few of the members have been called to join other parties, giving herself as an example. She alleges that she has been invited to cross over to the National Unity Platform (NUP), an offer she declined saying she is going to focus on building NRM.
On if she will campaign for Dr. Charles Ayume, who defeated her in the recently contested seat for Koboko Municipality, Anite says she has a lot of work to do with him, starting with teaching him how the party structures work.
She lost the Koboko Municipality NRM ticket to the son of the former Speaker of Parliament, the late Francis Ayume, who won by a margin of 768 votes.
"To the mafias and haters, I concede. You've won the battle by stealing my victory but the war rages on," she said on her twitter handle.