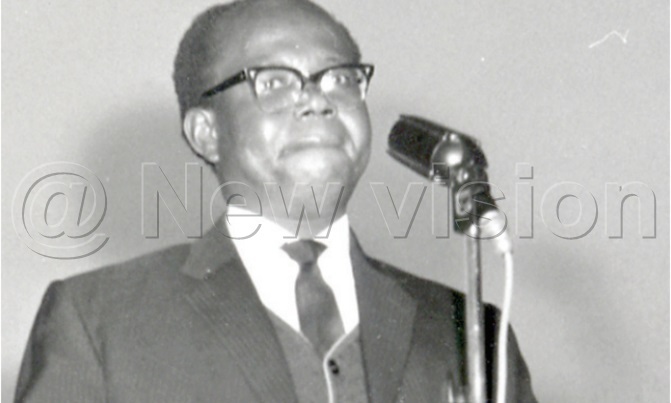 When soldiers surrounded him on January 11, 1973 and ordered him to come out of his supermarket, former minister Shaban Nkuutu made a farewell phone call to a friend, asking her to take care of his family. He then opened the door and was bundled into a waiting car.
Early morning on January 25, 1971, Shaban Nkuutu, who was the then Minister of Works, Housing, Transport and Communications, was driving into Kampala from Jinja. Unknown to him, the government of Milton Obote had been overthrown.

As he entered Kampala, at Lugogo, soldiers opened fire on him, deflating his tyres. He got out, together with his driver and bodyguard, and took cover.

He walked to Jinja Road Police Station to report what he thought was a robbery.

There, a Police officer from his constituency advised him to go into hiding immediately. A few days later, Idi Amin asked all former ministers to come out of hiding and report to his office, saying they would be safe.

Nkuutu was immediately arrested and detained at Makindye Military Police Barracks for several months.

Ambassadors of Arab countries used their religious influence to lobby president Amin, who was a Muslim, for Nkutu's release from prison.

Nkuutu was a paternal uncle to Amin's wife, Mama Maryamu and her brother Wanume Kibedi, whom Amin had appointed foreign minister.

This could also have put pressure on Amin to release him. On leaving Makindye later that year, Nkutu retreated to a quiet life of private business and refused to flee into exile, despite repeated threats and harassment from military and intelligence personnel.

The Madhvani family even offered to fly him out of Uganda via their private airfield, but he declined.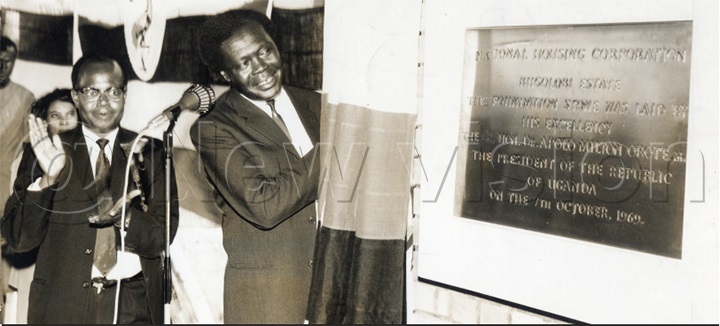 In early January 1973, at Baitambogwe (half-way between Jinja and Iganga), Nkuutu told a secret meeting of his brothers that if he went into exile, Amin would retaliate by killing his relatives.

He argued that he would rather die than endanger any of his relatives.

Nkuutu, aged 42, was abducted and murdered less than a week later.

He was buried at a secret location for the next 31 years, until the incredible opportunity that brought his family in contact with the grave-diggers who buried his body.

Witness' account

Nkuutu's nephew, Twaha Magala, (now an Iganga businessman) breaks down in tears as he recalls the events on January 11, 1973:

I was at uncle's supermarket on Scindia Road in Jinja with my brother Ahmada Basalirwa and uncle's driver Abdul Muloyiva.

Uncle had left the supermarket to eat at a nearby restaurant. We realized later that soldiers had been trailing him in a white Peugeot 504 and a blue Volkswagen.

There was commotion at the restaurant from which uncle Nkuutu emerged struggling desperately with five gun-wielding men, who wanted to put him in the boot of one of their cars.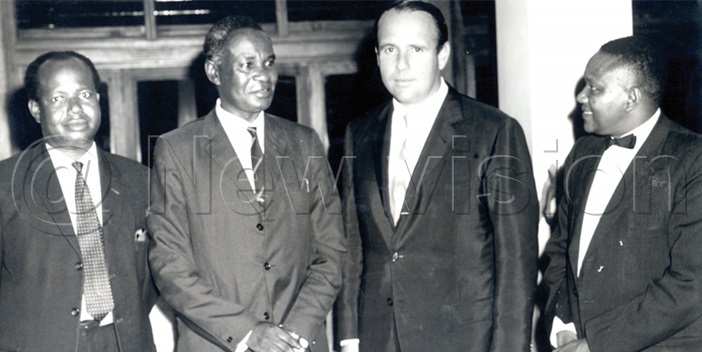 Abdul, Ahmada and I fought them off while raising an alarm. This attracted dozens of passers-by and people from nearby shops.

We overpowered the soldiers and uncle dashed into the supermarket and locked himself in.

A large crowd gathered, but the soldiers opened fire, sending people scampering for cover.

Abdul and I were arrested by the soldiers and driven away, while some of the abductors remained behind outside the supermarket with uncle locked inside.

One of them suggested killing us but the others decided to take us to Jinja Central Police Station.

The soldiers told the Police officers that they had caught us robbing Shaban Nkutu's supermarket and ordered them to detain us.

Meanwhile, uncle repeatedly phoned the Police station to report the attempted abduction and to appeal for his rescue as the abductors were waiting at the door.

We could hear one side of the conversation, with the policeman claiming they had no vehicle — which was ridiculous considering the short distance to Scindia Road."

After about half an hour, the soldiers who had arrested us went to Gadaffi Barracks and returned with a larger contingent, commanded by the Military Intelligence Officer, Captain Issa Habib Galungbe, whom we knew.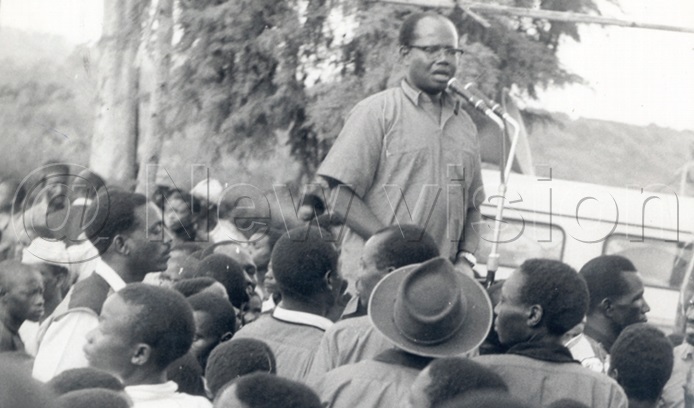 He feigned ignorance of the incident and asked the Police what the commotion was all about.

The policemen were afraid to go to the supermarket because civilians had already reported that it involved soldiers.

Habib ordered the policemen to follow him and left for Scindia Road in a convoy of about four vehicles filled with soldiers.

Uncle later told us that on arrival, the Police commander knocked on the door, identified himself and asked him to open it.

The crowd was shouting to him that his abductors had returned with the Police and he remained in a dilemma for a while but realised he could not remain locked inside indefinitely.

He made a farewell call to a family friend, Sarah Kisukye, then working at the Bank of Uganda and informed her that he was headed for his death and asked her to assist auntie Christine Nkuutu and their children.

He then opened the door and was taken to the Police station, where he found us under arrest. He pleaded for our release in vain.

Captain Habib told the Police they could not secure Shaban Nkuutu from the people who had tried to abduct him and that uncle should be re- leased to the army for custody at Gadaffi Barracks.

Uncle thanked us for fighting for his life, but we all agreed we now faced imminent death.

At the barracks, uncle was interrogated and asked, ironically, why he had not reported the gunfire at his supermarket to the army!

Meanwhile, after being tortured, orders were given for us to be taken to the barracks dispensary for medical treatment.

We last saw uncle alive in the office of the commanding officer. I cannot recall his name, but Capt. Habib was there with him. We were the last family members to see him alive.

We were later dumped at the roundabout near the police station and ordered to go home.

We returned to uncle's Jinja home at Rippon Gardens, where we found his brother, Haji Musufulu Dhakaba, whom we briefed about our fears that uncle faced death.

He told us that our cousin, Kirunda Kivejinja, had made frantic efforts to phone his cousin, foreign minister Wanume Kibedi, to intervene but had failed to get hold of him.

Kibedi was reportedly abroad at the time. The entire household stayed up all night in a state of fear.

At dawn, we went to uncle's Busesa home in Iganga and informed Mama Norah Nkuutu about our fear.

Together with auntie Norah, we came back to Jinja immediately and met the district commissioner, Mr Kakuyo, whom we asked for help. He rang Gadaffi Bar-racks, but failed to get in touch with the commanding officer.

We later met the commander at Crested Crane Hotel, but he quickly claimed he had freed uncle the previous night.

At 1:00pm that day, Radio Uganda announced that former cabinet minister, Shaban Nkuutu, had been found with documents implicating him in guerrilla activity and that he had fled to Tanzania to join Obote, and that anybody with information leading to his arrest would be rewarded.

About two days later, we heard that uncle's body had been found floating at the Source of River Nile.

I arrived there before a crowd formed. I found his body floating face-down by the river bank and confirmed his clothing and identity. I saw his face.

Word spread very fast, causing the Police and army to swing into action. They blocked civilians from coming close to the body, which they took away under heavy armed escort.

I was informed that I was now a wanted person and was being hunted for by security operatives as a witness who could identify the killers. I fled to Kampala and went into hiding.

Auntie Christine was in Nairobi when uncle was murdered, but she came back after things cooled down a little.

I was only 19 years old and totally terrified. Uncle was a very important person in the country and I could not believe that he had been abducted, murdered and dumped in River Nile.

As a family, we were terrified and not a single funeral rite could be held for uncle Shaban.

Shops closed in Jinja town when word about what had happened spread. A few of us went to uncle's ancestral home village at Nakibembe and informed his father, Ausi Kirunda, father to my mum.

He went to his bedroom and wept alone in hiding. He quickly went to the State Lodge in Nakasero to ask president Amin for his son's body.

In Dar es Salaam, former president Milton Obote reported Nkuutu's murder to all African heads of state in writing and the killing was widely reported in the international media.

Tanzania's president Julius Nyerere, whose government had worked with Nkuutu on many East African transport and infrastructure projects, vowed never to acknowledge Amin in summit meetings of the East African Community.

Later, the East African Community collapsed due to tensions between Amin and Nyerere.

As pressure mounted, Amin gave orders for the secret disposal of the body.

Nkuutu was buried and registered in the cemetery records as "an unknown person" without the knowledge of his family.

The grave-diggers conducted the burial at gun-point and were threatened with death if they revealed what they knew. They held their secret for 31 years.

At the time of the murder, Kibedi was in Ghana and when he confirmed the killing, he resigned as foreign minister and went into exile.

The murder of Nkuutu also took its toll on the marriage between Amin and the First Lady, Mama Maryamu, who fled the country.

Thirty one years later

In early 2004, by pure chance, one of the grave diggers, one Ibrahim Sengendo, met Abu Kakaire, a relative of Shaban Nkuutu in Semuto, Luwero, and revealed that he knew the secret burial location.

Nkuutu had been buried last on top of five other bodies.

The remains were exhumed by pathologists Prof. Wabinga and Dr. Odida and witnessed by Nkutu's family in October 2004.

Entry and exit wounds on Nkuutu's skull revealed he had been shot twice in the right side of his head, with the bullets exiting on the left side.

A bracelet identified by multiple relatives was found intact on his left arm and the state of his clothing matched earlier descriptions given by the grave diggers and two witnesses who saw his body at the river bank in 1973.

On February 12, 2005, the remains were re-buried in national honour at his home at Busesa, Bugweri, Iganga district.

The reburial was attended by President Yoweri Museveni. The President declared Nkuutu a martyr for his courageous decision to face death alone in order to save his relatives.

Asked whether the family has forgiven Idi Amin, one of his sons told Sunday Vision: "We have never sat as a family to discuss his death from that point of view and it would not help any of us to take our reflections there.

I guess each of us has a personal viewpoint that remains private. We suffered a huge loss and the wound remains sore, but what has given us some solace is to find out what kind of person he was when we got the opportunity to read about his personality and his national service record from his friends and colleagues."

Who was Shaban Nkuutu?

Shaban Nkuutu was born in Nakibembe village, Bugweri county, Iganga district on November 15, 1930.

His parents were the late Haji Ausi Kirunda and the late Zafalan Namuwaya.

Studied at Busoga College Mwiri, Kibuli and Makerere College.

Taught in various schools and served as headmaster at Bwala, in Masaka.

Elected MP for Busoga South East on UPC ticket in 1962

Appointed deputy minister in 1963 and full minister in 1966

Became UPC national chairman (1968-73).

Came from one of Busoga's most famous families.

This story first run on April 7, 2013.