The NUP spokesperson, Joel Ssenyonyi, rubbished the group as mere survivors in politics, saying they even had no party cards and neither t-shirts.
POLITICS|ELECTION WATCH|DEFECTORS
KAMPALA - In the run up to the 2021 polls, a shift of political loyalties is becoming a new order in the political arena.

Over 200 youth who claimed to be mobilisers of the National Unity Platform (NUP) in Kampala yesterday converged at Nakasero Primary School and announced their defection to the ruling National Resistance Movement (NRM).

"We are not here as hooligans but we are ready to serve the NRM," the group leader Frank Ssenyonjo said.

Ssenyonjo who claimed to be a lead mobiliser of People Power/NUP in Wakiseka explained; "We have served several opposition groups including the Forum for Democratic Change (FDC), the Democratic Party (DP) and People Power, but they have done nothing for us."

He informed the Senior Presidential Advisor on NRM Archives', Alice Kaboyo, who received them that their grievance with the government has been the very many youth who are unemployed.

"We have no jobs and the capital to start up own income generating projects," Ssenyonjo said as he appealed for government support.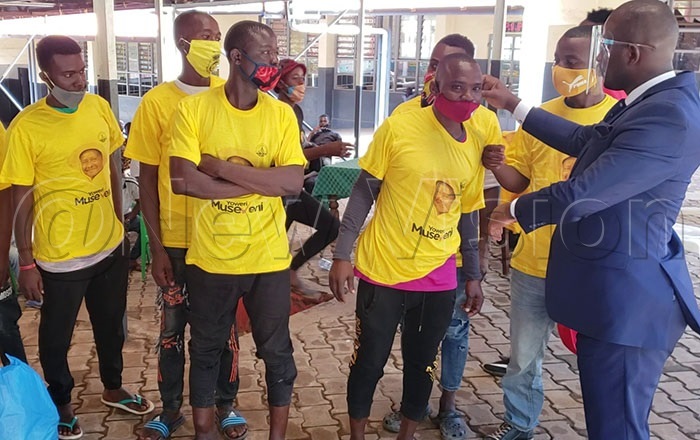 Kaboyo said; "l'm happy to meet you and I want to thank your leaders who came to our office and requested us to meet you.''

"The NRM has nurtured you well; you did not suffer serious diseases such as polio because of immunization programmes by the government. Even with jobs, we shall improvise for you to work," she added.

The head of Mobilisation and political in the State House, Robert Rwakandari said; "I want to assure you that you are in the right hands. What I want to ask you is, be organized so that the government can help you."

He said that this will be the force the party will use to mobilize for votes in Wakiseka and beyond.

"Opposition is taking you nowhere. We shall give you all the necessary support," he added.

Martin Matsiko, the NRM party chief mobilizer Kampala said; "Power is in your hands to change Kampala to become yellow. Let us leave here totally changed and mean what you say."

The NUP spokesperson, Joel Ssenyonyi, rubbished the group as mere survivors in politics. "We do not know these people and they are not near our party structures. They did not even have the party cards or t-shirts," he said.