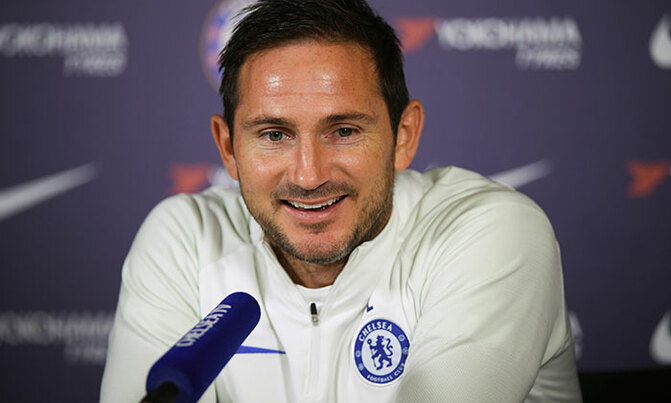 Lampard is the first to know that club owner, Roman Abramovich, only understands one language - winning.
Frank Lampard was the fulcrum on which the great Jose Mourinho and Carlos Ancelotti's world-class sides were built. He was there when they arrived, saw how they constructed a winning team, and kept his lessons.
Mourinho; of the Chelsea, Real Madrid, Manchester United world, and Ancelotti; of the Juventus, AC Milan, PSG, Real Madrid, and Chelsea world, are world-class managers who, in the pursuit for success, are quintessential examples of how money can buy success. Sometimes. Winning silverware, including the Premier League, with both managers, influenced Lampard's world view. If nothing else, a manager can buy their way to success.

After a brilliant start to his Premiership managerial career where he kept Chelsea among the top four to qualify for the 2020-21 Champions League for the second successive season, Lampard is beginning to smell blood. He lost to Liverpool in the UEFA Super Cup, to Arsenal in the FA Cup final, and finished in the last round of 16 in the Champions League after losing to Bayern. The fine margins were the inferior quality and lack of maturity in his team. It's what Liverpool and Manchester City have in abundance.

Lampard is the first to know that club owner, Roman Abramovich, only understands one language - winning. Playing fancy and lighting up dull crowds with individual flair is for romantics not businessmen like him. It's why even winners like Mourinho, Ancelotti, Roberto Di Matteo, Antonio Conte, and Maurizzio Sacchi were sacked once they stopped winning. The Roman code.

Lampard's response to his first season's failings has therefore been swift. In the transfer market, he has cast his net far and wide. Kai Havertz, Thiago Silva, Malag Sarr, Ben Chilwell, Davide Zappacosta, Hakim Ziyech, Tom Werner, Danny Drinkwater, Tiemoue Bakayoko, and Ethan Ampadueok. Pep Guardiola must be jealous. Suddenly, Chelsea have quality as deep as the ocean. When you add the fast-rising Christian Pulisic, Tammy Abraham, Mason Mount, and experienced N'Golo Kante, Jorginho, Mateo Kovacic, Marcos Alonso, Antonio Rudiger, and Cesar Azpilicueta, it reads like the rest of the world. It's a resounding speech. An undisguised statement that comes as a warning to the rest of the Premiership.

Jurgen Klopp and Pep Guardiola have been the only bulls in the kraal in part because of the superior quality of their first teams but more so, their class as managers. Lampard must learn this fast enough. Klopp's greatest claim to fame is not his powers of seduction to lure the Fenway Sports Group into opening the purse but his ability to turn water into wine; Mohammed Salah, Sadio Mane, Roberto Firminho, Trent Alexander-Arnold, Andrew Robertson, Jordan Henderson, Joe Gomez, and Fabinho are his creation. Guardiola is reputed more for his technical football philosophy and skill at harnessing the big talent at his disposal.

While Liverpool and City have the benefit of experience, stability, and continuity, Lampard must prove that he has the ability to manage the talent now at his disposal. Ancelotti and Conte won the Premiership because they inherited a quality group of players with a winning mentality and experience. Chelsea's biggest flaw last season was the lack of balance between attack and defense. They were split wide open at the back with the same regularity they were splitting opposing defenses. And while their effervescent attackers exhibited a lot of bravery and assertiveness, they lacked cover and protection at the back. To their credit, Chelsea are being bold in their approach to the season. They are not only going out to challenge for the Premiership, they want to win as much silverware as they can.

On paper, neither Manchester United, Arsenal nor Tottenham Hotspur can compete with them in squad depth or quality. But Klopp has built a team of mentality monsters with character and insatiable hunger, while Guardiola has plenty of unfinished business after leaving him with a bruised ego last season. In terms of motivation for his team, this is it. For Liverpool, they have been working on a four-year project which has reached maturity. They are now believers with quality and confidence to justify the silverware they now have.

City have so far added Dutch center back Nathan Ake and Spanish attacker Ferran Torres to replace the departed David Silva and Leroy Sane. Qualitatively, they are still the standard. However, just like last summer, Liverpool have been slow in the market, choosing instead to focus on their needs rather than respond to their wants. Their first choice team has two years before it reaches its peak. While their squad quality remains inferior to City's, they have the assets that can't be bought with money; the collective and mental fortitude. If Chelsea want to be champions in this Liverpool and City dispensation, Lampard must look beyond the market.