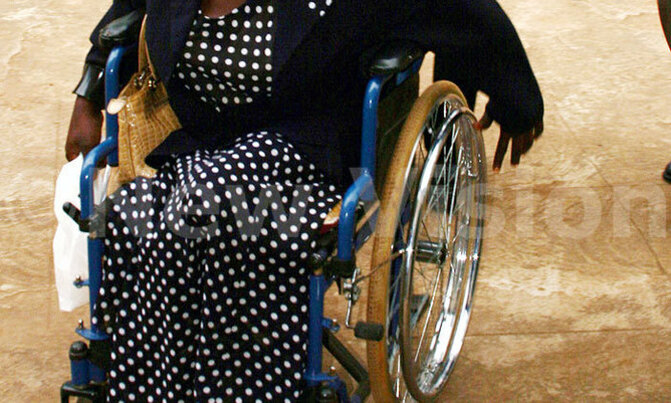 "There still remain glaring gaps in disability inclusion across all sectors. Many persons with disabilities live in absolute poverty."
It took 10 years for Beatrice Nafula who moves with the aid of a wheelchair to find her current job as a school bursar.

Nafula who holds a Uganda Diploma in Business Studies (UDBS) says discrimination and negative attitudes by employers towards Persons with Disabilities is real.

"They think we cannot perform to their expectation," she says.

For her first job, Nafula volunteered to work for Busia District Union of Persons with Disabilities as a development worker and champion for rights.

It was while at the Union that she saw a newspaper advertisement by the Ministry of Education for school bursars, and she was able to apply and get recruited after so many years of job hunting.

But, some of her colleagues are still struggling to get employment.

The struggle

Over 5 million people (12.5%) of the 42 million Ugandan population are living with some form of disability, but only 9,122 (1.3%) are employed in the formal sector, according to a Uganda National Bureau of Standards Labor Force Survey 2016/17.

The Persons' with Disability Act 2006 provides that, "The Private employers who employ ten or more persons with disabilities either as regular employees, apprentice or learner on full time basis shall be entitled to tax deduction of fifteen percent of all payable tax upon proof to the Uganda Revenue Authority."

However, according to Nafula, employers are aware of the law but just refuse to implement it.

"Perhaps they need incentives in the form of tax reduction especially for the private sector to get them to recruit persons with disability," she says.

"There still remain glaring gaps in disability inclusion across all sectors. Many persons with disabilities live in absolute poverty," says Edson Ngirabakunzi Chief Executive Officer, National Union of Disabled Persons of Uganda (NUDIPU).

Uganda endorsed the 2006 Convention on the Rights of Persons with Disabilities (CRPD) and the Sustainable Development Goals (SDGs) Agenda 2030, in which the government committed itself to leaving no one behind as it pursues sustainable development.

But despite these commitments, many people with disabilities in Uganda live under the national poverty line, as indicated in a 20I9 study by NUDIPU and TRAC FM, a social change agent that uses SMS for polling at radio stations in Uganda.

Facts on disability in Uganda

Of the 5 million (12.5%) persons living with disabilities across Uganda 7.9% are male, and 9.1% are female between the age of 18 to 30, while 25.8% are male, and 34.3% female between the ages of 31 to 64.

From this number only 9,122 (1.3%) are employed by the formal sector.

According to the NUDIPU and TRAC FM study, government should take center stage in making sure that the needs of persons with disabilities are considered.

It says fair representation would imply that at least 10% of government jobs are filled by people with disabilities and not just 1%, as is the case at the moment.

Can a difference be created under the new Act?

The Persons with Disability Act 2019, was assented to by the President before coronavirus (COVID-19) disease swept in, says the Ministry of Gender, Labour and Social Development spokesperson Frank Mugabi.

As an incentive, the act states that an employer who employs persons with disabilities shall be allowed deductions of up to 10% on the chargeable income as maybe provided for in the Income Tax Act.

"It means that if a company's income is supposed to be taxed, if it employs persons with disability it will save that 10% which was to be taxed from their income. It is a lot of money saved for companies that earn in billions," says Mugabi.

However, the new law is yet to be regulated by the Ministry to guide its implementation.

"It must be aligned and implemented with provision of the Income Tax Act, of which the Ministry of Finance and Uganda Revenue Authority (URA) will take charge," says Mugabi.

He says the Ministry of Gender, Labour and Social Development should have had a meeting with NUDIPU, and employers to determine the suitable quota of Persons with Disability for a workforce, but the lockdown due to COVID-19 affected the meeting.

Mugabi says after strict lockdown measures are lifted, the Ministry of Gender, Labour and Social Development will convene a meeting to set out guidelines on implementing the new law to compel employers to employ the agreed quota of Persons with Disability in their organizations.

The new law also offers a special grant for persons with disabilities.

"The budget was increased and we created a new stream of funding. All they have to do is create a group of 5-15 people to access a sh15m grant to start a venture that will empower them economically," he says.

Mugabi says vetting is done by the Sub-County and the districts, and once a group is cleared the ministry will channel the money directly to their account.

The special grant is in addition to the Persons with Disability Grant sent to the districts. They are the two major sources of financial support for economic empowerment.

Making the new law work

A Member of Parliament representing Persons with Disabilities for the Eastern Region, Grace Asamo says, the 2006 Act gave a 15% tax waiver to an employer who would employ Persons with Disabilities but it was abused.

"Under the old law, employers would get any Person with Disability and give them any job (make them among others a teller or tea girl) to meet the quota and get their tax waived yet in most cases, the Persons' with Disability were qualified for more professional jobs or positions," says Asamo.

The Hon. Member of Parliament continued to say that the government lost a lot of revenue this way and negotiated out of the waiver and instead introduced the special grants that it gave Persons' with Disability in groups to invest and earn a living.

In addition to the Special Grant, the new presidential Initiative on wealth and Job creation worth over sh100 billion will also benefit Persons' with Disability working in groups to invest, earn money and uplift their economic status.

Among others she brought out the following key issues;

"In the new law there is no employment quota reserved for Persons' with Disability. If we retain the quota, we may block employment opportunities for other Persons' with Disability when the quota is filled."

She says when employers hire workers, what should be looked at is the individuals' capability.

"If one is qualified enough, they should be employed even if they are Persons' with Disability."

Uganda signed up to implementing the global Sustainable Development Goals (SDGs). Goal 8 aims: to promote sustained, inclusive and sustainable economic growth, full and productive employment and decent work for all, the international community aims to achieve full and productive employment and decent work for all women and men, including for Persons with Disabilities, and equal pay for work of equal.

"Some government entities are doing well including the Public Service, Education Service Commission, District Service Commission, they have some job slots reserved for Persons' with Disability," says Asamo.

The government has educated some Persons' with Disability through its different scholarship initiatives, and it is only fair that when they leave university, the government ought to employ them so that the investment is not wasted.

She further explains that for the new law to work, Persons' with Disability need to be enlightened that when filling employment forms for public service jobs indicate the Persons' with Disability fact, and also they need to be more interested in these positions.

Other measures

According to Mugabi, the Ministry of Finance and URA, got strict on both public and private organizations employing the given quota of persons' with disabilities, which has mandated a change to the new law.

Now "those who contravene the provisions of the new Persons' with Disability Act, 2019 are liable on conviction to a fine not exceeding 100 currency points or imprisonment not exceeding one year or both.

He says once the quota has been set in the post COVID-19, all employers will be required to have Persons' with Disabilities among their employees, and those not complying will be breaking the law and penalized.

"This new law will ensure employment for Persons with Disabilities and deal with discrimination. Companies must implement the law as it is," says Mugabi.

"To ensure compliance, we have labour inspectors to follow up. They have been limited in number but we are going to recruit more so we can have them in each and every district. This is a job they have to do as part of their routine duties," he added.

As the biggest employer, the government should be proactive and task all its institutions to uphold the SDG principle of 'leaving no one behind' by employing Persons with Disabilities," stated the NUDIPU and TRAC FM 2019 study conducted between July and October.

According to this study, the government should set and enforce the employment quota for public sector jobs of at least 5% to increase access to formal employment opportunities for Persons with Disabilities.

The quota would echo similar quotas of 5% in other East African countries like Kenya.

However according to Hon. Asamo, it would be best that the quota is negotiated with individual employers to avoid its abuse.

The new law brings government to the center stage of responsibility, government is the first duty bearer, in ensuring Persons' with Disability are employed.

"Other institutions including state house, electoral commission and parliament started hiring Persons' with Disability even though the number is still countable. Even private sector employers should take responsibility with new law," says Asamo.

She says for government institutions before getting the Gender and Equity Certificate, the Equal Opportunities Commission should have equally verified and approved that they have employed Persons' with Disability and the same should apply to the private sector.