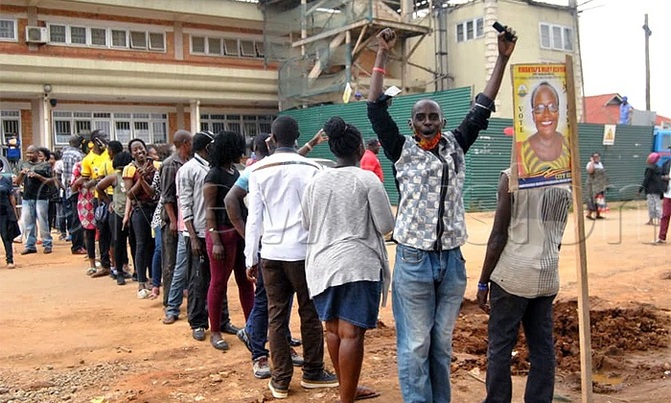 NRM held its primary elections for contenders vying for the party's ticket for district chairpersons (LC5), city mayors and Kampala Lord Mayor.
ELECTION WATCH 2020-21

Presented by Joseph Kizza

(Scroll down the page for earlier updates)

_______________________________



9:45pm | Good evening. It's a wrap!

And that's it for today's live page. The results will continue to be declared from the various tally centres - no doubt long after some of us have hit the bed. Congratulations to all who have won and all the winners in waiting.

To you who has been checking in here throughout the day, glad you could join.

Cheers!


_______________________________



9:40pm | Masika wins Mbale district contest

In Mbale in eastern Uganda, Apollo Watenyeli Masika has won the district LC5 NRM primary with 24,946 votes.

In a close contest, Joram Mayatsa Khambson came second with 23,062 votes, Robert Makhonje with 20,423 votes and Samson Wamimbi Wokwomu trailed with 14,619 votes.



_______________________________



9:17pm | Power off in Serere, out come the phones!

New Vision's Godfrey Ojore reports that power has gone off at the Serere district NRM tally centre amid a downpour. The determined officials are now using phone torches for light as they carry on with the tallying exercise.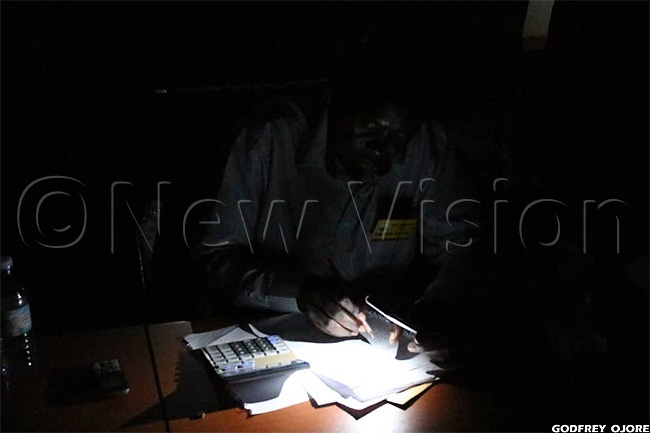 _______________________________



8:55pm | Basajjabalaba takes Bushenyi LC5 flag

Jaffari Basajjabalaba has cruised to victory in the Bushenyi LC5 NRM primary election, being declared winner with a convincing 53,619 votes (79.2%) in a three-man race.

His two opponents proved no match.

Lauben Mugarura got 8,050 votes (11.9%) while Alfred Bangirirana Rupiiha polled 6,010 (8.9%).

New Vision's Abraham Muganzi has shared a screenshot of the declaration of results form: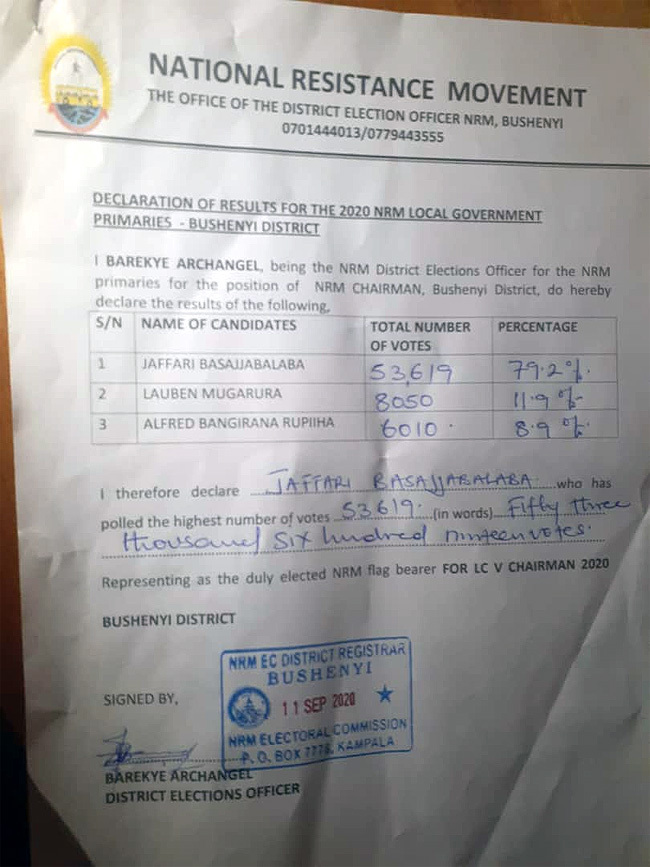 _______________________________



8:07pm | Update from Arua

Like I mentioned earlier, this is of course going to be a long night for some tally centres. New Vision's Edna Piyic has an update for us:

Tallying of votes in the Arua city mayoral race is going on at Arua Public Primary School, the tally centre.

Poor lighting inside the centre has forced the registrars to use their mobile phone torches to compile results.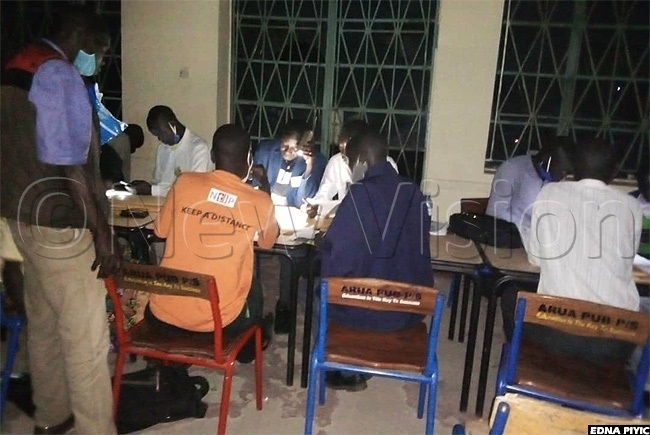 _______________________________



7:53pm | Bunyangabu has decided - Mugarama reigns supreme

James Ategeka Mugarama (27,534 votes) has beaten Peter Musinguzi (10,089 votes), his only rival in the Bunyangabu district race.

After being declared winner by Robert Musiime, the NRM electoral commission returning officer for the district, Mugarama has now officially become the NRM flagbearer for the LC5 chairman for Bunyangabu come 2021.



_______________________________



7:40pm | The numbers

It promises to be a long night ahead for many candidates. For some, it will be an anxious wait for the outcome of their respective elections.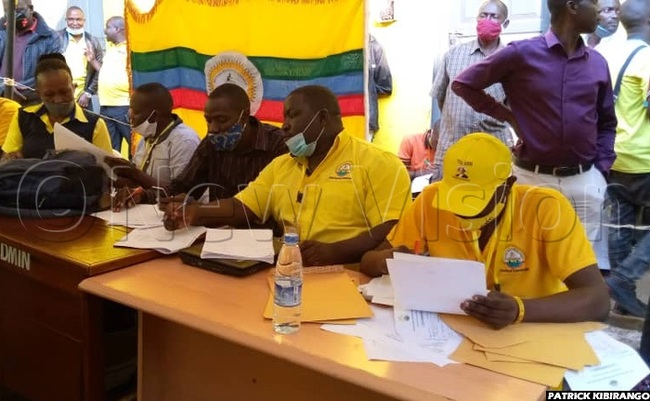 _______________________________



7:21pm | 'Relatively peaceful elections in Kabarole'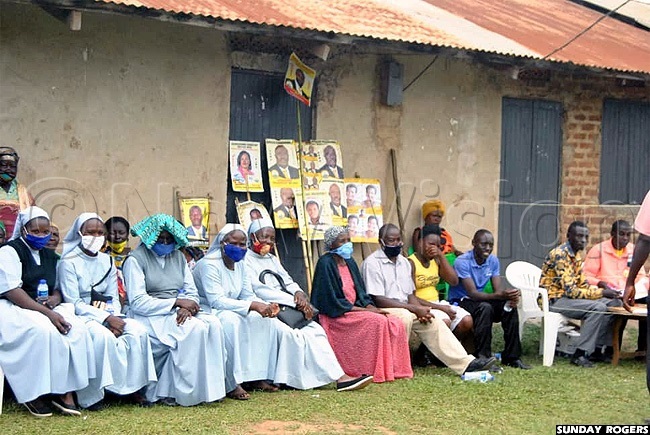 According to New Vision's Sunday Rogers, there has been a general sense of calm during Friday's primaries in some parts of Kabarole. Here is his brief report:

Voting has been relatively peaceful in parts of Kabarole district.

Rutete and Kasenda sub-counties in Kabarole, which had been identified as possible hotspots, also hosted calm elections.

These two areas are home to candidates Richard Rwabuhinga and John Busingye for the hotly contested district chairperson seat.

At Rutooma polling station in Rutete, voters arrived early and started checking for their names in the voter's register while at Rwankenzi in Kasenda, voters arrived late.

Sam Tumwine, a voter, said most voters attended to their gardens before heading to polling stations to vote.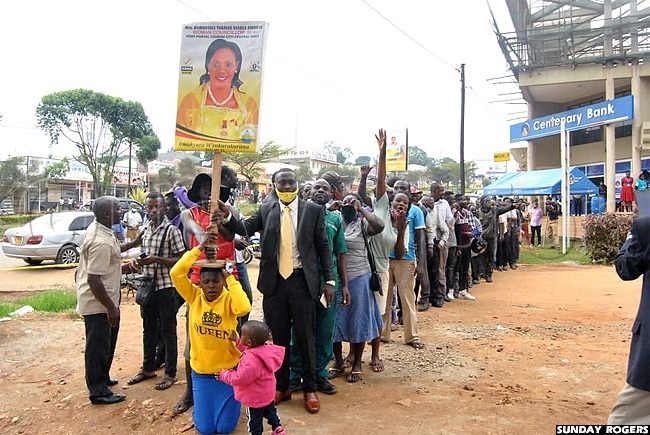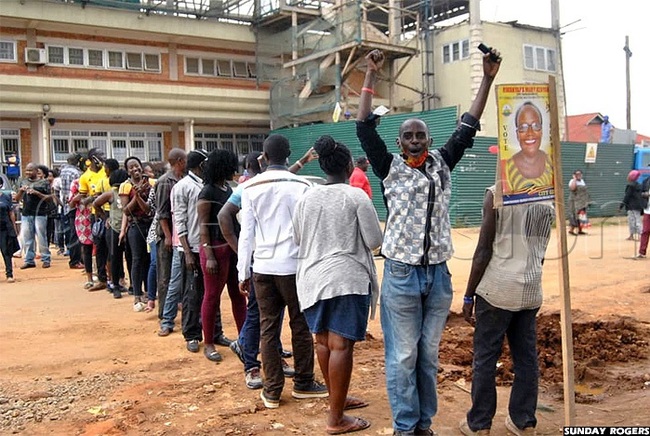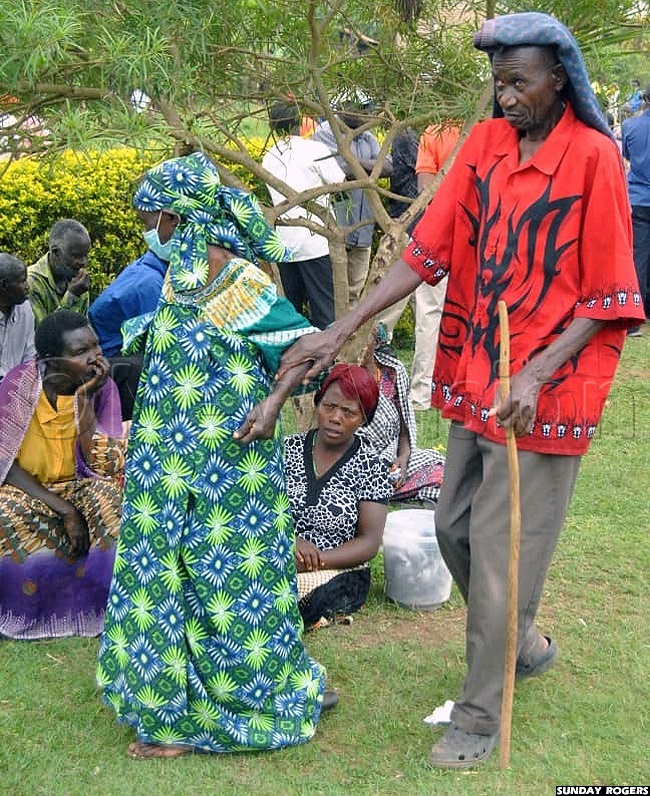 _______________________________



6:11pm |Fresh voting in Kavule

At one polling station in Kavule village in Mukono, voting had to be conducted again after the process was initially marred by clashes amongst voters, with some accusing others of not being party members of the area.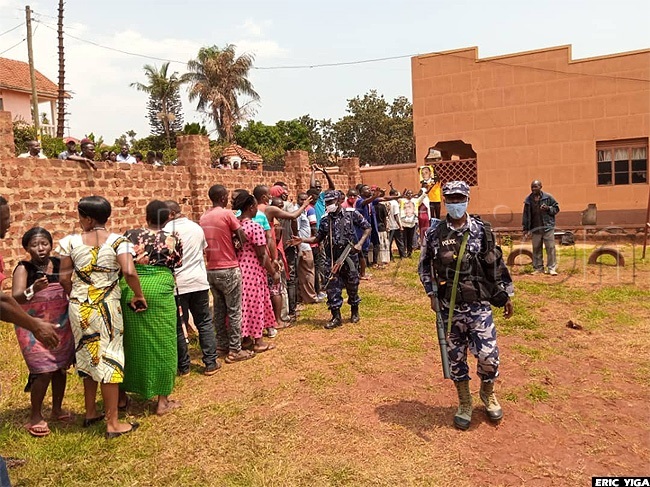 _______________________________



5:55pm | BREAKING NEWS:Molly Kamukama out, Muheesi in

From last week's parliamentary primaries, NRM electoral commission chairman Dr. Tanga Odoi has declared Jenifer Muheesi Abaho (16,802 votes) as the duly elected NRM flagbearer for Kazo district Woman MP.

The results show that she has beaten incumbent Molly Kamukama (16,715 votes) to the flag in a race of eight contestants.

This was a close!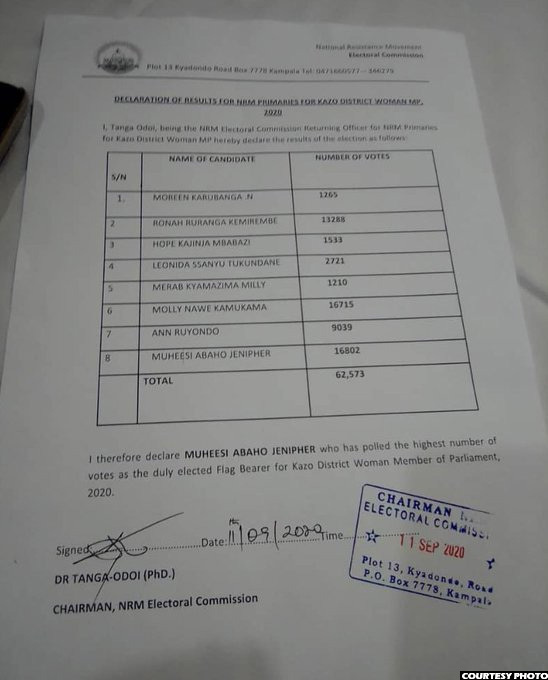 _______________________________



5:42pm | Tally centres getting busy

It is time to crunch the numbers. If you asked me, the coming hours are going to be long!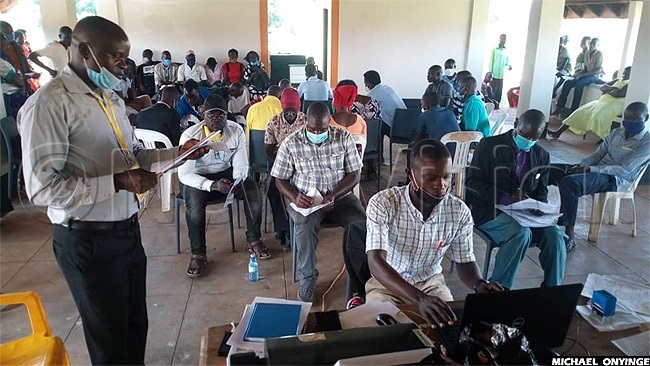 _______________________________



5:27pm | NRM Katakwi registrar gets tough

The NRM district registrar of Katakwi, Patrick Imeri, has rejected the results from over five polling stations over suspected malpractice, reports New Vision's Emmanuel Alomu.

"I am under pressure for announcing the recent results for NRM party primary elections for parliamentary seats which were exceeding 2,000 per polling station. This time round, I am accepting to be blamed as long as I have played my good role," he said.

The said polling stations include Ameritele, Akareu, Oitela, Oregia and Goria, located in Guyaguya and Kapujan sub-counties.

It was in Guyaguya sub-county where some candidates managed to score over 2,000 votes at a polling with less number of voters during last week's parliamentary primaries.

Meanwhile, the incumbent Katakwi Woman MP, Violet Akurut Adome, has petitioned the NRM electoral commission over the same matter.


_______________________________



4:23pm | Tallying kicks off in Serere

Counting of votes at Serere district tally centre for LC5 and the councilors under way, reports New Vision's Godfrey Ojore.

In attendance are two candidates Margaret Alupo Opol and Julius Okello. The contest attracted five people. Others are Bosco Okello, Richard Emanio and Curthbert Oyoga. The results from Kidetok are being counted and Alupo is leading. The resident district commissioner, Geoffrey Okiswa, is also in attendance and has said that they have not recorded any incidents of violence in today's primaries.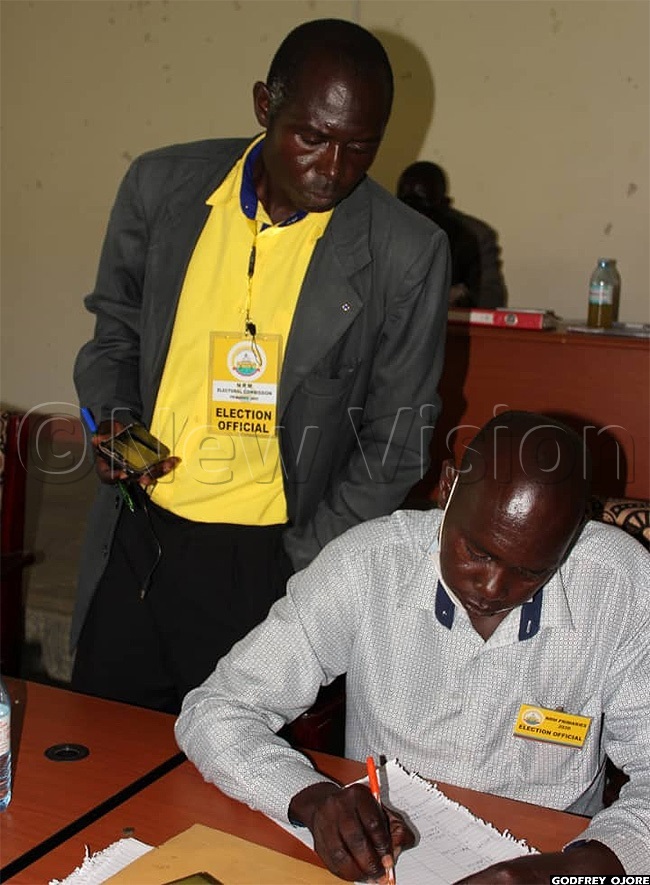 _______________________________



4:05pm | Nkalubo ahead of Bitakalamire in Ssembabule

Update by New Vision's Dismus Buregyeya:

Former Lwemiyaga County parliamentary contender in Ssembabule district, Patrick Nkalubo, is leading his opponent, Henry Bitakalamire, in the district LC5 chairperson race.


_______________________________



3:56pm | Improvisations

In Lira, New Vision's Hudson Apunyo froze these agents of rival candidates signing declaration forms at Vienna Primary School polling station.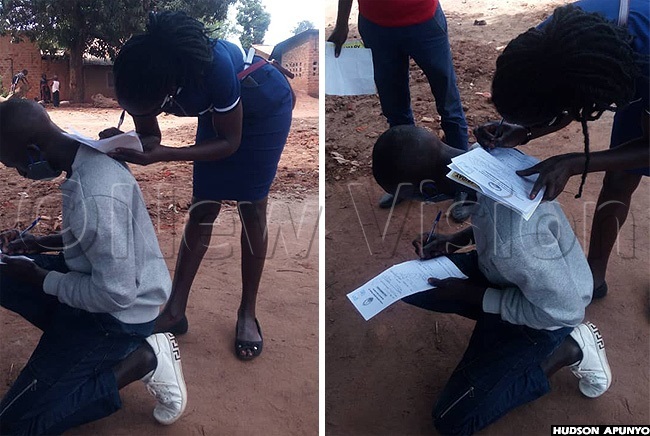 _______________________________



3:47pm | Tallying under way in Kalaki

Meanwhile, tallying of results from different villages has kicked off at Kalaki district NRM tally centre, reports New Vision's Michael Onyinge.

The district NRM registrar, Richard Ekiu, is leading the process as he had two data clerks doing the entry. Agents of candidates are here to witness the process.

Angella Ariso, one of the aspirants for Kalaki sub-county, is also around to following the tallying.



_______________________________



3:30pm | Are they genuine NRM members?

New Vision's Ismael Kasooha is following the developments in Hoima - particularly at Hoima Public Library polling station, where the polls have been stopped.

He reports:

Earlier at Hoima Public Library polling station in Hoima, NRM registrar Brian Mugenyi set up a verification committee to ascertain genuine NRM members, but supporters of aspirant Brian Kaboyo refused to accept this. They wanted all people to vote regardless of whether they are on the register or not.

Mugenyi then addressed irate voters before calling off the voting. He said elections could not continue because many people who turned up to vote were not residents of the three villages of Bujwahya, Kiganda I and Kiganda II in western division. Charles Mubala, the officer in charge operations at Hoima police station, was seen talking to Mugenyi to quell the situation.

So far, the contest is between Mary Grace Mugasa and Kaboyo. Fredrick Ziwa Alibankoha is trailing the duo in all polling stations.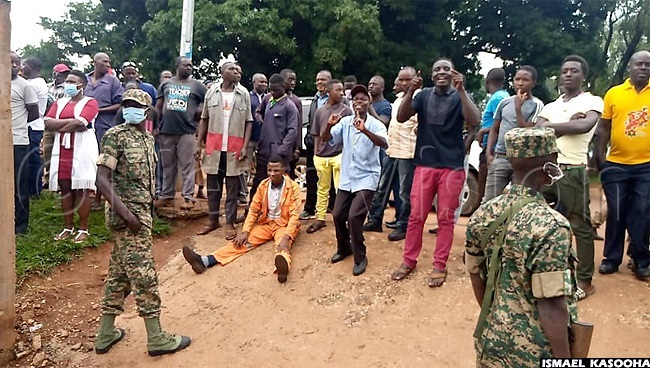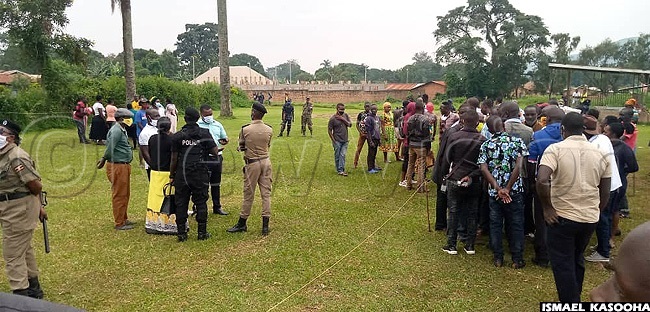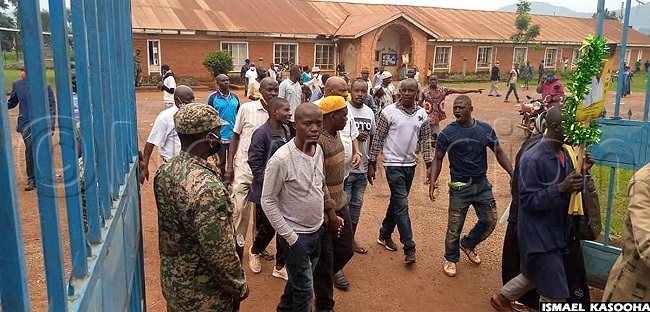 _______________________________



2:57pm | Kyeyune to stand as independent

New Vision's Job Nantakiika has been at the heart of the developments at Zimbena Gardens where one of the candidates has decided to go independent.

Here goes:

Former Wakiso LC5 chairperson and RDC Ian Kyeyune has vowed to stand as an independent candidate for the Wakiso district seat following what he called injustices against him during today's district primaries.

Kyeyune, who arrived at his polling station at Nabweru South Ward 1 at around 10.30am, found the LC1 chairperson of the area, Dorothy Nankya, reading out names from the party register.

His supporters complained to him that they had been denied entry into the voting area at Zimbena Gardens.

Kyeyune's name was read but he declined to enter, saying he could not enter yet his supporters that had showed up to vote for him were outside.

It was from this point that some of his supporters asked him to stand independently, an idea Kyeyune bought immediately.

"I think I need to do that because there is a lot of injustice in today's primaries because Nankya is reading only those who support my opponent Mayanja, leaving my supporters outside," said Kyeyune.

Kyeyune demanded that voters who were already inside the voting area come out so that names could be read afresh. His demands did not bear the desired action.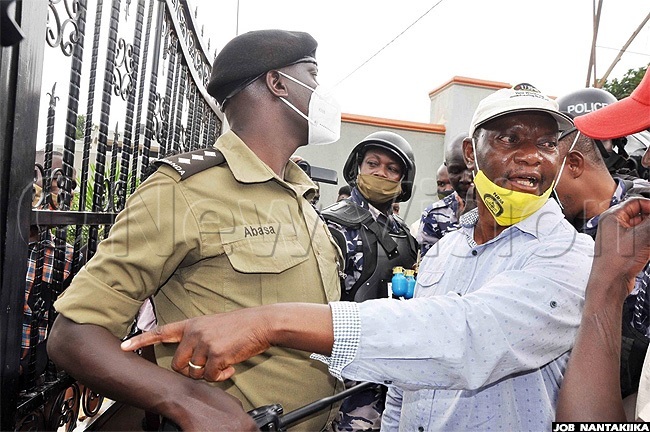 John Mugaya, a voter, complained that Nankya did not follow the party president's directive of allowing all the party members to vote even if they do not appear in the party's register.

Nankya, who was accused of being selective when reading the names of the voters, said Kyeyune simply feared the race.

The presiding officer Nazir Mwanje declared Moses Mayanja as the winner with 912 votes against Kyeyune who got no votes.

Mwanje admitted that he was assisted by the NRM village committee purposely to identify the genuine party members but they were so selective.

He added that there was some violence, which he attributed to Kyeyune's supporters.

Angered by the process and outcome at this polling station, Kyeyune's supporters threatened to turn their rage on Mayanja's supporters.

Eventually, Police fired tear gas and shots to disperse Kyeyune's supporters to allow Mayanja's supporters to leave the polling station.




_______________________________



2:40pm | In Hoima, voting hits snag after claims of foul play

Voting has failed to take place in some parts of Hoima city as voters of rival candidates claim there is foul play, reports New Vision's Ismael Kasooha.

At Hoima Public Library polling station, supporters of Brian Kaboyo and Mary Grace Mugasa, the incumbent mayor, failed to agree on who should be allowed to vote. Police and UPDF are heavily deployed for any eventualities.



_______________________________



2:16pm | Moroto voters stay away 'over coronavirus fear'

We have an update from Moroto from New Vision's Olandason Wanyama:

There was low turnout of voters as the NRM held its primaries to elect its flagbearers for district chairperson and councilors in Moroto district.

Those in the race for the LCV seat include incumbent Andrew Keem Napaja, former district chairperson Mark Aol Musooka, Caeser Lometo and David Koryang.

In the women councilor race are Rita Ayaa Saima, Zubeda Teko and Prisca Adome Nali.

By 11:30am police polling station was generally deserted as voters showed up in low numbers.

Christine Ameto, one of the polling officials, attributed the poor turnout on the spike of coronavirus cases in the municipality.

She said that unlike last week's NRM primaries, voters may this time around have decided to remain home for fear of contracting the virus.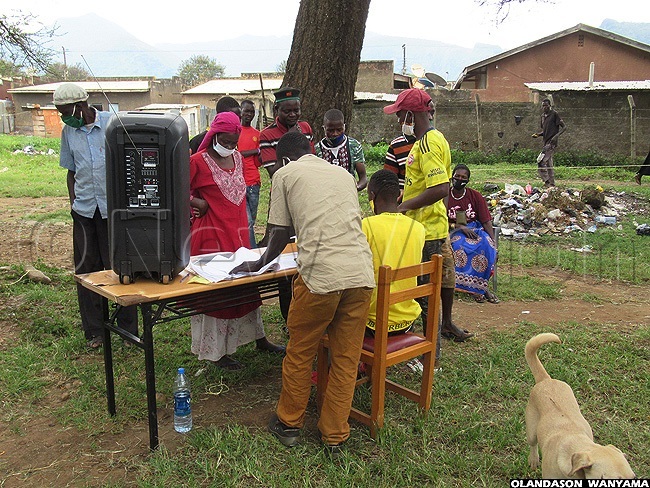 _______________________________



2:01pm | Elections in Katakwi

It is a hot Friday in several parts of eastern Uganda, including Katakwi district, where New Vision's Emmanuel Alomu has been monitoring the NRM primaries.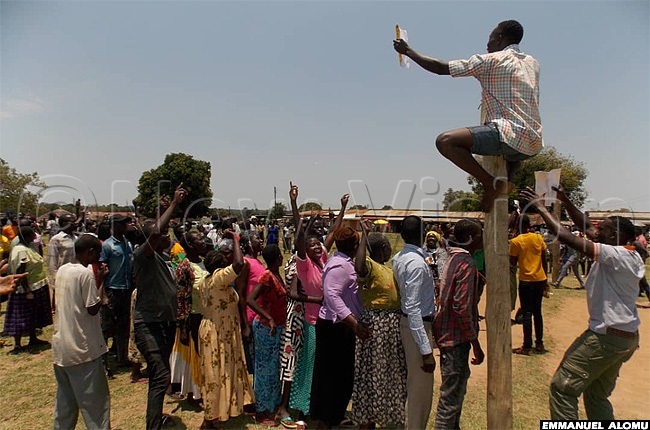 Here, supporters of Immaculate Amongin, who is eyeing the NRM flag for district female councilor for Katakwi town council, are seen in bouyant mood.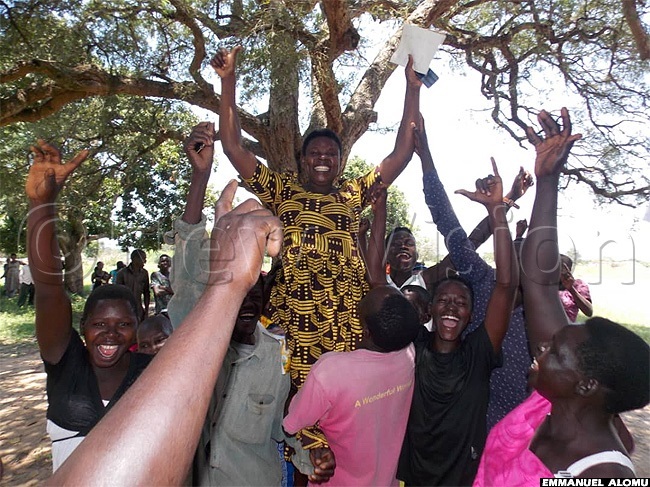 _______________________________



1:47pm | Wife of priest takes on men in Serere

New Vision's Godfrey Ojore reports a low voter turnout in Serere district, where Margaret Opol is taking on three male contestants for the LC5 NRM flag.

She is the wife of Anglican priest Sam Opol, who is also a lecturer at Uganda Christianity Univesity.

Opol's challengers are current district speaker Bosco Okello Ejwijiw, Julius Okello and Richard Emanio.

Margaret won at Adoku Primary School polling station, where she voted from. She got 350 votes, beating Oluka (five), Emanio (four) and Okello (no vote).

The current LC5 chairman, Joseph Opit Okojo, contested for MP Pingire county in last week's parliamentary primaries and lost to former Uganda Media Center director Fred Opolot.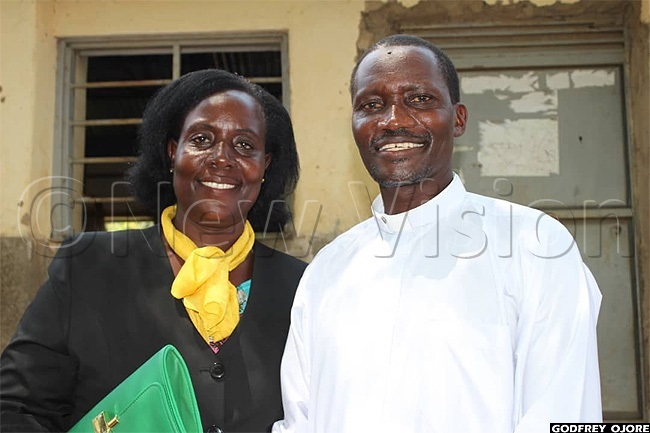 Rev. Opol said he is optimistic that his wife will be a good leader.

"I allowed her to join politics because it is one way of serving the children of God. I believe in her and it is my prayer that Serere people vote her in."



_______________________________


1:16pm | Zero votes

Well, well, well.

At some polling stations, some candidates have no single vote, with their forlorn representative posters looking more like scarecrows that have scared off the voters.

And it's all there for everyone to see. In broad daylight!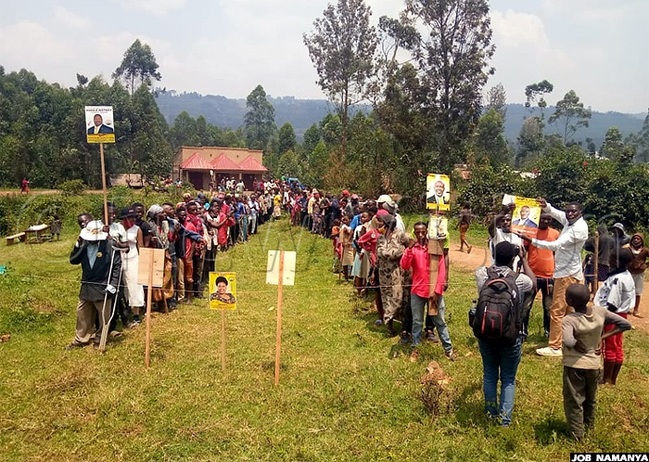 _______________________________


12:57pm | Delays in Kaberamaido

Not so long ago, New Vision's Michael Onyinge in Kaberamaido district reported that voting had delayed in a number of villages due to low turnout of voters at polling stations.

This was seen in villages such as Ararak, Awidyang and Awasi in Alwa sub-county, where voting had not yet started by midday.

Presiding officer George Eyolu of Ajuk East in Oriamo sub-county says he could not wait any longer for people, so he decided to kickstart the process at 12:29pm.



_______________________________


12:48pm | Flexing muscle

The battle for NRM flagbearers for LC5 chairperson in Luuka district continues. New Vision's Abbey Ramadhan reports that mnny children are seen mobilising support for candidates. Baker Luwangula and Simon Wakaze are in the LC5 battle while Siragi Saize and Christopher Musiba are jostling for the flag of district councilor of Bulanga Town Council.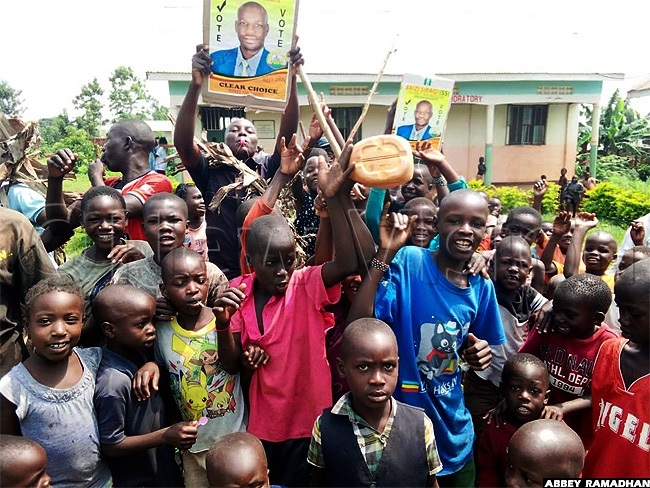 Here, New Vision's Jackie Nambogga has pictured locals carrying Robert Kanusu, one of the Jinja city mayoral candidates at Kazinga polling station in Budondo division.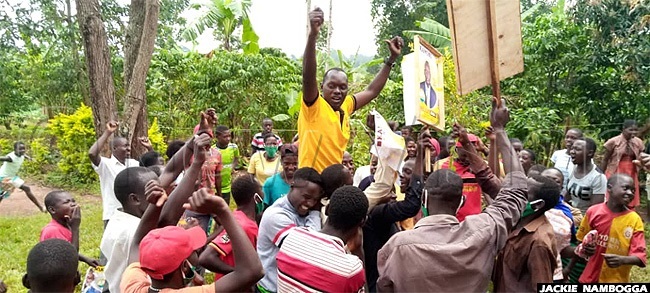 _______________________________


12:25pm | An early no-show

Voting for the LC5 leaders started in low gear in Kasese district, with only candidate's agents and election officials at the polling stations, reports New Vision's John Thawite.

This was earlier today morning.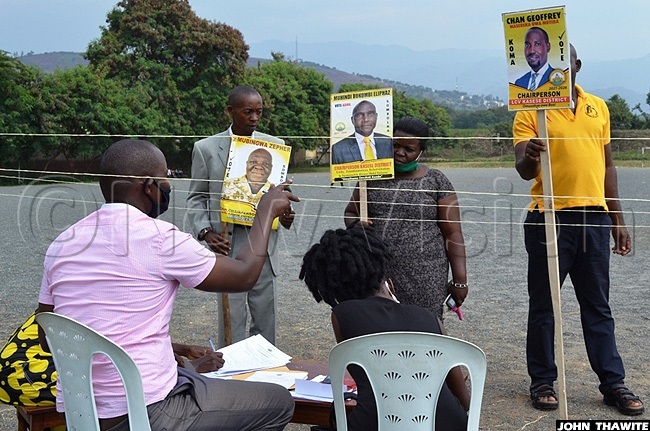 _______________________________


12:17pm | Picture this . . .

Voting at Nyaburara A polling station in Fort Portal.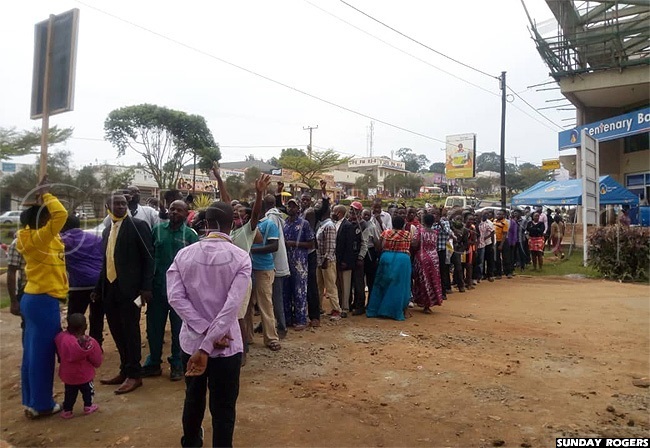 At Kanyankwanzi cell polling station, where the Kabale district chairperson, Patrick Besigye Keihwa has voted from, according to New Vision's Job Namanya.

He says Keihwa has polled 165 votes at this polling station while his main challenger, Nelson Nshangabasheija, got 15 votes.

Note that these are not official results.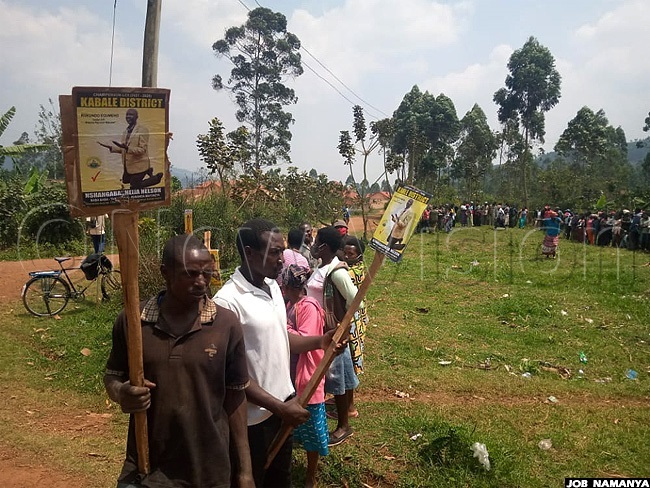 At Naguru Go Down polling station, voters have demanded a recount, claiming that other people voted yet but they do not belong to this village. The commotion has drawn the attention of Police, who, accoring to New Vision's Alfred Ochwo, have swung into swift acton to control the situation.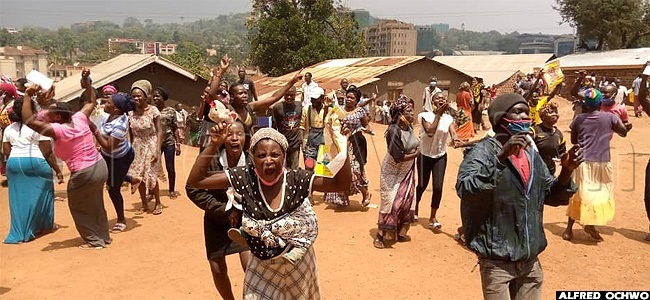 The situation at Butebe Polling Station in Mukono.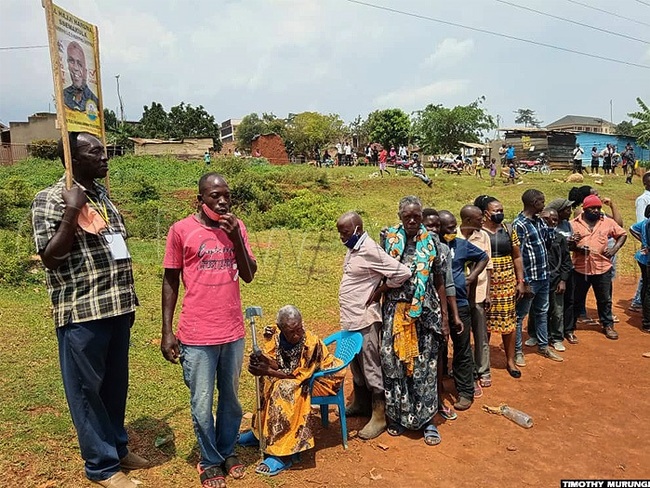 _______________________________


11:37am | Delayed arrival of election materials in Rukungiri

New Vision's Caleb Bahikaho reports of delays in delivery of materials to polling stations in Rukungiri district in western Uganda:

The materials for local council elections in Rukungiri district generally delayed to arrive at polling stations.

At Mugamba Church of Uganda, by 9:00am there was no single person at the polling station. At Rwebiruba Cell in Kyaruyenje sub-county, where incumbent district chairperson Andrewson Katebire is expected to vote from, there were only 10 people out of 167 registered voters by 11:15am.

At this polling station, there was jerrican of water and soap for washing hands, although very few people were seen washing their hands in the context of adhering to the standard operating procedures (SOPs) against the spread of coronavirus.

Very few members were wearing face masks. Some of those who were not wearing masks said they were waiting for Government to distribute free masks.

The village registrar, Jackline Beinenama, said she was waiting for the register to begin the exercise.

Andrewson Katebire, one of the candidates in the district chairperson seat, said he will accept whatever the outcome of the elections.

"Some of the national political leaders are reported to have intervened in our elections, but I will go with the will of people. I will go with what people will say," he said.

At Rugando polling station, only the village chairperson and his registrar were present by 11:10am. There was no water for washing hands as measure to prevent the spread of COVID-19.




_______________________________


11:24am | Voters, where are you?

Twenty-four minutes ago, New Vision's Lawrence Mulondo captured the situation at Kigwanya polling station in Rubaga division, Kampala:

It is 11am. NRM electorates are supposed to be in line voting for their flagbearers for the posts of Kampala Lord Mayor and city councilors. However, at most polling stations in Rubaga division, there are just security officers and presiding officers with no voters around.

The situation at Kigwanya polling station, where Ssebaana Kizito is expected to vote from, is no different. Jalidah Nanyonga, the presiding officer at the station, says if people don't turn up for voting, they are to report back to office for their leaders to decide on what to do.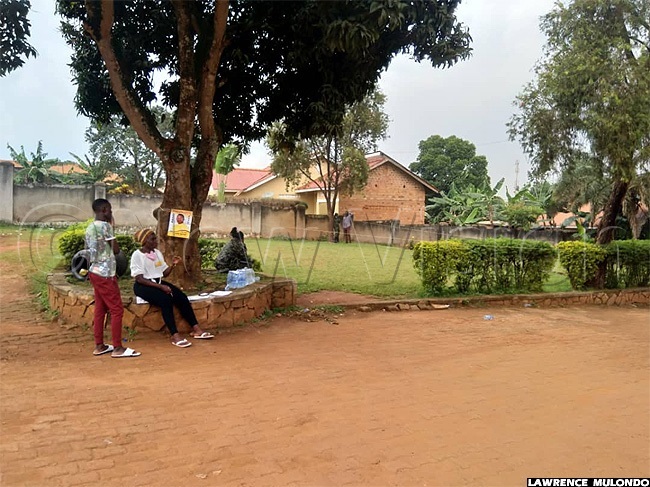 The battle for Kampala Lord Mayor NRM ticket has attracted sports journalist Ahmed Bogere Masembe, musician Daniel Kazibwe aka Ragga Dee and Ssebaana Kizito, a nephew of former Kampala Mayor and Democratic Party (DP) president, the late John Ssebaana Kizito.


_______________________________


11:18am | Access denied

The mood at Zimbena Gardens in Wakiso district has been quite high up there, and from what Vision's Steven Kiragga is documenting, there a bit of heat there.

He reports:

Security has been tightened at Zimbena Gardens, Nabweru South Cell 1 amidst tight LC5 NRM primaries between Eng. Ian Kyeyune and Moses mayanja. Earlier on, Kyeyune and his supporters were barred from accessing the premises on grounds of not being in the voters register. However, they protested it, claiming party chairman President Yoweri Museveni had cleared all people to vote provided they are known by the NRM village committees as genuine NRM members.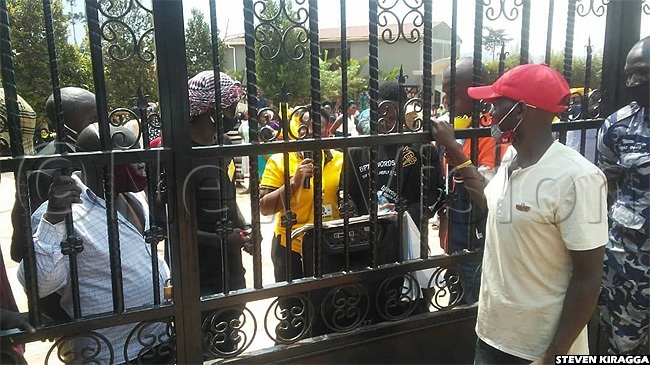 _______________________________


11:06am | Police warns against processions

About half an hour ago, New Vision's Sunday Rogers sent through an update from Fort Portal:

The Police in Fort Portal have cautioned supporters against holding processions as the ruling NRM party goes to the polls once again today to elect district and city leaders.

Vincent Twesigye, the Rwenzori regional police spokesperson, says that most of the COVID-19 standard operating procedures (SOPs) were not adhered to during last week's party parliamentary primary elections.

He has also cautioned candidates against acts of intimidation and violence.

"As Police, we shall be there to keep law and order during and after the election exercise," says Twesigye.

Meanwhile, voting has not yet started in Fort Portal.

There aren't many people at most poling stations but officials are present and busy putting to order the poling stations.




_______________________________


10:50am | 'Boss, relax!' ✋🏾

Security has been ramped up at Zimbena Gardens, Nabweru South Cell 1 in Wakiso district.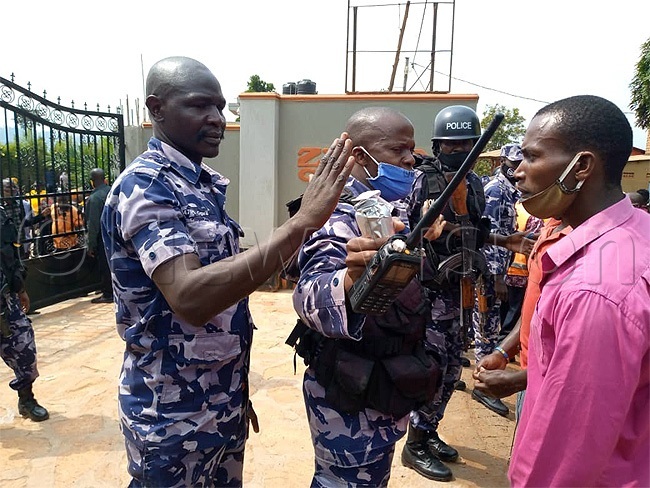 _______________________________


10:40am | At Adjumani Mayor's Garden

A bit of commotion at Adjumani Mayor's Garden as voters the contest voter's register, reports New Vision's John Unzima.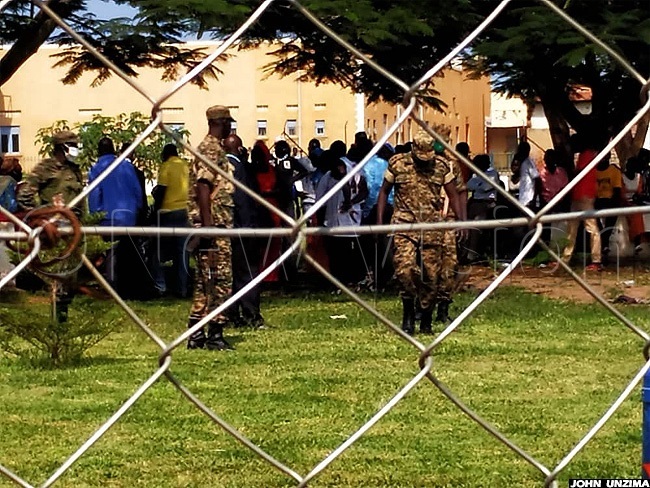 Unzima says that Adjumani DPC Godwin Ochaki, seen below on phone, is trying to calm matters.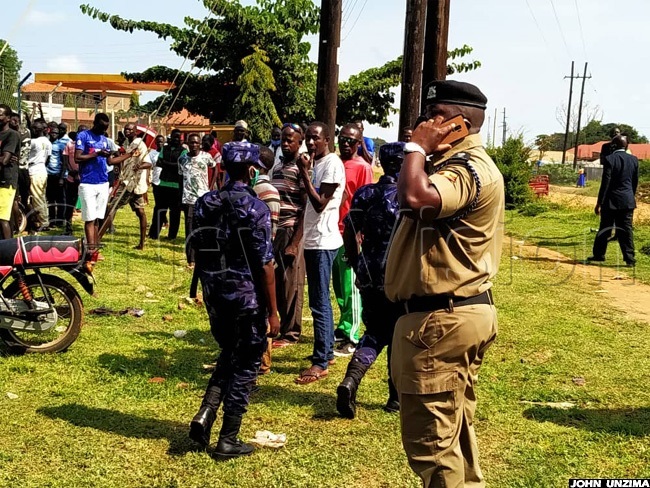 _______________________________


10:25am | Keep your eyes on the Wakiso race

In the Wakiso district LC5 contest, Eng. Ian Kyeyune is up against Moses Mayanja.

Vision Group's Steven Kiragga is reporting from Zimbena Gardens, Nabweru South Cell 1, where Kyeyune is expected to vote from. He says it is an effervescent mood, with his supporters in elevated spirits, sounding whistles and hailing their candidate. They are full of confidence.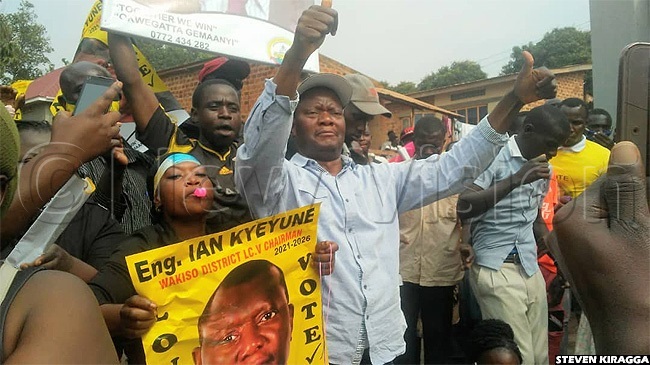 _______________________________


9:46am | Don't forget your mask . . .

If you are taking part in today's elections - as a voter - ensure you walk out of your home armed with a mask, as one of the guidelines instituted to curb the spread of the coronavirus - in this context at the polling stations.

New Vision's John Unzima has snapped this man presumably making his way to the polling station in Adjumani district in northern Uganda. Sure enough, he has a mask on.

Unzima reports that Adjumani NRM voters across 211 polling stations are gearing up for party's local council elections on a warm Friday mid-morning.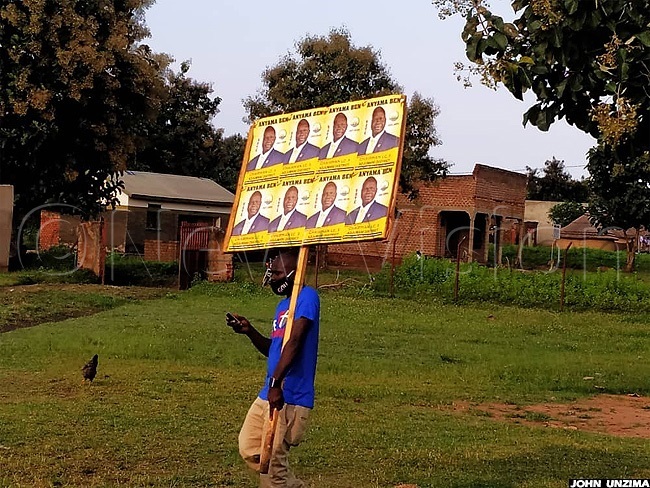 _______________________________


9:30am | Ssembabule: Museveni intervenes after Mawogola polls suspended

On Thursday, President Yoweri Museveni travelled to Ssembabule district to meet with the party leaders there over election wrangles in Mawogola North and Mawogola South constituencies.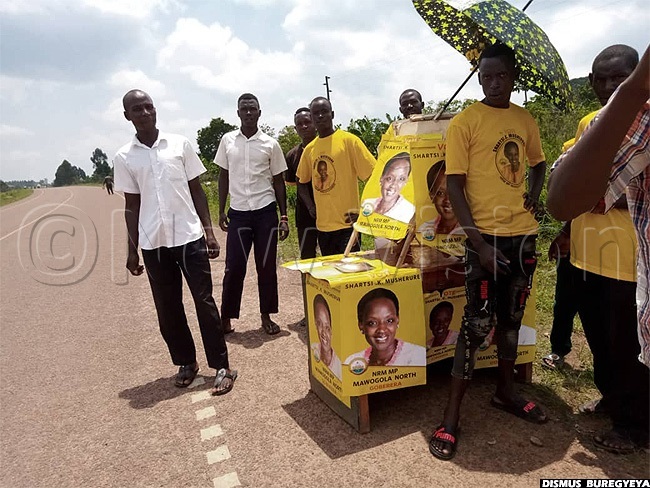 The meeting was initially scheduled to take place at State House Entebbe on Friday, but was brought forward to Thursday - and the venue changed to Ssembabule - due to today's party primaries.

A bitter rivaly between contestants for the Mawogola North party flag, Shartsi Musherure Kutesa and Godfrey Aine Kaguta left many supporters in both camps injured.

Shartsi is the daughter of foreign affairs minister Sam Kutesa while Aine is the younger brother of President Museveni.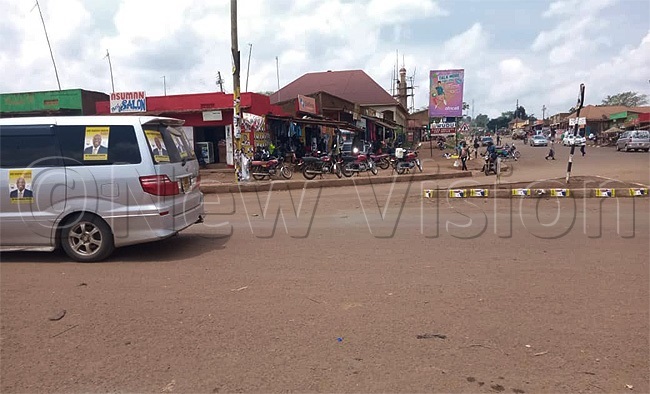 _______________________________


9:16am | Security ramped up

Of course lessons were drawn from last week's party polls. Security has been beefed up across the districts where the elections are taking place.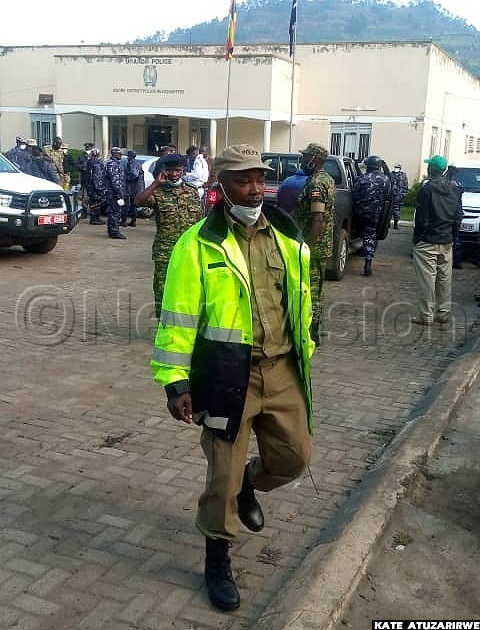 _______________________________


8:46am | 146 losers petition NRM electoral commission boss Odoi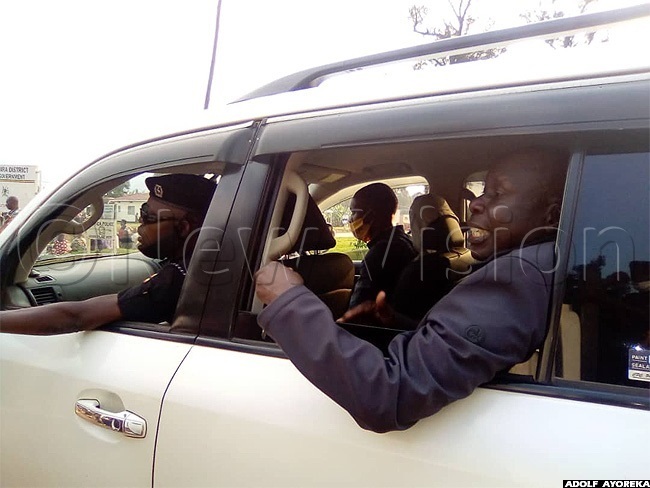 As we warm for to what today's elections have in store for us, I felt I needed to let you know that after last Friday's parliamentary primaries, over 146 petitions have been filed with the NRM electoral commission by individuals who lost in their respective races.

New Vision's Umaru Kashaka monitored this development:

Dr. Tanga Odoi, who chairs the party's electoral commission, told New Vision two days ago that most petitioners want a vote recount, saying their results were either altered or under-declared.

"We already have about 146 petitions and 80 of them are seeking a recount. It means we only have to recount the votes and people will settle. The ones who call for cancellation are few."

In a separate meeting with ambassadors from the European Union, NRM deputy secretary general Richard Todwong said 205 petitions protesting the outcome of the primaries has been received.

The election was held within the context of the COVID-19 guidelines in 151 districts, 353 constituencies and 69,075 villages which are also the ruling party's polling stations.

During the elections, voters lined up behind the candidate of their choice or that candidate's agent or portrait.



_______________________________


8:25am | EU envoys speak out on NRM polls





New Vision's Moses Mulondo reports:

The European Union (EU) envoys to Uganda have expressed concern about the violence and other election malpractices which manifested in the NRM primaries last week.

The envoys wondered whether such acts would not be repeated in the 2021 general election.

After visiting opposition parties, the EU ambassadors visited the NRM headquarters on Kyadondo Road in Kampala on Wednesday and held discussions with the party officials. They were led by the head of the EU delegation to Uganda, Ambassador Attilio Pacifici.

They, however, commended party national chairman President Yoweri Museveni and secretary general Kasule Lumumba for speaking tough against the malpractices that transpired in the September 4 parliamentary primaries.

Deputy NRM secretary general Richard Todwong led the NRM team that met the ambassadors, and assured them that all the necessary measures would be taken against the culprits. He told the visiting team that NRM does not condone acts of violence, rigging and voter bribery.



_______________________________


8:07am | Ssebaana Kizito in the race

No, it's not the Ssebaana Kizito you are thinking of, as you will find out shortly.

New Vision's Thursday edition picked out some of the hotspots in today's NRM primaries:

Abim district is one of them. Here, the race for the party flag has attracted eight contestants: Patrick Amach, Lilly Atyang, Bwoch Amon, Joseph Lokinomoe, Jimmy Ochero, Bosco Ogwang Oceng, Godfrey Omara Dbekas and Yuventine Omara.

The battle for Kampala Lord Mayor NRM ticket has attracted sports journalist Ahmed Bogere Masembe, musician Daniel Kazibwe aka Ragga Dee and Ssebaana Kizito, a nephew of former Kampala Mayor and Democratic Party (DP) president, the late John Ssebaana Kizito.

In Kamuli district, there are four contenders in the race - Samson Kawuzi, Jimmy Kiwule, Charles Maxwell Mugude and Mubarak Ndegwe.

The other likely hotspot, NRM officials said, is the battle for Kanungu district chairperson NRM ticket that has attracted Sam Arineitwe Kajojo, Charles Asiimwe, Zepher Mugisha, Kenneth Tumuhamye and Caleb Tumwesimire Kipande.

The Koboko race has attracted Gabriel Amori, Taban Rashid, Asirafu Mambu, Grace Goro, Habib Aloro and Stephen Sanya Mutto.

The other hotspot is Ssembabule district, where Godfrey Bitakaramir, Joseph Amooti and Patrick Nakalubo are battling for the NRM flag.

In Lwengo, the battle between Al Malik Ibrahim Kitatta and incumbent George Mutabaazi has also been mapped out as a hotspot.

New Vision reported on Thursday that NRM electoral officials in Lwengo have reportedly fled their homes, citing insecurity and possible attacks following the fall-out of political contenders Muyanja Mbabaali and Abdul Kiyimba.

Kiyimba defeated incumbent Mbabaali in last Friday's parliamentary party primaries.



_______________________________


7:50am | Security set in Kaberamaido

We have an early update from Kaberamaido district, in the eastern part of the country. New Vision's Michael Onyinge left the comfort of his bed early, and reports:

The DPC of Kaberamaido, Godfrey Abigaba, says they have officers deployed in the various sub-counties of the district.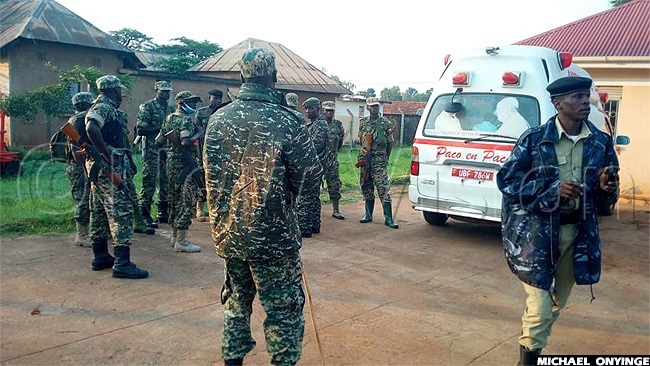 Meanwhile, the NRM sub-county registrars have already picked the election materials that will to be taken to village registrars.

The district NRM registrar, Isaac Ojade, says all his officials are set to have a free and a fair election. For the LC5 race, incumbent Albert Anthony Ejoku is facing competition from Victor Rex Ekesu.

Meanwhile, four councillors have sailed through unopposed.

They are: Richard Emate for Kaberamaido town council, Barbra Adongo for Okile sub-county, Jane Alwedo for Ochero sub-county and John Willy Ejwau for Oriamo sub-county.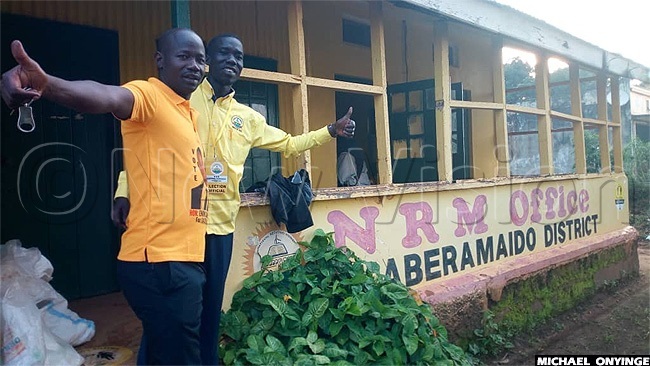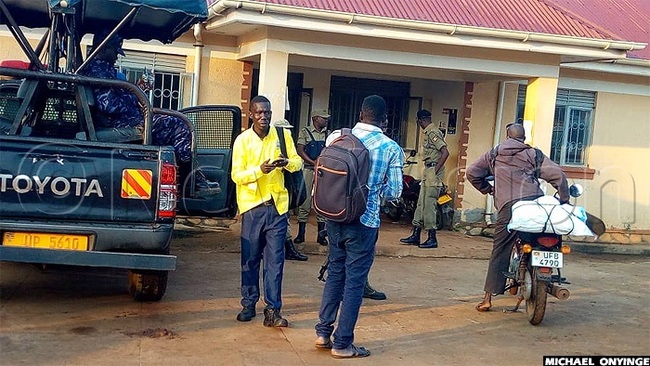 _______________________________


7:40am | Parallel elections

By the way, there is another set of elections being held today - elections for older persons at sub-county level. These polls have been organised by the national Electoral Commission (EC).

This means we have two parallel election exercises today.

New Vision's Thursday edition (September 10, 2020) carried a story on this, saying that the holding of parallel elections had caused fears that one may affect the other adversely or it could cause confusion among the NRM supporters and the older persons.

But both the national EC and the NRM electoral commission stuck to their respective programmes, maintaining that all will go as planned.

"Everything is set and we shall hold the LC5 party primaries this week on Friday," said Jane Alisemara, an NRM electoral commission official, who also pointed out that the party had drawn lessons from the glitches that underpinned last week's parliamentary party primaries.

Paul Bukenya, who is the acting spokesperson for the EC, was reached out and he voiced optimism that the parallel elections would not cause glitches.

He offered an explanation:

"Elections for older persons at sub-county level are based on electoral colleges, so one can participate in both elections with ease because, in ours, the numbers are small. A college at sub-county could have about 25 people and, of course, the venues are different."

In Thursday's New Vision story, Bukenya said the electoral college includes five representatives from each parish. Thus, a sub-county with five parishes will have an electoral college of 25 people. He said it is not likely that an electoral college will have 100 people.

He added that the commission announced its roadmap way before the NRM did.

On her part, Alisemera said that although they were aware of the EC national roadmap, the NRM decided to fix primaries for district (LC5) contenders today (September 11) to beat national nomination deadlines.

"The older persons at that level are only five, so they are not such a challenge that can stop primaries for district chairpersons. We were aware of these dates, but we could not find any other time to hold this exercise and, yet we wanted to meet the national nomination deadline."

As 2021 fast-approaches, the EC nomination period for candidates for local governments, including LC5, city mayors and Kampala Lord Mayor is set for September 21 and October 1 this year.



_______________________________


7:28am | Tighter rules for today's primaries

Following the episodes of disputes documented in last Friday's NRM parliamentary primaries, the party has issued more guidelines to be followed during today's nationwide party polls for district leaders and mayors.

New Vision's Umaru Kashaka reports:

NRM electoral commissioner Jane Alisemera said on the eve of the polls that they have issued additional guidelines in order to avoid a repeat of what happened in last Friday's elections.

"In the primaries, we will only allow two people for each candidate to be in the tally centre and the Police should chase away crowds at the centres in order to adhere to the standard operating procedures (SOPs) instituted to curb the spread of coronarivus," she said.

During last Friday's primaries, some angry supporters of the losing candidates in several places turned violent and tore up declaration forms or beat up registrars.

Alisemera has urged party district registrars not to be in a rush to declare results. "They should tally village by village, looking at figures closely. We have changed some of our presiding officers and put aside others. Some of our staff at the centre are working with out district officials to see how things pan out."

It is understood that the party's secretary general, Justine Lumumba Kasule, has since dispatched political teams to all the districts, which have been divided into 24 zones, to beef up the elections team.

"Our village chairpersons should be present during the process of identifying party members going to vote, so that non-members do not take the opportunity to vote. Our village committees also need to be more vigilant in verifying that the person added onto the register is a member of NRM in that village and that if there are no registers, they should verify all members eligible to vote."

Details of this story in today's New Vision 👉🏽 https://t.co/pxiru883T1



_______________________________


7:14am | Nationwide party polls

Just like last week's first set of NRM primary elections (for parliamentary aspirants), today's election process is happening countrywide.

Last Friday's primaries were blemished by disputes over the voter's register and results in some areas. In fact, results in some areas are yet to be declared due to the disputes, while in a few places, the exercise has been called off.

Meanwhile, three NRM legislators who were defeated in the parliamentary primaries have disputed the results and are now vowing to contest as independent candidates, according to a report by New Vision's Steven Turyarugayo. They are Pentagon Kamusiime (Butemba County MP), Jovah Kamateka (Mitoma Woman MP) and Paul Akamba (Busiki County MP), who told reporters at Parliament mid-this week that the just concluded party primaries were shambolic.

Kamusiime lost to Michael Katungi, Akamba was defeated by Fred Kasisa while Kamateka was trounced by Juliet Tibashisha.

Claims of voter bribery, intimidation of voters by security operatives and declaration of wrong candidates were pointed out as some of the issues that marred the polls.


_______________________________


7:00am | Good morning

Hello and welcome to today's live text commentary of ruling party NRM's primary elections for contenders vying for the party's ticket for district chairpersons (LC5), city mayors and Kampala Lord Mayor.

We will be updating this page with developments from the various polling stations spread out across the country, including photos. So, don't forget to refresh the page every once in a while to view updates.

Weatherwise, it is a promising start to a fine Friday here in Uganda's capital Kampala - partly cloudy, with the sun slowly but surely breaking out of its cloudy shell, and with the temperatures averaging at 18°C. Not a shabby way to kick off the day!

Let's get this rolling.