Museveni once again said he believes in the Law of Moses in the Bible that calls for 'an eye for an eye and a tooth for a tooth.'
JUDICIARY
President Yoweri Museveni has re-affirmed his stand against granting bail to suspects of capital offences, such as murder, rape, defilement and assault, saying it makes people lose interest in the judicial system.

"The question of bail is another minefield, especially for things, like murder, assault, rape, defilement. I think there should be no bail," he reiterated yesterday while presiding over the swearing-in of new Chief Justice Alfonse Owiny-Dollo and his deputy, Richard Buteera, at State House, Entebbe.

Museveni once again said he believes in the Law of Moses in the Bible that calls for 'an eye for an eye and a tooth for a tooth.'

"My appeal to you is to bring the concept of justice closer to the popular view, which is the Law of Moses because, for us, an eye for an eye. I don't believe that you should give an ear for an eye. If they remove my eye, yours must also be removed. If they cut my ear, yours must also be cut so that they are equal," he said.

The President also said he does not support the sentencing of murderers to life in prison, instead of death.

"Let somebody who has killed people be first arraigned to be hanged and then we can see. I am expressing the sentiment of the people of the bush and the village, which are my two constituencies here," he added.

He also said another problem they are having is the concept of Police bond, which he noted is discrediting the judicial system.

"This Police bond is dangerous for the credibility of the judicial system, especially for things, like assault, defilement, rape, murder, but even village stealing, like stealing chicken. You steal chicken, they arrest you, you come back; people lose interest in what you people are doing," he told the top leaders of the judiciary.

The President said villagers have always asked themselves why someone who has committed an offence, like murder or assault, does not even spend a night in prison.

"So, when that person comes back, they say there is no point. In fact, when he comes back, the witness will not even go. That is why they beat people," he said, adding that villagers do not understand how a case moves through the court system.

He noted that although the Judiciary is under too much pressure of work, it should prioritise these offences.

"Other things can delay, but these are sensitive," he said.

Museveni's remarks come as the state minister for labour, Mwesigwa Rukutana, was appearing in court to apply for bail. Rukutana, who also served as deputy attorney general, is charged with attempted murder. But this time, the President made no reference to his minister.

In June 2018, Owiny-Dollo's immediate predecessor Justice Bart Katureebe said murder suspects can only be denied bail if the Constitution is amended. He indicated that judges and magistrates at all levels will continue releasing suspects on bail, as long as they meet the requirements.

Shilling gains against dollar

Yesterday, Museveni also said the shilling is gaining against the dollar, thanks to COVID-19 pandemic that has seen countries imposing border controls.

"The Uganda shilling is gaining against the dollar, yet we have lost money from tourism, remittance because travellers who have been squandering our money are not travelling. COVID-19 has kept people home and the shilling is gaining against the dollar," he said.

He promised that in 2021, government will deal with "this misdirection of resources." "This indiscipline of the elite is the one we need to deal with. They must restrain themselves," he said.

The President said the issue of inadequate manpower in the judiciary is because of bad prioritisation.

"However, sometimes, I put down my foot and say no! If you do not move, we are going to have a showdown, like I did in 2006, where I said more money should be put in roads and electricity…It is because of that decision of proper prioritisation that sh6,000b is now put on roads and the same (applies) to electricity. We now have surplus electricity," he said.

He said his priorities include security, law and order, roads and railway, electricity, education and health. "Other things can come slowly, but if you handle those as a priority, the county will be stable and developing. You can plan within limited means, but be effective," he said.

Owiny Dollo, Buteera congratulated

Museveni congratulated Justices Owiny Dollo and Buteera on being appointed.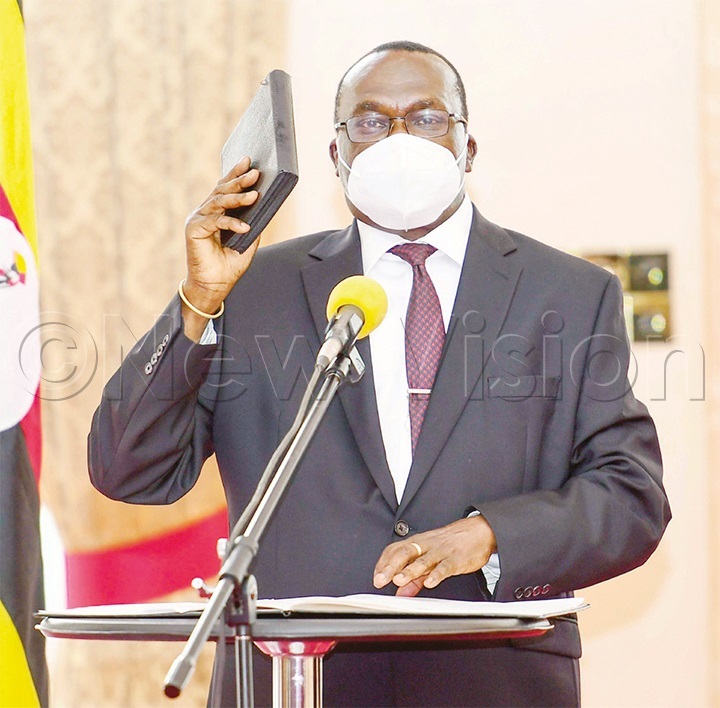 "I have been working together with His Lordship Owiny-Dollo for a long time. He came through Constituent Assembly and was minister for northern Uganda. Buteera was at University of Dar es Salaam when we were fighting in the town. So, I am glad. I congratulate all of you," he said.

Museveni ended his speech by cracking a joke about the Deputy Speaker, Jacob Oulanyah and Justice and Constitutional affairs minister Prof. Ephraim Kamuntu for warding off political onslaughts from their political opponents during the recent party elections.

"I congratulate Oulanyah and Kamuntu for surviving," he said, causing laughter.

Strong team

Speaking after swearing-in, Justice Owiny-Dollo thanked Museveni for giving the people of Uganda a "strong team" to run the Judiciary. Owiny said many people who are not in the know need to know that in many countries, not just Uganda, people find difficulty understanding the place of the Judiciary in the scheme of things.

"Your Excellency, let me say with authority that in Uganda, we have you, who has not only understood the place of the Judiciary, but you have stood up to ensure that it is strengthened to serve the people of Uganda," he said.

He also hailed Museveni for taking the bold step to ensure that the Administration of the Judiciary Bill is enacted. The Bill seeks to operationalise articles in the Constitution that deal with the Judiciary as an independent arm of government and create guidelines and reference for a legal and justice system by spelling out jurisdiction divisions, conditions for trials, sentencing and court fees.

"The Judiciary Administration Act only moved when you put your foot down and you understood that an independent judiciary that is well catered for is the best way of serving the people of Uganda, so that the rule of law prevails. We can never say enough thank you for taking these bold steps," Owiny said.

He, however, asked that this understanding of the place of judiciary in the scheme of things should not end with the President, but permeate to the entire Executive and Legislature.

"The Judiciary plays a lot more oversight responsibility regarding the rule of law, regarding the protection of the Constitution and regarding the interpretation of the law and this can only be achieved by engagements," he said.

Inadequate Judges

Owiny Dollo also noted that it pains him to find that from Kachumbala up to Kaberamaido they have only one judge.

"Now, the chief magistrate who sits in Fort Portal looks after responsibility of six chief magistrates in the Rwenzori area and the story is replicated elsewhere and these are areas which are heavily populated. How can the Chief Justice ensure that there is speedy rendering of justice when one judge has to look after 4,000 files?" he asked.

"So, my immediate appeal is that we must, and immediately do something (about the shortage of judicial officers to hear the cases). We are committed and ready to give meaning to the vision of Uganda, but without the tools, foot soldiers," he urged.

Kamuntu congratulated Owiny and Buteera for their "deserved appointments". "From the record of your performance, the country is confident that the Judiciary is in competent hands," Kamuntu said.