Obbo, who says she always had an interest in tailoring, was also inspired by her younger sister who had acquired tailoring skills from UIRI in Namanve Industrial park.
BUSINESS | LOCKDOWN
Mary Obbo was a Chemistry and Biology teacher at Kalilabiri Secondary School before schools were closed in March this year due to the coronavirus pandemic.

"I thought schools would re-open soon, but after a month without any development, I decided to look for other avenues to earn a living," Obbo who hails from Kiwanga in Mukono says.

Obbo, who says she always had an interest in tailoring, was also inspired by her younger sister who had acquired tailoring skills from Uganda Industrial Research institute (UIRI) in Namanve Industrial park.

She visited Obbo regularly, sometimes wearing clothes and holding bags that she had made herself.

This encouraged me to embark on attaining the similar skills,'' she says

So, between the month of August and October last year, Obbo went for tailoring, embroidery and knitting lessons at (UIRI), but was not able to practice because of her busy schedule at school.

She had earlier on bought an electric stitching machine, which cost her sh800,000.

She also got a Zig zag and button making hole machine at sh530,000 and knitting machine at 500,00.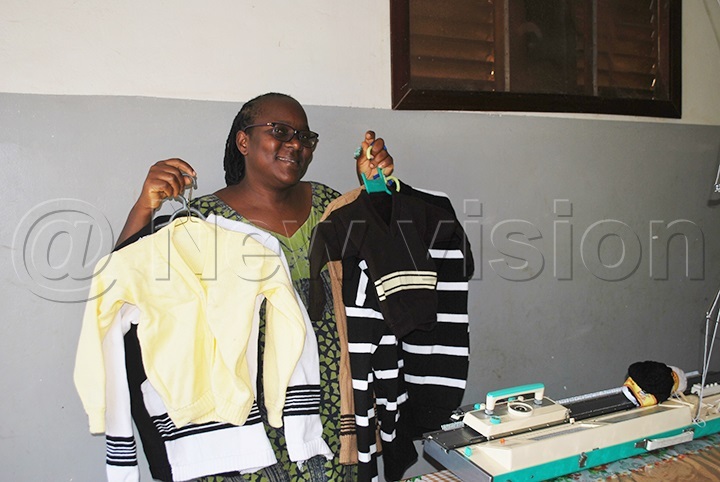 "I used part of my savings and my husband supported me with additional funds to buy the machines,'' she says.

The lockdown therefore, brought her the opportunity to try out her new skills.

Once my mind was made up, I started working. My biggest boost was a deal from a friend to do some work in Mulago.

My friend Aggie Mugabi got a tender to make medical shirts and trousers for Mulago Hospital. She wanted me to join her team.

Challenges

Obbo joined the team, but then, there were transport challenges because Mulago was far.

There were no taxis because of the lockdown. I would walk from Kiwanga in Mukono to Mulago.

When it became tough I asked my sister who stays in Kisaasi to allow me stay at her place.

Kisaasi is nearer to Mulago than Kiwanga. I Stayed in Kisaasi and would return home over the weekend'' says obbo.

Her husband Elvis Obbo, a gender consultant, was so supportive and encouraged her to stay away from home.

The Obbos have three children- Mercy Nyamutura, who is in senior Four, Jonah Obbo in Senior Two and Bishop Yeyo in Primary six.

"We support our mother with tailoring ideas,' Nyamutura says.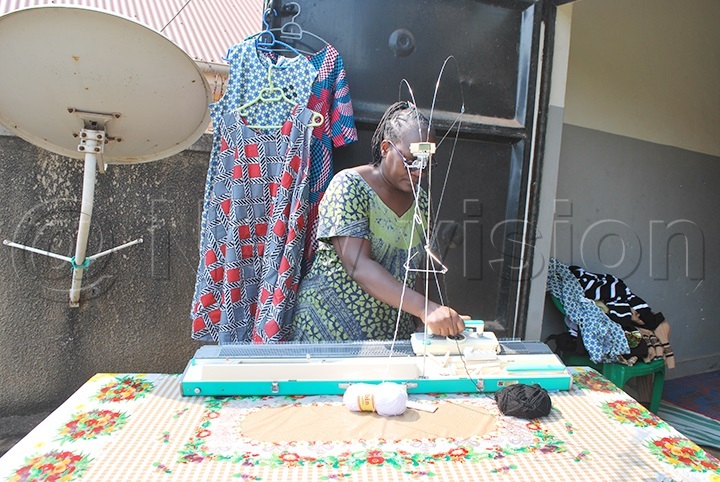 Obbo has been lucky. Two weeks later, she got another opportunity to make face masks at UIRI in Namanve, which is near to her home. She is paid per work.

Her Products

She has also started her own tailoring and knitting business which she does at home on Sundays.

She sells through social contacts. I make face masks, clothes, bags and sweaters which I sell to friends and neighbors.

They buy my products and when their friends admire them, they also make orders.

She also follow up on her friends and neighbors who appreciate, and have supported her, saying she has quality products.

Further Plans
Obbo says she still loves teaching and plans to teach again when schools open.

"Tailoring is not a burden at all. I can do it and teach at the same time. I plan to keep teaching so that by the time I retire, Iam well prepared and I have wider knowledge of industry and huge client base," she says.

Obbo advise people to acquire self- sustainable skills.

I have learnt that having a vocational skill is important because it can always also bail you out.

I am earning in spite of the closure of schools. I hope to have a big workshop after my retirement when I have time to expand my business without any pressure of preparing lesson plans as the case is today.