The Police Force numbers have grown from 3,000 officers in 1986 to the current 46,000 personnel.
POLICE|RECRUITMENT|PROBATIONER CONSTABLES
Uganda Police Force is to recruit 5,000 probationer Police constables across the country.

According to a statement issued by the Police, a Ugandan national should have a valid national identity card in order to qualify. Besides that, one should not have any criminal record. They should be ready to undertake a requisite 12-month Police basic training.

Applicants should be physically fit, ready to work for long hours and, also, sometimes under difficult conditions. They should also be ready to work in any part of the country.

Besides having good communication skills, the Police said interested people should be aged 18-25 years.

For one to qualify, they should not have served in any of the forces.

To be recruited, Assistant Inspector General of Police (AIGP) Jesse Kamunanwire said: "You should possess a Uganda Certificate of Education (UCE), with four credits, including English and a pass in Mathematics. Applicants who are overqualified should not apply." During recruitment, the Police have also warned that they will arrest applicants who will submit forged academic documents.

"Impersonation and presentation of any forged testimonies or any other document shall lead to arrest and prosecution in courts of law," Kamunanwire said.

Applications will be received exclusively at district or division Police headquarters not later than September 19.

Fresh graduates

Last month, President Yoweri Museveni passed out 4,324 Police constables and 485 Assistant Inspectors of Police at the Police Training School in Kabalye, Masindi district.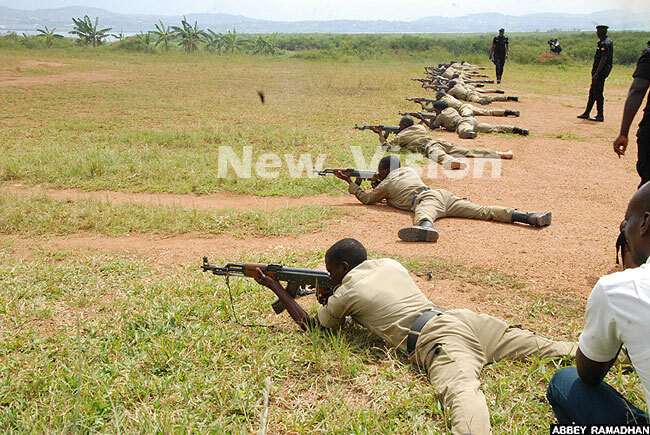 During the passing out of Police constables, President Museveni said in 1986, the Police Force had diminished in numbers, but after reorganising it, it has now grown from just 3,000 officers to 46,000 personnel.

"The Police population ratio is now 800 to 1, but our target is to have 500 to 1. The Police is now 46,000 personnel from 3,000 in 1986. This is a big step in the right direction," he said.

Past recruitments

A year ago, the Uganda Police Force recruited 2,189 officers aged between 20 and 28 years, including 185 learner assistant inspectors of Police and 2,004 probationer Police constables.

For the learner assistant inspector of Police, successful applicants were all diploma holders in science-related fields.

Others who joined the Force in the August last year's recruitment were experts in computer science, electrical engineering, telecom engineering, air conditioning and refrigeration, forensic science and any other diplomas with a bias in biology, chemistry, physics and mathematics.

Requirements

 Certified copies of academic documents

 Photocopy of the national identity card

 Identity card of previous schools attended.

 Three recent passport size photographs

 Recommendation letters from LC1, LC2, LC3 and the Resident District Commissioner.