Creativity is the mother of invention, goes the adage and the flower vendors have not let their clients down. The pots come in all shapes, including larger than life warehouse boot-shaped ones.
That neatly manicured garden at the Sheraton Hotel stuns not only people but bees, butterflies and birds. Fortunately, this beautiful scenery can also be in your home, thanks to roadside nursery flower gardens that have continued to flourish in Uganda, especially in urban centres. There are those with a beautiful smell at night besides having large green leaves that are eye-catching.

"My business is to bring colour into people's homes," Jane Nalwanga in Bukoto, says. "In the 10 years I have been here, there is testimony to my contribution of greening Kampala as developers replace it with concrete."

In addition to dealing in plants, Nalwanga delivers compost, seeds, equipment for hire and offers post-buying services to her clients. "I have been to most of these concrete-walled fenced homes to guide clients on how to beautify their backyards and front gardens. In a good month, I can walk away with sh500,000. But there are bad ones too," she says.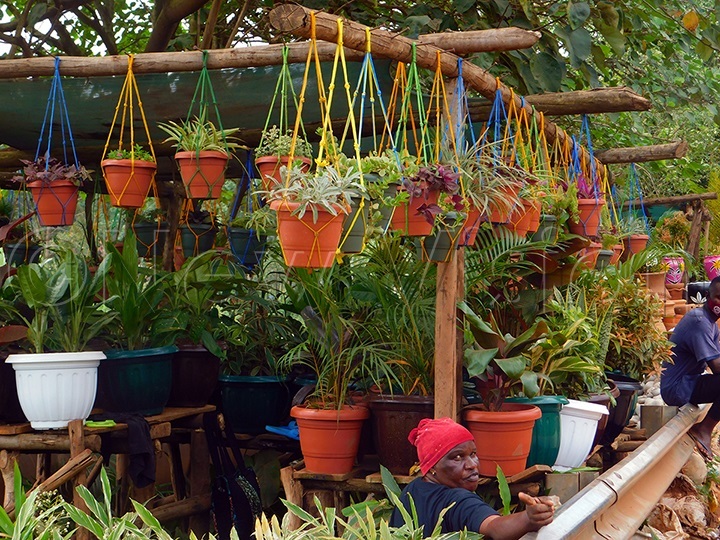 Like her counterparts who carry out their trade on Gaba Road, Nalwanga's plants have price tags ranging from sh5,000 to sh10,000. The prices depend on the volume of the order, irrespective of whether they are indoor potted ones, fencing or those used for decoration.

"My favourite clients are the corporates who summon me to plant, nurture and shape their plants," Joseph Sendikadiwa on Gaba Road says. He adds that "Construction sites are jolly good buyers too because they employ me to design compounds."

Sendikadiwa sometimes gets overwhelmed by the demand as orders for flowers come from newly-announced cities and citizens from neighbouring countries. "Here in town, there is not enough space to grow plants all year round. The option is for us to network and inform each other if one has an order of a given plant. Together, we are able to supply in bulk and beat deadlines."

A tour of more dealers was evidence that there are many who do not grow all the plants on demand. "Besides, not having space to propagate them is not easy. Propagating takes patience, space and love for the plants. This has become a culture lately," Qaddafi Sebagala in Buziga says.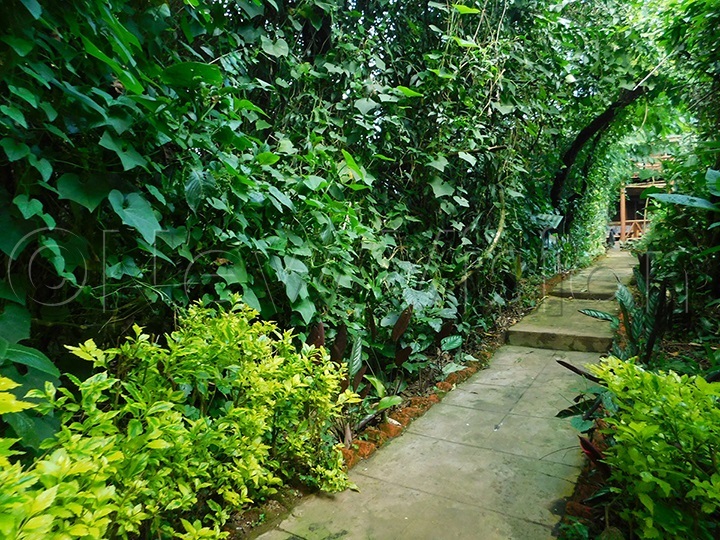 He adds that he dreads the culture of having concrete compounds that is in vogue in most Kampala city neighbourhoods. He is sad that the smell of the earth when the first rain wets the earth is quickly dying in the city.

Dan Serugo, a real estate agent in Entebbe, says homes with gardens fetch more value than their concrete padded ones. Property owners of rented facilities say travellers treasure homes that have a pinch of nature, especially plants that attract wildlife, birds and crickets. "I shudder to think about a world without plants from which bees can pick their pollen and make honey. Cutting down trees means leaving insects without habitat and humanity with eco-balance," Sebagala says.

Creativity is the mother of invention, goes the adage and the flower vendors have not let their clients down. The pots come in all shapes, including larger than life warehouse boot-shaped ones.

Vegetarians can pick on watermelon or pumpkin coloured ones with an open top. The stringed ones in plastic or earthenware are appealing as well. These plants have not stayed in homes only, but can be seen on desks in offices, hotels and balconies of people with a love for nature.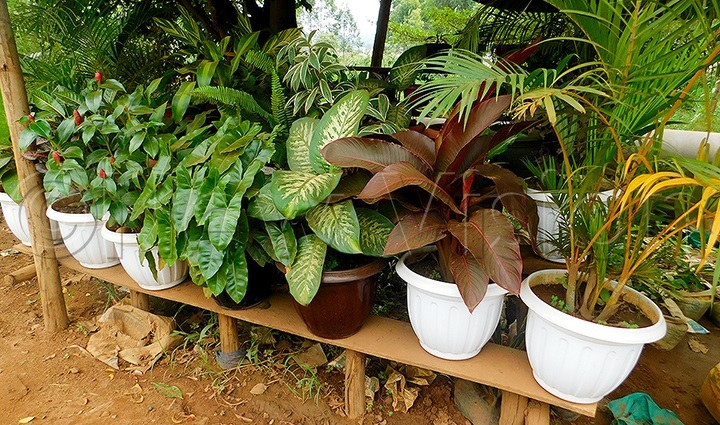 What fascinates urbanites keeps changing with times. In the 1980s it was flats for security reasons. Then came units with roofs called French Cut followed by housing estates and now having green around the home is the pacesetter.

"People now treasure plants like bamboo for fencing or partitioning. Others plant guavas, pawpaws and passion fruits to help balance their diets," Joseph Okello, a compound designer, says

He adds that as building rises in Ntinda, Kyebando, Namugongo, Lubigi and Bugolobi, some property developers mind the conservation of their neighbourhood. They are trying to green it again.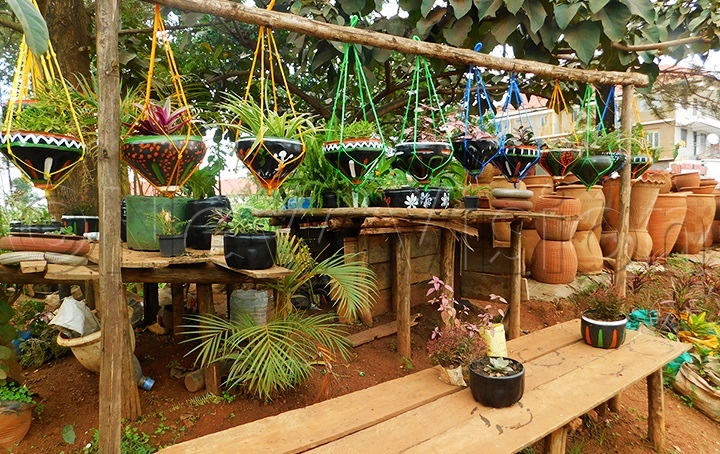 Okello says before Kampala City Council Authority (KCCA) responds to greening the city, some residents are planting trees and flowers to attract the birds back and break the wind which has damaged property through storms.

The UN-Habitat has often pointed out that more trees and green belts need to be established as the population explosions and rapid urbanisation leave no tree standing. This is the way to go to curb the effects of forest reserves, national parks and swamps being encroached on.