Ever since Scopas Duku, 41, visited Makerere University Agricultural Research Institute, Kabanyolo (MUARIK) during his student days, he developed interest in dairy farming.

"There was this Friesian cow I looked at and felt I must own a couple of them. It was like a dream that kept cropping up now and again in my sleep until I put it into action," Duku narrates.

According to him, he kept assuring himself that with his agricultural skills mastered from school, he can successfully start off his own farm.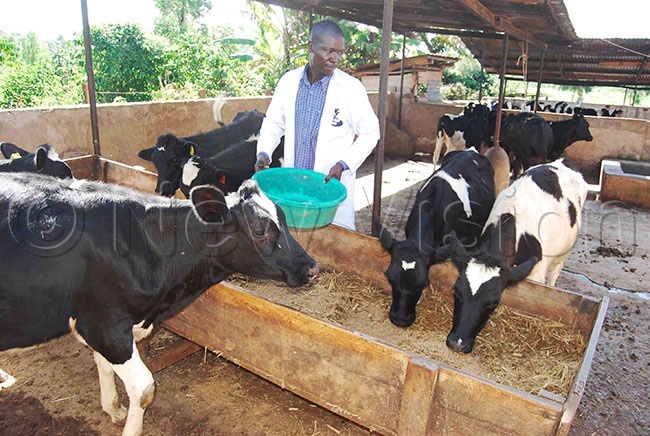 Genesis

He explains how he ventured into the transport business in 1997 until he got his own Fuso truck (Magulu kumi) in 2001.

"It has not been an easy journey but once I had a starting point, I never looked back. By 2005, I had a sufficient amount of money to put into practice my dairy farming dream," he affirms.

Duku reveals that he started off by buying an acre of land at sh5m at Kanyogoga village in Nakibizzi parish, Buikwe district.

"Once we had the first piece of land, neighbours expressed willingness to keep selling me more land until I made the current 30acres. In total, the land purchases cost sh130m," he recounts.

He says the expansive territory obtained was just appropriate to start off his much-awaited farming business.

Hassan Ntambi, the Kanyogoga LCI chairman recalls signing land purchase agreements for Duku on several occasions.

"Duku was so determined to acquire enough land that whenever an opportunity presented itself in the neighbourhood, he didn't waste time. The farm is a testimony of his resilience in securing a bright future for his family," Ntambi notes.

Animals acquired

"That is how I started SMAK Dairy Farm in 2010. I had already bought two Friesian cows from the late Mulwana's Jesa farm in Wakiso which I kept on zero-grazing at my Mbiko town compound," he says.

He adds that the two cows bought at sh2m in 2006 had over the years given birth to many more animals.

"Currently, the farm population stands at 82 Friesian cows and one bull under zero-grazing. The different stages from calves to mature ones are kept at separate paddocks as their feeding varies," he notes.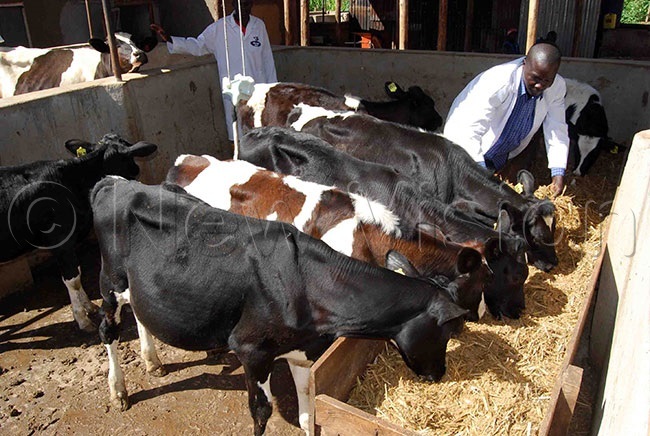 Feeding

He says feeding of the cattle costs an estimated sh1.6m each month.

According to him this included purchases of salt lick, maize bran, and molasses to sweeten the animal's meal.

"We bring in food supplements like brewers' mash procured from Nile Breweries. This is rich in essential nutrients and keeps the animals healthy," he notes.

He says each month he ferries in 6,000kg with each kilogram costing sh90.

"A total of 20acres of the farmland are having elephant or napia grass grown for feeding the cattle. This grass needs chopping into bits by two machines operated by farmworkers," he says.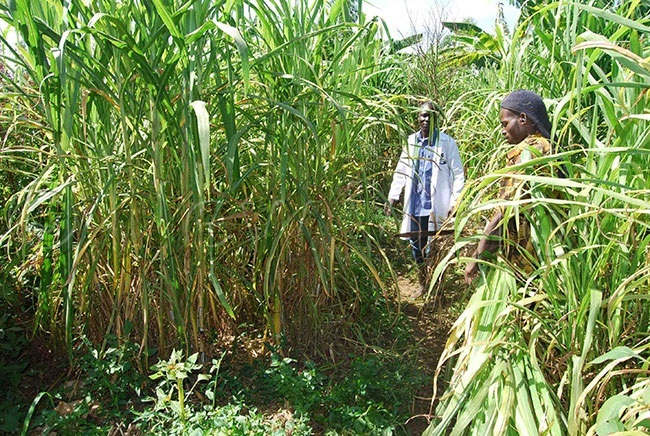 Milk sales

Duku reveals that he gets about 350litres of milk on a daily basis sold at the farm-gate price of sh1, 000.

"On an annual basis, the farm brings in sh80m. This is because the demand for quality milk is high," he says.

Mistake made

Gerald Kasozi, the farm manager observes that the move to bring goats on the farm in 2014 was a costly mistake.

"When we bought 20 goats to start rearing them at SMAK Dairy farm, it cost us dearly. In the process we lost 20 cows that got diseased and died," Kasozi narrates.

According to him, goats are carriers of some pathogens that attack cattle and effectively passed them over within a short time to cause the loss.

"Ever since that time, only fresian species are kept on location. We do not want a repeat of that mess at all," Kasozi insists.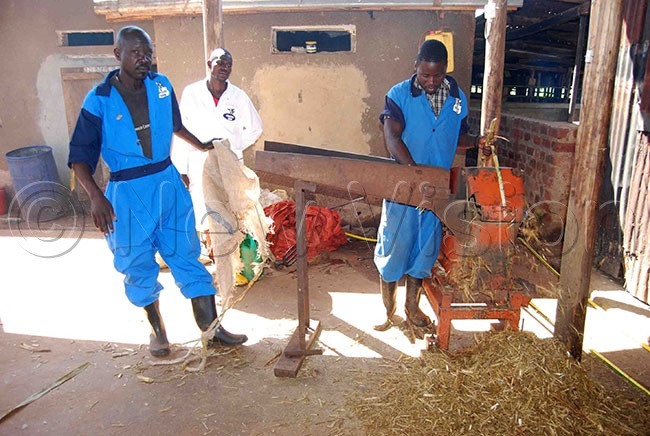 Challenges

Mary Juwani, his wife cites the lack of electricity on location as a challenge since the premises need ample light even at night.

"We have chuff machines used to chop napia grass into smaller bits for the cattle to feed on. They use power from generators which is expensive given the high fuel prices," Juwani laments.

She adds that in the meantime the farm is lit by sh2.5m solar system set up in 2010 at the farmhouse.

Good farming practices

Duku has set up a disinfectant trough adjacent to the farm gate to check on the importation of diseases especially from visitors.

"Whoever enters the farm premises must undergo disinfection. They simply step into the trough and any pathogens carried on their shoes are disabled," he discloses.

According to him, he procures a new bull for mating purposes every two years from Jesa farm in Wakiso district to ensure he maintains good quality breed.

"It is not advisable to practice in-breeding with Friesian animals as it is similar to brothers and sisters mating. This also limits genetic variation hence the regular need for a new bull," he emphasises.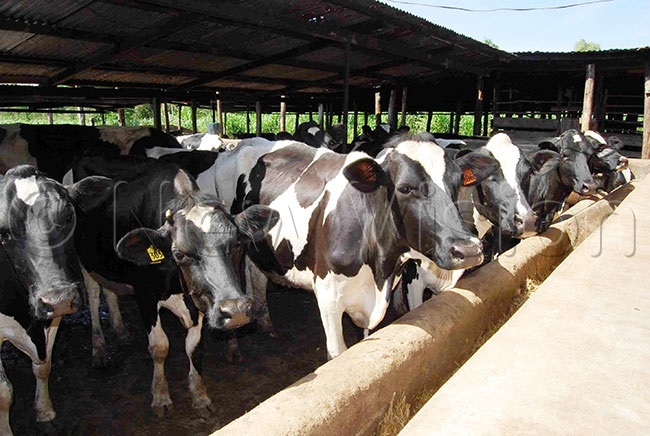 Water provision

"There is a natural stream about 900m away from the farm compound. I procured a sh4.5m water pump in 2013 which is used in pumping water from the rivulet to the farm," he says.

He says in 2015, using proceeds from milk sales, he set up a sh9m water tank to store enough water at the farm.

Bookkeeping

Kasozi explains that every Sunday he sits down to document the happenings of the entire week.

"I reside at the farmhouse which simplifies my work. Nothing takes place without my notice and the records are up to date in terms of expenditure, income, and cattle births plus deaths," he says.

Workers' wages

Duku reveals that there are 10 farm workers plus a cook and askari who take home a total wage of sh2.3m per month.

"Not all of them get the same amount of pay. The wage varies depending on the nature of work done like the askari gets a monthly wage of sh180, 000," he says.

Farm security

Kasozi narrates that the farm is fenced off and accessible by two gates to boost security at the premises.

"Our cordial relationship with the neighbours has saved us from instances of theft. The two guard dogs equally scare off would-be trespassers," he claims.

Animal treatment

"The vet visits the farm occasionally to check on the health status of the animals. Those in need of treatment are injected," Kasozi explains.

He adds that the cattle are de-wormed regularly by farmworkers to prevent infections that may cause death.

Training

Duku explains that he has in the recent past participated in three farmers' training at Makerere University farm of Kabanyolo.

"I also got skills from the Vision Group farmers expo held at Namboole stadium last year. Attending the Jinja annual agriculture show equally helps polish my expertise," he says.

Farm sustainability

Juwani explains that her husband involves family members in the day-to-day running of the farm which is key to ensuring that it can survive without him.

"Even the children are given hands-on training on how to pump water, milk cows, etc during vacation. It prepares them for such a time when they may be left in charge," she says.

Community care

Kasozi narrates that most workers are from the neighbourhood which is a clear indicator that SMAK Dairy farm is boosting household incomes in the locality.

"We also take on casual workers from the village quite often when there is a lot of work to do. These are paid sh5, 000 daily," he says.

Bio-security

Kasozi explains that the urine from the cowsheds is sprinkled in the elephant grass section to keep off offensive insects that eat up the leaves to spoil quality.

"The cow dung is equally used as manure. It is turned into compost manure that is spread out into the grassland to ensure good growth," he notes.

He adds that since the dung produced is a lot, some of it is sold to other farmers to use as manure on their farms.

"A two-tonne tipper lorry with a capacity of 2,000kg costs sh80, 000. On a monthly basis, we earn almost sh320, 000 from the dung," Kasozi discloses.

Lessons to learn from Duku
Put God first and the rest will follow. Man cannot do much without leaving everything to the Almighty in prayer.

Always seek advice from experts to have the best out of any farming venture.

Patience is the key to successful farming. Sometimes a plan may get hurdles but with time things work out well.

Never give up as many would-be victors have let go when about to attain victory.
Who is Duku?

Duku attended Namusala Primary School in Kayunga district to attain a PLE certificate in 1992. He then proceeded to Busana S.S. in the same district to get an O' Level certificate in 1996.

After failing to join A' Level due to low grades attained at O' Level, he opted to start his own business.

He is married to Mary Juwani with whom they have six children.

Future plans

Duku reveals his plan to add value to his product in the future through the making of yogurt at the premises.

"A yogurt making plant is what is on my mind. I need to get linked onto the national power grid then purchase the machine," he says.

He argues that the yogurt is marketable and would make him get more cash per litre of milk instead of the current sh1, 000.

What others say

Hussein Sharif, a business colleague

I can say Duku is an astute businessman. He started off with an acre of farmland and now has in place a 30acre establishment and will even do much better.

Ruth Bibasariza, farmworker

SMAK dairy farm has made me what I am today. I am now able to take care of my domestic needs because of the wages I receive every month.

Umar Basembeza, farmworker

I have worked here since 2013 and the working conditions are quite good. Otherwise, you wouldn't have found me around here.