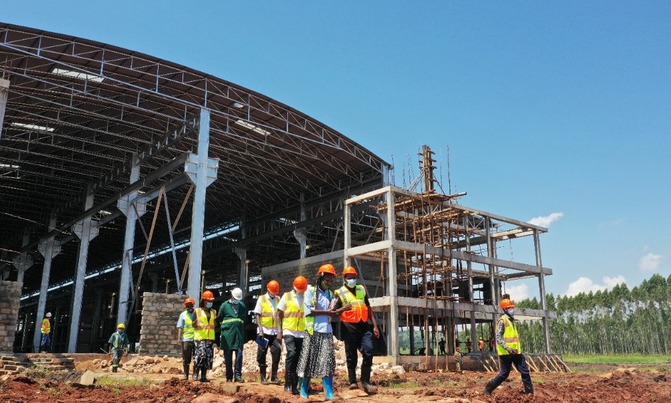 The Kiira Motors Corporation (KMC) Chief Executive Officer, Engineer Paul Isaac Musasizi said the 58% progress update means that they are on track to meet the June 2021 deadline.
KIIRA MOTORS | ELECTRIC VEHICLES | VEHICLE PLANT
National Enterprise Corporation's Construction Works and Engineering Limited has vowed to complete construction of the Kiira Vehicle Plant by the set deadline of June 2021.
Brian Buhanda, the General Manager of the implementing agency made this pledge on Wednesday (02/09/2020) while conducting an inspection of the site at the Jinja Industrial Park, along with the project supervisors, Technology Consults and the client, Kiira Motors Corporation (KMC).Buhanda said progress at the site is now at 58%, an update that impressedKMC's Chief Executive Officer, Engineer Paul Isaac Musasizi.
''It is month 18 of 30 and we are at 58%. At this rate, we will be able to move here as planned and embark on the exciting work of delivering a future of vehicles built in Uganda,'' Musasizi said.
Major Geoffrey Kayima, the site engineer explained that the progress includes 20,000 square meters of the Assembly Building floor, 2,800 square meters of the warehouse, 5km of circulation roads, water and power reticulations, 1.4km drainage channel and parking areas.
The Kiira Vehicle Plant
Construction of the Kiira Vehicle Plant started in February last year following government's allocation of 100 acres in in the Jinja Industrial and Business Park, and provision of seed funding to set up the plant's start up facilities.
Designed for a capacity of 22 vehicles per day or 5,000 vehicles per year starting with buses and trucks, the plant's facilities at completion will include an Assembly Shop, a Chassis Assembly Line, Shop Floor Storage and Circulation Spaces.
There will also be a Paint Shop, Electrophoresis, Body Shop, Test Track, Offices, Road Network, Water Reservoir, Waste Water Management Plant, Solid Waste Sorting Yard, Container Yards, Finished Vehicle Park Yard, a Showroom, as well as a Monument and Security Facilities.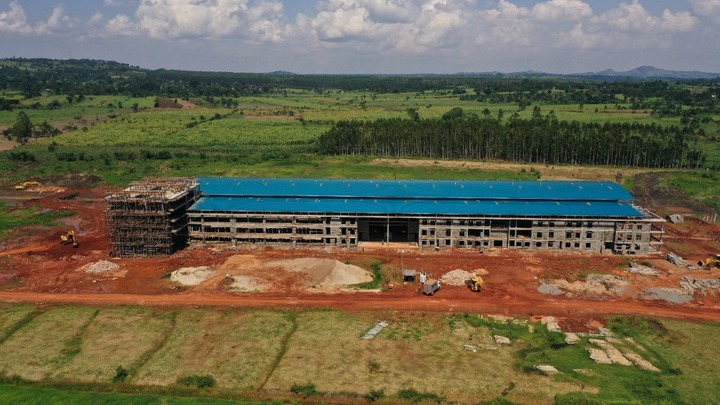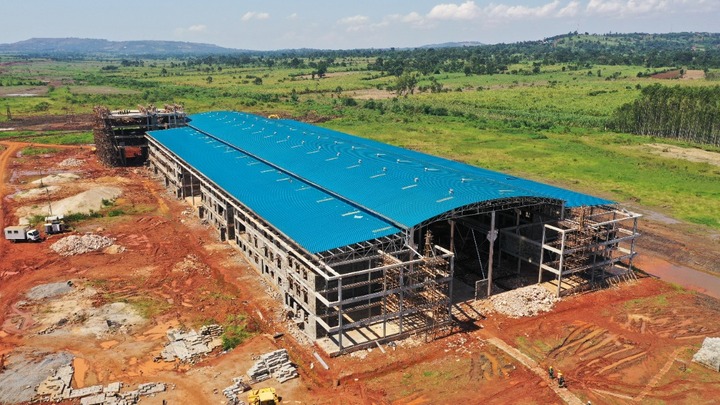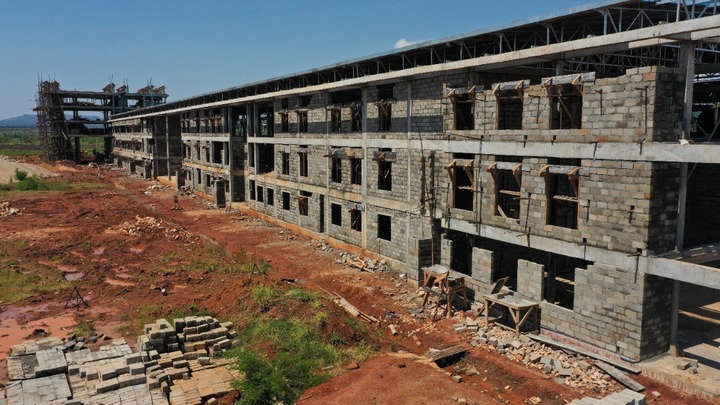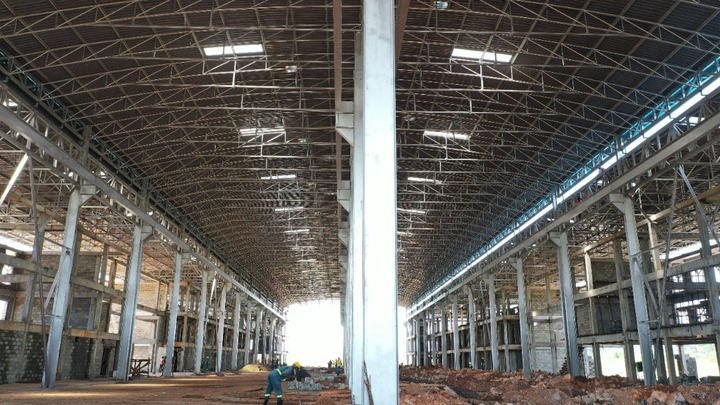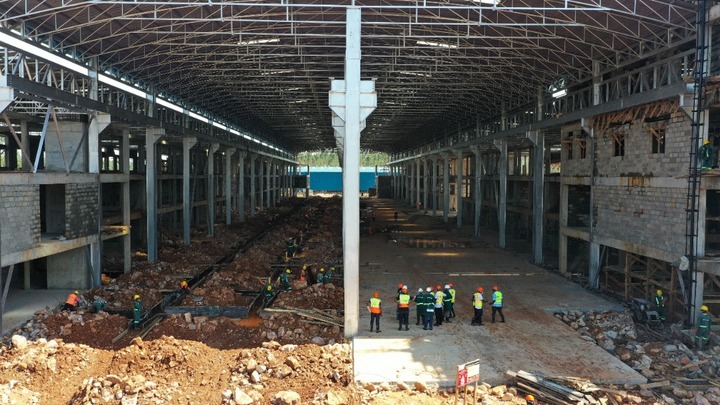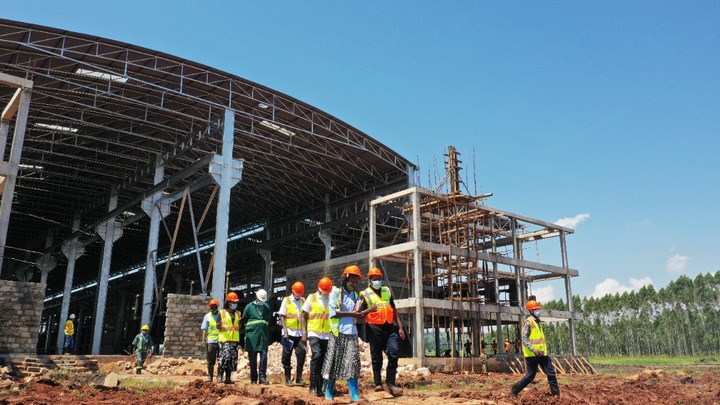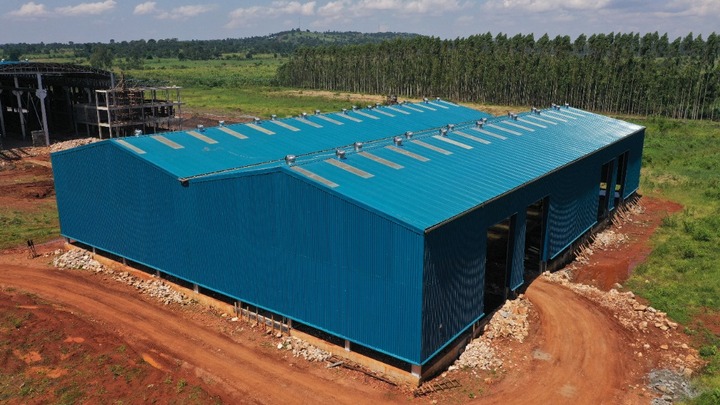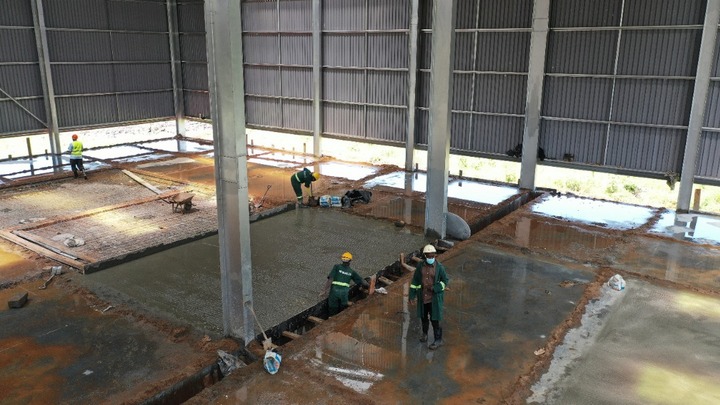 Why progress is important
The journey to build cars made here in Uganda came to light in 2011 when Makerere University unveiled the first ever electric car made in Africa, the Kiira EV.
Since then, the team of engineers determined to carve out a place for Uganda in the lucrative automotive industry, has unveiled the Kiira SMACK, the Kayoola EVS bus, the Kayoola Solar Bus and the Kiira EVS.
Managing challenges at the plant

Having been given a green field, KMC connected the plant's site to the National Electricity Grid and the National Water and Sewerage Corporation pipeline, in addition to embarking on the construction a 2.5km access road to the facility.

The team on the site has however reported frequent and prolonged power outages, which necessitate the use of a generator and increase the cost of the project.

''It is quite disappointing not just for us at the site but also for UMEME who are losing revenue for every minute of power outages at the site,'' Doreen Orishaba, KMC's Business Development Manager lamented.

Our efforts to reach UMEME for a comment on this matter were still unanswered by press time.

NEC's Buhanda also explained that restrictions imposed by the Covid-19 pandemic had clogged global supply chains and increased the cost of imported inputs.

''We have resorted to sourcing more materials locally, working extra hours (12 -18 hours) and introducing new shifts to make up for lost time,'' Buhanda said.

''Our mission remains the delivery of a functional vehicle plant by June next year. This is of course subject to availability of funds.''

A worker wearing his mask on duty

Signage of Covid-19 prevention SOPs at site

Buhanda added that the completion of the roofing over the start up facilities has secured the construction work from negative effects of weather changes ahead of the rainy season.

Technology Consults' Peter Mugumya praised the NEC engineering team for its efficiency, saying their commitment to quality rather than profit makes them stand out.

''I was worried that NEC engineers who are also soldiers would be hard to work with. I have however been pleasantly surprised by their work ethic and discipline,'' Mugumya said.

Call to Ugandans

Musasizi calls on Ugandans to continue taking interest and ownership of this project, specifically saying they should look out for the draft automotive industry policy.

''The New Vision will soon publish a call for the public to submit their inputs on how they think the automotive industry should be managed in Uganda.''

He went on to urge innovators and entrepreneurs to position themselves to benefit from the government's determination to promote import substitution.

''While not every Ugandan may participate in the automotive industry, every Ugandan will benefit, by either using an electric vehicle or being a beneficiary from people in the value chain,'' the KMC CEO reckoned.

Having already employed 500 Ugandans during the construction phase, the plant is projected to create 14,000 jobs directly and indirectly when it becomes fully operational.

The teams on the site continue to work and will issue yet another update next month when KMC, the design consultant and the contract meet as required by the law.

Inspecting the Kiira Vehicle Plant site

Inspecting the Kiira Vehicle Plant site

Inspecting the Kiira Vehicle Plant site

Inspecting the Kiira Vehicle Plant site

Inspecting the Kiira Vehicle Plant site

Inspecting the Kiira Vehicle Plant site

Inspecting the Kiira Vehicle Plant site