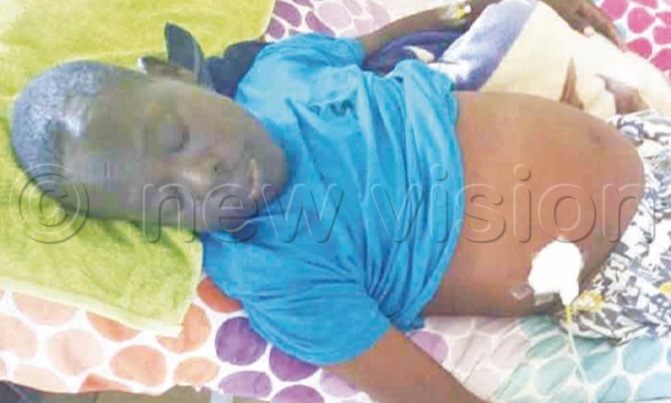 Ingua is suffering from sickle cell disease, associated with chronic glomerular disease 
Teacher seeks sh150m for son's kidney transplant
Francis Ingua, 30, has been bedridden for years at his father's home in Namugongo.
He is battling sickle cell disease and has been in and out of different hospitals after suffering several relapses.
According to his father, Vincent Ochom, a teacher at Namugongo Girls' Primary School in Wakiso district, his son was first admitted to Mulago Hospital in 2017.
Doctors have advised Ingua to undergo a kidney transplant because his condition is getting worse. However, the family of the primary school teacher say they cannot afford the sh150m needed for Ingua to undergo the procedure in India "I have depleted all my savings treating my son. My family is alive because of God's mercy, even some of my children I was depending on have also lost their jobs as a result of the COVID-19 pandemic," Ochom explained.
Ochom lost his job after the closure of schools as part of the measures to prevent the spread of COVID-19. He says he can no longer support his ailing son and the family.
According to Dr Simon Peter Eyoku, a consultant nephrologist at Mulago Hospital, Ingua is suffering from sickle cell disease, associated with chronic glomerular disease in the end stage of renal failure which requires chronic renal replacement therapy.
Glomerular disease reduces the kidney's ability to maintain a specific substances balance of in the blood stream.
The kidney's job is to fitler the bad toxins in the blood from the good proteins and red blood cells. However, glomerular disease causes the kidney to retain the bad toxins and release the proteins and red blood cells from the body which can progress to kidney failure.
Dr Eyoru recommends that Ingua undergoes a kidney transplant in India beginning with dialysis since his condition is dire. He, however, said this can only be done after the family indemnifies a kidney donor. The medic says about sh150m will be required to conduct the kidney dialysis locally and in India, plus other costs for the upkeep of the patient and carer.
How it started
Ochom said in 2018, his son's condition worsened and was transferred to Kiruddu Hospital but things did not get any better.
"The doctor advised me to try a private hospital near my home area to reduce on the transport costs. I took him to Jalo Hospital in Namugongo which is near my home. However, as the bills continued to accumulate, I was forced to take him back home where the doctors can check on him once in a while to monitor his situation," he said.
Ochom is calling on well-wishers to come to his rescue so that his son's life can be saved.