During the national prayers at Entebbe, President Museveni says discussions are ongoing on how to handle the reopening of churches, schools and bars.
DAY OF NATIONAL PRAYERS

Live reporting by Joseph Kizza

_________________________________


6:15pm | Good evening!

And it is a wrap! That's all from State House, Entebbe on this day of collective, national prayer. Glad you could follow along.

Don't forget to continue keeping yourself safe.

Cheers!


_________________________________



6:09pm | Museveni to Ugandans: Do not let your guard down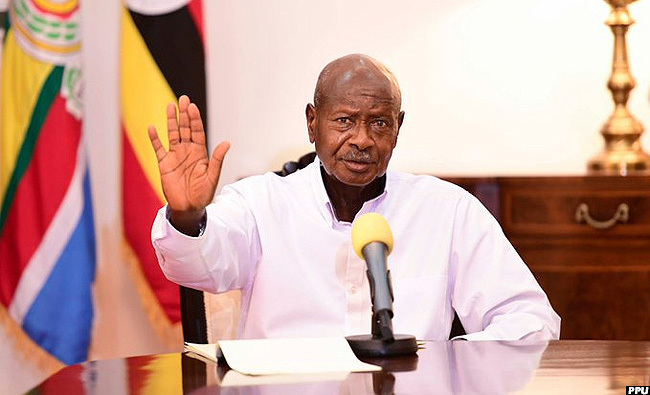 President Museveni says discussions are ongoing on how to handle the issue of reopening churches, schools, bars, etc.

But he says the number of coronavirus cases is rising because of lack of discipline among sections of the population and warns that "if we are careless, then we shall have to organise burial teams".

He also says it is "nonsensical" to ride on the notion that it is only the old people that are prone to the coronavirus.

Meanwhile, citing the recent youth elections involving about eight million voters across the country, Museveni says "it is really not about the numbers - it is the discipline". He urges Ugandans not to let their guard down when we are close to defeating the virus.

And strikes a tone of optimism: "In the next four or five months, we may get a treatment (...)"



_________________________________


5:53pm | 20 out of 29 deaths from Kampala

Minister Aceng says that out of the 29 deaths recorded, 20 have been from Kampala.

President Museveni says the high COVID-19 mortality numbers in the capital could be as a result of people listening to divergent/conflicting views.

"We are working very hard here and of course outside [Uganda] to deal with the issue of a vaccine and even treatment - but in the meantime, avoiding is the best way," he advises.



_________________________________


5:45pm | Breakdown of the 91 new COVID-19 cases

Uganda has confirmed 91 new coronavirus cases. The cumulative total confirmed cases of Ugandans are now 2,847.

As mentioned in the previous entry, one death has been registered today - a 45-year-old Ugandan female who was a resident of Kampala. That brings the total COVID-19 deaths to 29.

Meanwhile, 88 of the 91 new cases are contacts and alerts: Kampala (44), Kikuube (6), Wakiso (5), Ntoroko (3), Jinja (3), Kitgum (2), Buikwe (1), Gulu (1), Lira (1) and Mukono (1).

One case is a health worker from Luwero.

The other two are truck drivers who arrived via Malaba.


_________________________________


5:26pm | COVID-19 update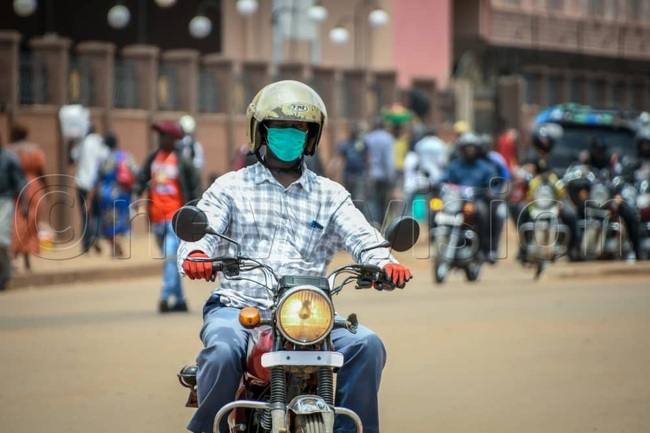 Before inviting the President to speak, health minister Dr. Aceng provides an update on Uganda's COVID-19 situation.

She reveals that results from Friday's tests have revealed 91 new positive cases, with Uganda now at a cumulative tally of 2,847 cases.

One person has died, bringing the total COVID-19 deaths to 29. The recoveries remain at 1,288.

The minister reveals that of the 91 new cases, 44 are from Kampala.



_________________________________


5:20pm | 'Bless this nation and your people'

After the closing prayer, Metropolitan Jonah Lwanga steps forth to deliver the blessing.

And to wrap up today's prayer session is a song of faith. "A song which invites the Lord in our lives": Guide Me O Thou Great Jehovah/Redeemer.



_________________________________


5:16pm | Closing prayer: 'We repent before you, O Lord'

The First Lady and Minister of Education & Sports, Janet Museveni, steps forward to deliver the closing prayer upon Dr. Jane Ruth Aceng's invitation.

On behalf of the nation, she thanks God for His love and compassion - and for how He has helped Uganda climb out of the claws of disease and wars over the years.

The First Lady prays that Uganda's journey is a "testament to your faithfulness" and that "every time we have called out to you, you have answered us".

"Today, we are faced with a new enemy in the form of the coronavirus. (...) We repent before you today, O Lord, and we pray that in your judgment, you remember mercy."


_________________________________


5:05pm | ♬ Standing on the Promises ♪ ♫

Next hymn: Standing on the Promises

Standing on the promises of Christ my King
Through eternal ages let his praises ring
Glory in the highest, I will shout and sing
Standing on the promises of God
Standing, standing
Standing on the promises of God my Savior
Standing, standing
I'm standing on the promises of God


_________________________________


5:00pm | Time for intercession

Pr. Dr. John D. Kakembo thanks God "for disregarding our disregard for the SOPs [standard operation procedures".

He also gives thanks for the President for being persistent in urging the nation to follow guidelines. He thanks God for the medical teams - led by health minister Dr. Jane Ruth Aceng - who have sacrificed their time and lives.

He dedicates the prayer to the bereaved, asking God to console them, and to the survivors that they may heal them completely.

Sheikh Shaban Mubajje prays that Allah helps us to put to good use "all of our resources". During this difficult economic time for many people, he prays to God to "help us to trust that all our security is with you".

The Mufti of Uganda asks God to provide for our needs, to help us the protect the poor and less privileged by "opening new opportunities for them" and farnish resources for them to maintain their dignity.

Born Again faith leader apostle Dr Joseph Sserwadda's prayer is on on what he calls the "sensitive" subject of the safe lifting of the lockdown.

Before saying his prayer, Sserwadda makes a passionate appeal for the resumption of communal worshipping, saying that as religious establishments, they are ready. "It is now the right time to call off the lockdown," he tells the President.

The Hindu representative speaks of their being "enthusiatic for this moment" of national prayer and being made to feel at home in Uganda.

Bishop Wilberforce Luwalira of Namirembe Diocese thanks God for the gift of parents and children - and strikes a tone of reflection on the value of family time. "Almighty God, we pray for stable families that will serve as stable foundations for the church and for the nation. Forgive us for being lazy and even at times for failing to feed our families.

"We pray for the First Family. As they lead this nation, they need you even more now," prays Luwalira.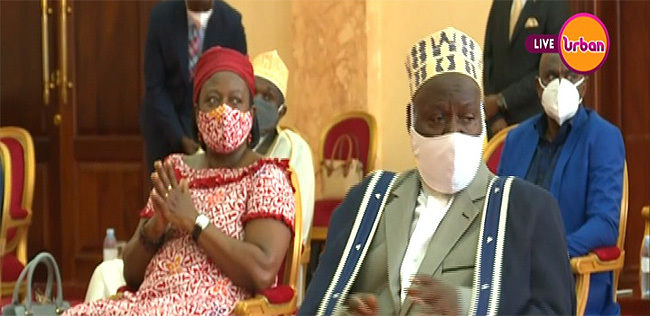 _________________________________


4:20pm | ♬ All Hail the Power of Jesus' Name ♪ ♫

After Bishop Lwere's "wonderful insights", the choir is asked to lead in a song of affirmation: All Hail the Power of Jesus' Name

All hail the pow'r of Jesus' Name!
Let angels prostrate fall;
Bring forth the royal diadem,
And crown Him Lord of all!
Bring forth the royal diadem
Ye chosen seed of Israel's race,
Ye ransomed from the fall,
Hail Him Who saves you by His grace,
And crown Him Lord of all!
Hail Him Who saves you by His grace,
And crown Him Lord of all!
You are Lord of all
You are Lord of all


_________________________________


4:17pm | A holistic approach

Bishop Lwere preaches that to transform Uganda, we must address the four elements of: head, heart, hands and house.

He alludes to the teachings of Sue Victor (1120AD) which detailed that we have:

Defective minds (heads), so we need to study theology;

Defective morals (heart), so we need to study ethics;

Defective bodies (hands), so we need technology to supplement our physical weaknesses.

The fourth element is relationships (house), so we need to love our neighbour.


_________________________________


4:07pm | Steer clear of negative energy

Bishop Lwere touches on a wide range of issues, including man's dominion over other elements of nature and moral decadence. He also talks of the importance to work hard and give wholeheartedly.

"God wants cheerful givers as He wants cheerful workers."

He says people who grumble all the time while at work do not achieve much and it is that very negative energy that plunges them into an abyss of "poverty and failure" even though they show up for work every day.

_________________________________



3:41pm | 'Do not focus on the negative'

In his PowerPoint-aided delivery, Bishop Lwere talks of how important it is to strive to be better as opposed to being bitter in the midst of this storm in the form of the coronavirus pandemic.

"During a storm, it is important not to focus on the negative. It is important to turn out better instead of being bitter.

He adds that during this difficult period, God wants us as a nation to refocus our attention. "As a nation, we must have the ear to hear what He wants us to do," preaches Lwere, who explains that just because the storm is on does not mean that God is not watching and doing something about it.

The bishop underlines that it is not God that brought the pandemic upon the world. Instead, it is satanic forces that did.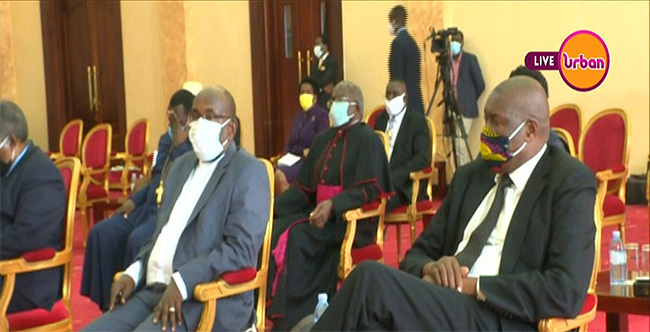 _________________________________


3:34pm | 'Be obedient'

In his delivery, Bishop Lwere urges Ugandans to abide by the measures put in place by authorities to prevent the spread of the coronavirus within our communities.

"When we are rebellious and disobedient, God does not work with us.

"We must do our part so that God can do his part."

Lwere says that as religious leaders, they have taken it upon themselves to spread out into the country and teach their fellow clerics how to sensitize the people on the COVID-19 pandemic.



_________________________________


3:26pm | State House is a place of prayer - Lwere

Today's preacher is Bishop Joshua Lwere, the General Overseer of the National Alliance of Pentecostal and Evangelical Churches of Uganda.

He takes to the podium to deliver his sermon.

He starts off by thanking the President for making "this a place of worship", today's being the third national prayer this year. He mentions how he was contacted by the BBC following the President's tweet announcing the national day of prayers.

Apparently, they were interested in knowing if it was actually he, the President, who had called the prayers and not the religious leaders. He assured them that it was the President who called it and that it was not a political move (considering that the general elections are around the corner).


_________________________________


3:12pm | The second reading

Msgr Charles Kasibante, the secretary of the Inter-Religious Council of Uganda, is representing Archbishop Dr. Cyprian Kizito Lwanga, and he takes the second reading.

It is extracted from Mark 4:35-41.

Kasibante is followed by Sheikh Muhammad Ali Waiswa, the 2nd Deputy Mufti of Uganda.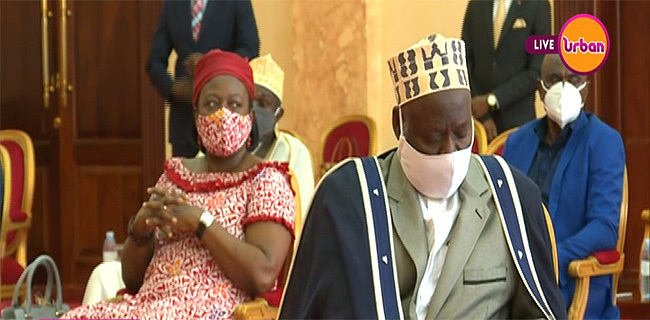 _________________________________


3:04pm | The first reading

The first reading is two-part - extracted from 1 Samuel 7:12 and 2 Samuel 7:18-22.

Rev. Canon Captain William Ongeng, the provincial secretary of the Church of Uganda, takes the reading.

After the reading, the choir leads us in singing the good ol' addictive Amazing Grace.



_________________________________


2:59pm | ♬ Immortal, Invisible, God Only Wise ♪ ♫

After the opening prayer, all rise and the choir leads in singing the beautiful Immortal, Invisible, God Only Wise hymn.

It goes thus:

Immortal, invisible, God only wise,
In light inaccessible hid from our eyes,
Most blessed, most glorious, the Ancient of Days,
Almighty, victorious, Thy great name we praise.

Unresting, unhasting, and silent as light,
Nor wanting, nor wasting, Thou rulest in might;
Thy justice like mountains high soaring above
Thy clouds which are fountains of goodness and love.

To all life Thou givest, to both great and small;
In all life Thou livest, the true life of all;
We blossom and flourish as leaves on the tree,
And wither and perish, but nought changeth Thee.

Great Father of Glory, pure Father of Light
Thine angels adore Thee, all veiling their sight;
All laud we would render, O help us to see:
'Tis only the splendor of light hideth Thee.



_________________________________


2:55pm | ♬ Stand Up, Stand Up for Jesus ♪ ♫

After his brief delivery, Pastor Matte asks the choir to lead in the hymn Stand Up, Stand Up for Jesus.

Bishop Simon Peter Emiau then follows with the opening prayer.

He prays for the President, the people of Uganda and Uganda as a nation.



_________________________________


2:45pm | Pastor Matte gets us under way

Today's service pastor is Pr. Dr. Daniel Matte, President Uganda Union of SDA Church, is invited by the emcee to get the session under way.

He is having on a face mask with a beautiful coulourful pattern - matching his tie. A grey suit and blue shirt complete his sharp look.

On behalf of the Inter-religious Council of Uganda, Pastor Matte starts off by thanking President Museveni for his leadership and how he has handled the coronavirus crisis in Uganda.

"We want to thank your leadership for involving the invitation of God so that He will move with us in this fight. Thank you very much."

He adds: "Prayer is an important aspect of our faith. Prayer beings us to God. It is an opportunity for us to express our thanks (...) and our fears to God."



_________________________________


2:42pm | President Museveni arrives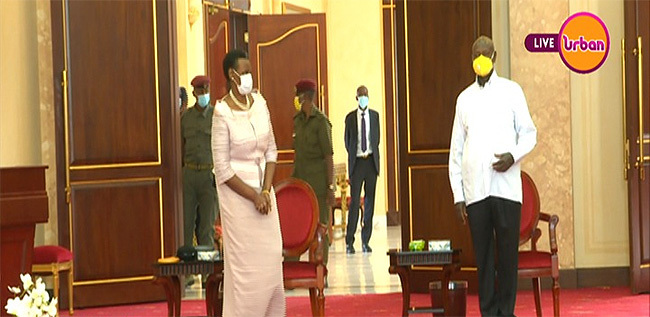 Today's host, President Yoweri Museveni has walked in accompanied by his wife Janet.

And we shall get under way - starting with the anthems.


_________________________________


2:30pm | 'Please keep your masks on'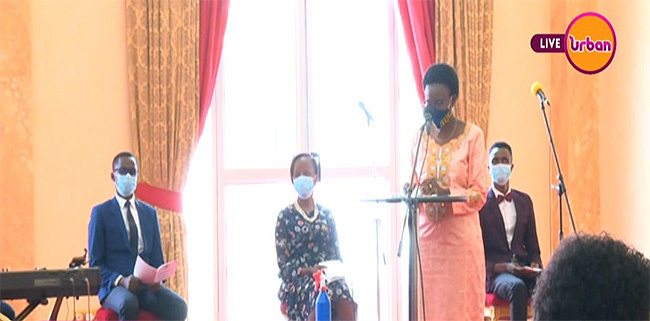 As the President's arrival is awaited by his high-profile guests, minister Aceng asks the choir to animate the session with some worship songs.

She is keen to remind the choir and the guests alike to keep their masks on - fitted properly to cover the mouth and nose.


_________________________________


2:25pm | National Prayers under way

Health minister Dr. Jane Ruth Aceng is the emcee of today's prayer session at State House Entebbe, and she has started us off with a prayer.

She goes on to make introductory remarks.

Today's service pastor is Pr. Dr. Daniel Matte, President Uganda Union of SDA Church.

The preacher is Bishop Joshua Lwere, the General Overseer of the National Alliance of Pentecostal and Evangelical Churches of Uganda.

The co-celebrants are Mufti Of Uganda, Sheikh Shaban Mubajje and Metropolitan Jonah Lwanga.

Aceng says Kampala Archbishop Dr Cyprian Kizito Lwanga was not able to make it for the prayers and he is being represented at Entebbe.


_________________________________


2:13pm | Coronavirus: A global perspective

As of Friday, the total number of declared cases has now topped 24.5 million globally since the virus first emerged in China almost nine months ago, with more than 832,000 deaths.

For now Europe has particularly tightened the screw on measures as cases surge. Below is a quick read on what's happening overseas.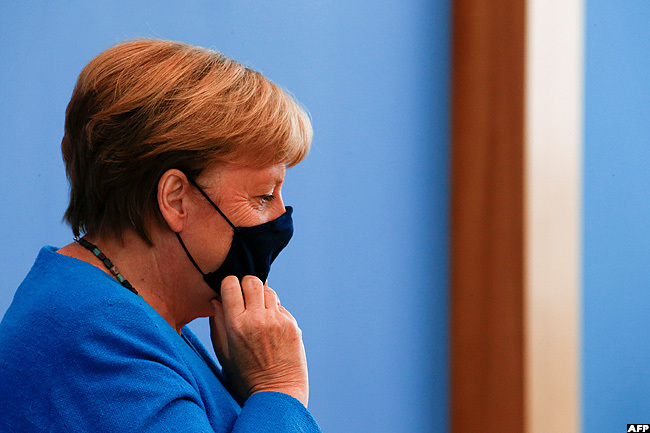 By AFP

Europe tightened restrictions on Friday as it battled a surge in coronavirus cases, with masks becoming obligatory all over Paris and Hungary shutting its borders once again.

German Chancellor Angela Merkel warned the crisis will be "more difficult" in the autumn and winter.

President Donald Trump took a characteristically more optimistic view, despite the death toll in the United States topping 180,000, as he vowed to "crush" the virus with a vaccine by the end of the year.

The total number of declared cases has now topped 24.5 million globally since the virus first emerged in China almost nine months ago, with more than 832,000 deaths.

The economic toll has been catastrophic, with Canada the latest to announce a record collapse: a 38.7 percent drop in GDP in the last quarter on an annualised basis.

Canada also extended the closure of its border to non-essential travel by a month until the end of September. The border has been closed to all non-essential travellers since mid-March.

Governments hope tighter mask rules will offset the need for a return to economically-devastating lockdowns, though the French government said it could not rule out new stay-at-home orders.

Masks were already obligatory in Paris on public transport and in congested areas, but will now be needed throughout the city.

"The epidemic is gaining ground, and now is the time to intervene," said Prime Minister Jean Castex.

Late Friday, health authorities said almost 7,400 new infections were registered in mainland France in 24 hours, calling growth in new cases "exponential".

Hungary said foreigners would be barred from entry from September 1, while returning citizens would need two negative tests to avoid a 14-day quarantine.

Greece said it was extending a lockdown on migrant camps to at least September 15, amid ongoing concerns over the spread of the virus in hugely overcrowded camps on five Aegean islands.

Sceptics

Many governments must also confront a backlash.

Spanish police arrested a man who believes the pandemic is a hoax, and used social media to incite violence against politicians, including Prime Minister Pedro Sanchez.

A Berlin court on Friday allowed a demo of coronavirus sceptics to go ahead this weekend, with police vowing a show of force to ensure safety regulations are met. A similar protest is planned in Zurich.

Merkel warned the battle against the virus is "likely to be more difficult over the next few months" as people start spending more time indoors.

She and state leaders agreed Thursday to toughen face mask rules and ban large events until the end of the year to combat rising case numbers blamed mainly on summer travel and private parties.

Austrian Chancellor Sebastian Kurz also warned of "challenging" months ahead but predicted a return to "normal" next year.

The Spanish government said this week children as young as six will be required to cover their nose and mouth at school, while Britain reversed earlier guidance that pupils aged 11-18 did not need to wear masks.

South Korea also decided Friday to tighten measures, including shutting indoor sports venues, in the greater Seoul area, home to half the country's 52 million people after a spate of new clusters, many linked to church gatherings.

The US is by far the hardest-hit country in the world in terms of both number of cases and deaths.

"We are marshalling America's scientific genius to produce a vaccine in record time," Trump said as he accepted the Republican nomination for a second term.

"We will have a safe and effective vaccine this year and together we will crush the virus."

But vast economic damage has already been done. On Friday, hotel and casino giant MGM Resorts announced 18,000 lay-offs.

Japan said it will lift a re-entry ban on foreigners from next month amid efforts to rebuild the virus-hit economy but would maintain rules to keep the disease at bay.

It has been hit less hard than most advanced economies by the coronavirus, with just over 65,000 cases, and around 1,200 deaths.

The British government urged people to return to work amid concern about the impact of the lockdown on the economy and struggling high street businesses.

An industrial body forecast this week that the UK economy will lose about £22 billion ($29 billion, 24 billion euros) this year.

Bolivia said it will ease virus curbs from next week while maintaining border closures.

People and vehicles will be allowed to circulate for longer periods, between 5:00 am and 8:00 pm -- an extension of two hours from current rules -- and a weekend prohibition on movement will be lifted on Saturdays.


_________________________________


2:05pm | Being physically apart but socially connected

On Thursday this week, the World Health Organisation (WHO) director-general Dr Tedros Adhanom Ghebreyesus spoke at a media briefing on the COVID-19 pandemic.

In his remarks, he called for the same global "solidarity and partnership" in fighting the raging coronavirus the same way the wild poliovirus was eradicated in Africa.

He also said nations and communities must make their own decisions on how to host events safely, "based on their own level of risk".

Here is part of what the WHO chief said (sourced from the WHO website):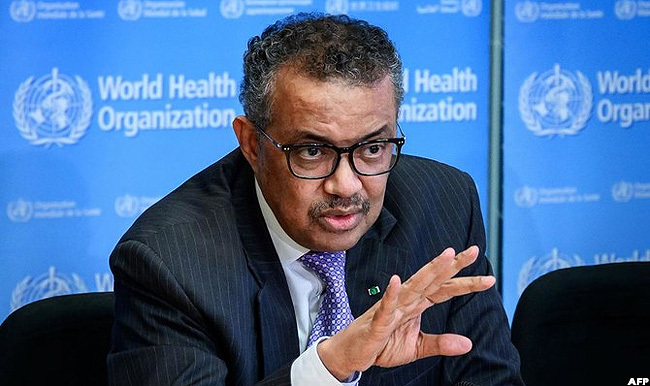 Globally, we need the same spirit of solidarity and partnership that are helping to end polio and sleeping sickness to end the COVID-19 pandemic. As societies open up, many are starting to see a resurgence of transmission.

Much of this resurgence is occurring in clusters of cases related to gatherings of people, including at stadiums, nightclubs, places of worship and crowds. These types of gatherings can be amplifying events that can be the spark that creates a much larger fire.

Every country and community must make its own decisions about how to host these events safely, based on their own level of risk. In some circumstances, closures or suspending events may be necessary for a short time. In others, there are creative ways events can be held safely to minimize risk.

The Hajj pilgrimage, for example, went ahead with limited numbers of people who were physically distanced. Some sporting events are experimenting with reintroducing limited numbers of spectators.

In the weeks and months ahead, events, festivals and celebrations of all kinds will take place. There are ways these events can be held safely, with a risk-based approach that takes the measures necessary to keep people safe. These measures should be communicated clearly and regularly.

We humans are social beings. It's natural and normal that we want to come together for all sorts of reasons. There are many ways we can be physically apart, but remain socially connected.


_________________________________


1:55pm | Fact checker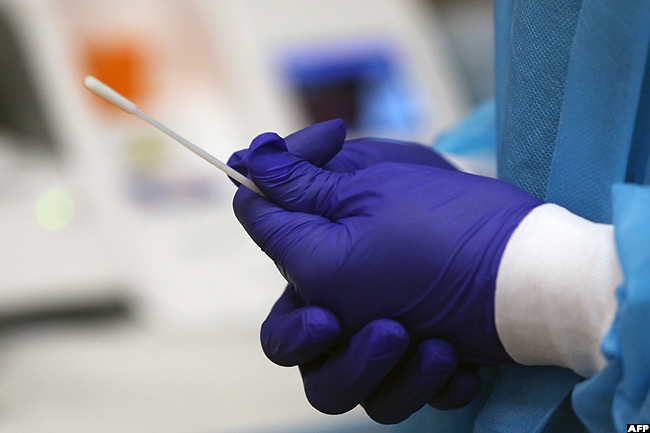 MYTH: A document has been circulating on WhatsApp, reportedly from health experts, saying some of the COVID-19 tests could turn out positive even when one is negative. It says someone who had a common cold, flu or any virus-related illness prior to the test would turn out positive even when they do not have COVID1-9. This has led some people to believe that COVIV-19 may not be as widespread as is being portrayed.

FACT: However, Dr. Diana Atwine, the health ministry permanent secretary, says such would be the case if they were using the antibody tests. She says antibody tests are only used in surveillance and research. The current antibody testing world over is done in conjunctin with other testing protocols. She says the ministry uses the polymerase chain reaction test, which is the only single, dependable and World Health Organisation-recommended test used for diagnostic purposes. It gives exact results. Therefore, ignore the information on social media. Once you test positive, according to experts, you surely have the coronavirus.



_________________________________


1:52pm | Coronavirus: The signs and symptoms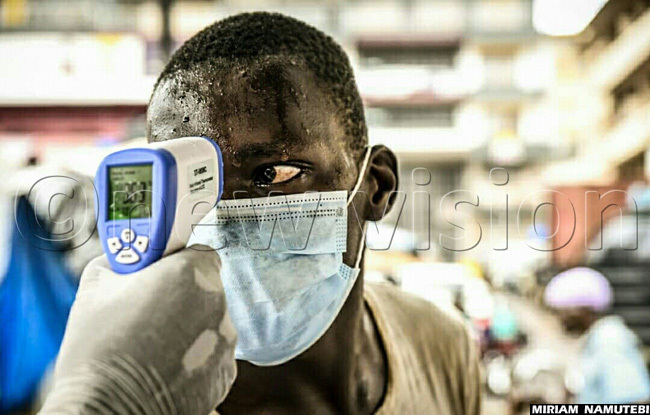 In case you are wondering what the signs and symptoms of COVID-19 are, the health ministry has listed them for you:

- Fever
- Body weakness
- Cough
- Difficulty in breathing
- Loss of smell
- Loss of appetite
- Sore throat

The ministry posted this information on its Twitter page, telling the public that if one has any of the above symptoms, call them on 0800-100-066 or Kampala Capital City Authority (KCCA) on 0800-990-000.


_________________________________


1:45pm | Uganda's COVID-19 report card

Take a look at Uganda's latest COVID-19 situation in statistics: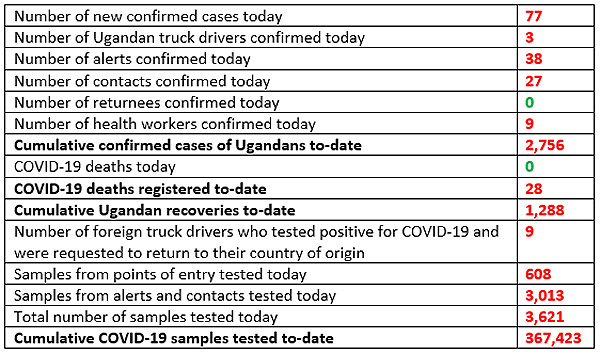 As of Friday, Uganda had recorded 77 new coronavirus cases from tests done the previous day (Thursday), according to the health ministry.

Here is the breakdown of the 77 cases as detailed by the ministry:

Contacts and alerts (65): Kampala (42), Amuru (4), Kikuube (4), Mukono (4), Wakiso (3), Luwero (3), Arua (2), Bundibugyo (1), Busia (1) and Jinja (1).

Health workers (9): Kampala (5), Kikuube (2), Arua (1) and Gulu (1)

Truck drivers (3) from different points of entry: Vurra (1), Malaba (1) and Busia (1)


_________________________________


1:40pm | The theme

Today's national prayers are being held under the theme: 'Thus far the Lord helped us', extracted from the seventh chapter of the Book of 1 Samuel.

I have used my Holy Bible (Contemporary English Verson) to pick out this biblical extract.

1 Samuel 7:12-13 | The Philistines were so badly beaten that it was quite a while before they attacked Israel again. After the battle, Samuel set up a monument between Mizpah and the rocky cliffs. He named it "Help Monument" to remind Israel how much the Lord had helped them.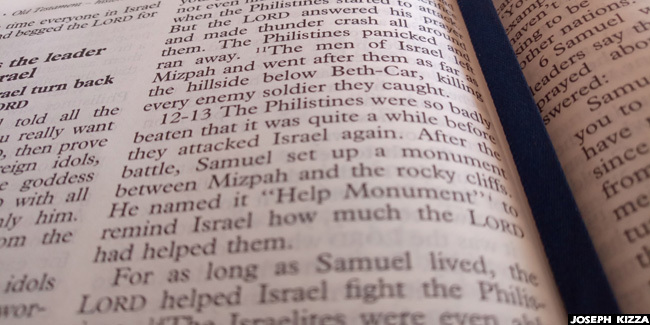 _________________________________


1:35pm | 'Join us in prayer'

So today, President Museveni and his wife Janet are hosting religious leaders at State House Entebbe to lead the country in prayers against the COVID-19 pandemic - and they have urged the rest of the nation to join in.

When the President last hosted such national prayers in May, also at Entebbe, he appealed to everyone to "pray with us all as we seek God's intervention to end this COVID-19 pandemic here [in Uganda], and the rest of the world".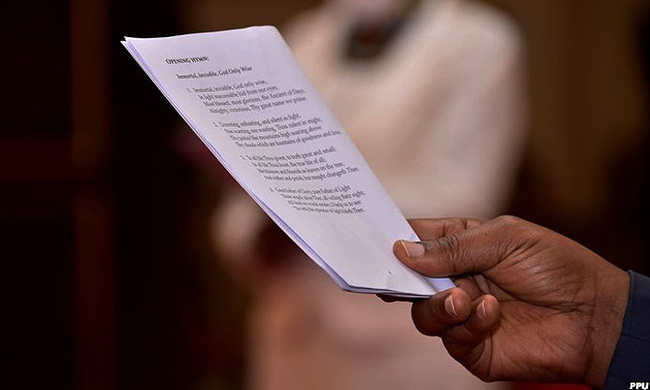 _________________________________


1:24pm | Welcome everyone

Good afternoon everyone, hoping you are keeping safe. Welcome to this live text commentary of today's national prayers as we seek God's deliverance from the COVID-19 pandemic.

We will be bringing you live text updates from the prayers at State House, Entebbe. They are scheduled to start at 2pm.

For now, let's do some buildup.


_________________________________


1:20pm | 'Stay in your houses or compounds and pray'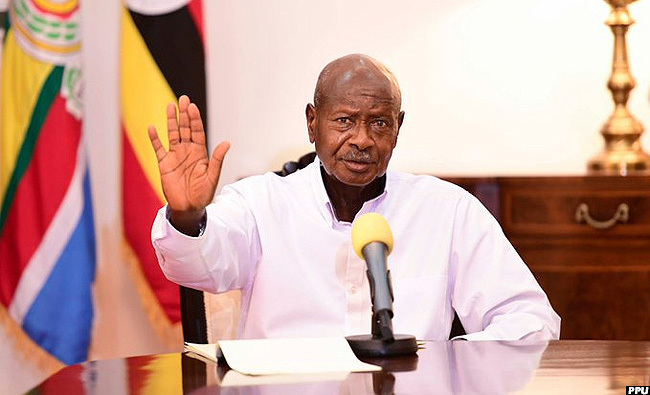 At 4:20pm on Thursday this week, President Yoweri Museveni posted a tweet in which he declared today (Saturday) a public holiday and a day of national prayers.

His decision seemed to have been informed by a vision "a certain Uganda" got from God.

Museveni tweeted: "A certain Ugandan came to me and told me that God had told him in a vision that I should organize National Prayers, scientifically organized, for God to deliver us from COVID-19. Therefore, by the powers given to the President of Uganda by Section 2(2) of the Public Holidays Act, I declare the 29th of August 2020, a day of National Prayers and a Public Holiday. Stay in your houses or compounds and pray."