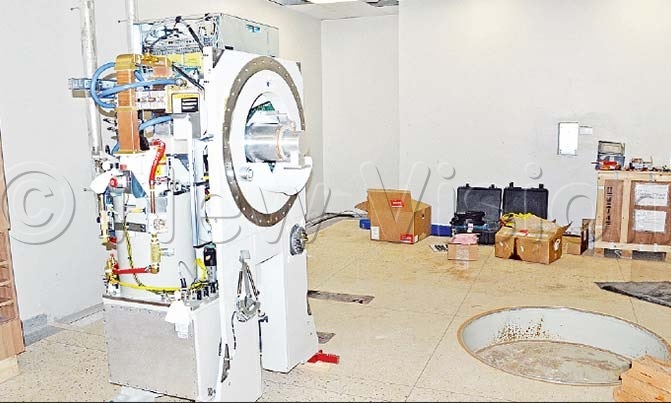 CANCER |

The waiting time for cancer patients in need of radiotherapy services is expected to reduce after the purchase of a hi-tech cancer machine worth $3.2m (sh11.8b) by the Government.

The TrueBeam radiotherapy machine is an addition to two other radiotherapy machines that are used for treatment of cancer at the Uganda Cancer Institute (UCI), Mulago.

Speaking while flagging off the installation of the machine Dr Jackson Orem, UCI's executive director, said the machine will greatly improve cancer treatment.

"This machine provides image guided stereotactic radiosurgery and radiotherapy with high precision to treat tumors and lesions in various parts of the body, including lungs, breasts, head and neck," Orem said.

He added that the machine will see an increase in cancer survival rates among patients in Uganda and East African region at large.

Orem said the machine which is being installed by engineers from Turkey, will be operated by a team of trained oncologists who have been specifically trained on this machine in Israel.

Health experts said the machine is the first of its kind in Uganda and East Africa.

According to Dr Awusi Kavuma, the principal medical physicist at UCI, the new machine can treat at least 50 to 70 patients. He revealed that the patients have been waiting for about two months to get the services.

Kavuma said the machine has an advantage of multiple energies unlike the other cobalt 60 machines.

"With multiple energies you select the patient energy depending on the cancer you are going to treat. It has a wider treatment field compared to other machines (cobalt 60),'' he said.

The machine can treat a wide range of cancers including cervical cancer which accounts for 40% of all cancers.

Others are breast and prostate cancer, among others. He said planning for the project has been going on since 2014, when construction of radiotherapy bunkers started.

"The bunkers are now complete and we are installing the machine," he said.

Last year , UCI treated close to 7000 new cancer patients at both UCI and Mbarara Regional Cancer Centre.

Data at the Uganda Cancer Registry indicates that 32,617 new cases of cancer were registered in 2018.

Recently, experts urged East African governments to commit more funds to the fight against cancer.

The appeal comes as statistics reveal worrying trends of the disease prevalence in the region.

According to the World Health Organisation (WHO) Cancer Research, cancer cases worldwide are expected to increase by 75% in the next two decades.

Cancer reportedly kills approximately 9.6 million people in the world every year. This is more than HIV/AIDS, malaria and tuberculosis combined.

Truebeam radiotherapy machine

TrueBeam radiotherapy device consists of two main components: a beam producing system for producing photon, electron and diagnostic X-ray radiation and a control panel.

The beam producing system is installed in a vault in the healthcare settings to provide shielding from radiation, while the control panel that uses the device software is placed outside the treatment room.