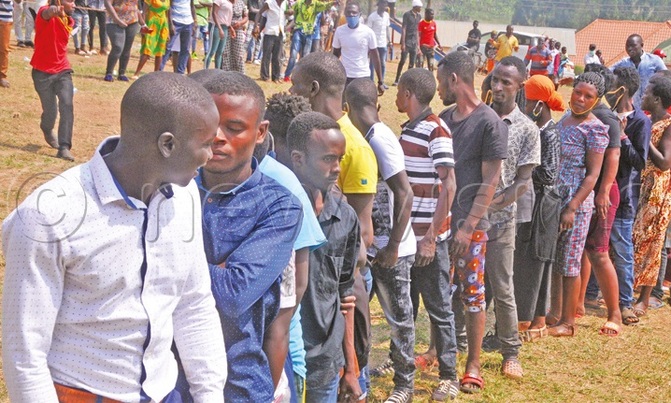 The results released are specifically for the position of chairperson of the village youth committee
The Electoral Commission (EC) has released updated results of the youth elections showing the National Resistance Movement (NRM), winning 48,550 (78.88%) village youth council chairperson positions.
According to the results released yesterday, the independents came second, after taking 9,272 (15.06%) village youth council chairperson positions, followed by the National Unity Platform (NUP) which emerged third with 1,447 (2.35%) positions. The Forum for Democratic Change (FDC) came fourth position after bagging 1,182 (1.92%) chairperson positions.
The Uganda People's Congress (UPC) won 538 (0.87%) youth chairperson positions, the Democratic Party (DP) 536 (0.87%), the Alliance for National Transformation (ANT) 15 (0.02%), the People's Progressive Party (PPP) five (0.01%) positions while the Justice Forum (JEEMA) won five (0.01%).
In total, according to Paul Bukenya, the Electoral Commission spokesperson, 61,550 village youth council chairpersons were elected during the elections held last week.
There are 68,740 villages in Uganda. However, according to Bukenya, some villages did not hold elections, while some candidates were unopposed.
Unopposed
"There are villages where various elective positions on the committee returned unopposed candidates. This is because for elective positions where only one candidate was nominated at close of the gazetted nomination days, such persons nominated were declared elected unopposed."
Provisional results had indicated that NRM had won 47,378 (79%) village youth council chairperson positions in the 59,923 villages.
In its Friday edition, the New Vision erroneously stated that 159,000 chairperson positions were contested for in the elections. The erroneous report became the subject of social media comments.
"The Electoral Commission has noted with concern, the false information circulating on various media platforms regarding the results of the elections of the village youth committees," the EC spokesperson said.
He said on Thursday, the commission issued the first provisional results which reflected returns from 59,923 villages, where elections had been successfully conducted on Monday, August 17 and Tuesday, August 18.
Bukenya said the results released Sunday, are specifically for the position of chairperson of the village youth committee.
The commission is still compiling the results for the other eight elective positions such as vice-chairperson and secretaries on the village youth committees, countrywide.
Parish-level elections
Bukenya also explained that the commission had embarked on elections for youth and special interest group leaders at parish level.
According to the electoral programme for the youth elections, the commission had finalised the compilation of parish/ward special interests registers as well the nomination of parish/ ward special interest groups committee candidates ahead of the elections set for August 31 and September 2, 2020.
Bukenya explained that the nine youth leaders at the village youth council, will form an electoral college, which will in turn vote for the parish leaders.