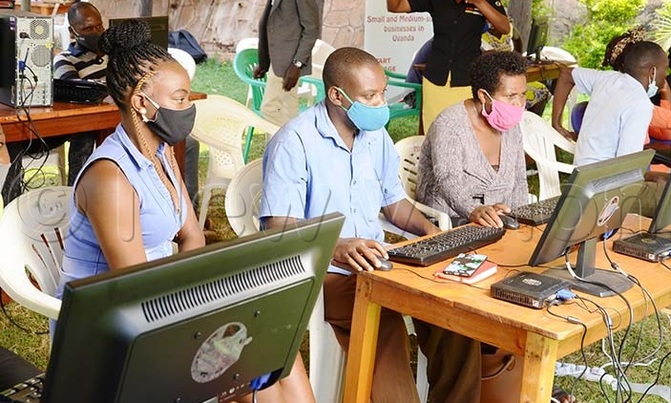 A total of 307 people running Small and Medium Enterprises (SMEs) in Kabale municipality have benefited from a three-week training in digital literacy and COVID-19 awareness.

The training was organized by the Federation of Small and Medium Enterprises-Uganda, with the support of the Rural Communication Development Fund of the Uganda Communications Communication (UCC).

According to John Kakungulu Walugembe, the Executive Director of the Federation of Small and Medium-Sized Enterprises-Uganda, the training which took place in Kabale was meant to equip SMEs with practical skills to embark on the journey of digital transformation, in the face of COVID-19 and the current restrictions on movement or large gatherings.

"We are in a digital era and nobody deserves to be left out. SMEs are important in our country's development. Once they embrace digitalization, they will be in a position to access tools like social media, which have become more effective for marketing. With digitalization, they will able to apply for certain things like product certification from the Uganda National Bureau of Standards, company registration with the Uganda Registration Services Bureau, and filing of tax returns to the Uganda Revenue Authority, among others," said Walugembe.

The training, which is part of a multi-year collaboration between UCC and The Federation of Small and Medium Enterprises (FSME) attracted participants involved in mechanics, hairdressing, carpentry, tailoring, welding among other activities.

The participants benefited from training that is organized using the International Computer Driving License (ICDL) curriculum.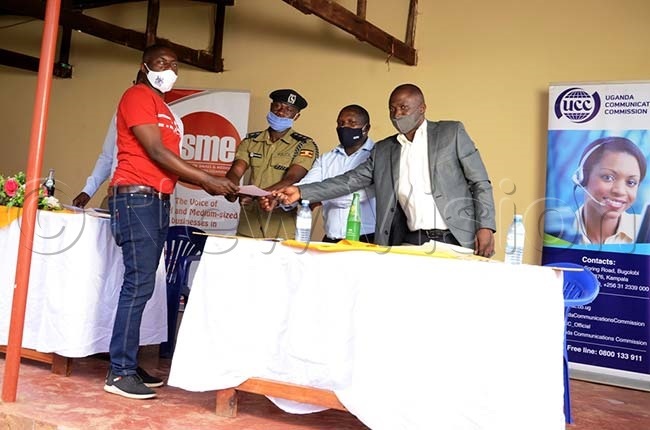 "It is clear that using ICT will reduce the cost of operations in marketing, declaration of revenues, filing returns and save an SME the cost of hiring an expensive accountant and this saves money that could be reinvested into the business," Walugembe said.

On his part, the representative of the Director of RCDF, Nyombi Thembo explained that UCC chose to sensitize SMEs on the importance of ICT, because they constitute between 80-90% of Uganda's private sector and they play a very important role in job creation and import substitution.

"When we target SMEs, we know that we are reaching bigger population because each of the SMEs represents a number of people they work with or employ, which means they are better placed to spread the message and even share skills on how to use digital tools," he added.




At the official opening of the training, August 18, 2020, Ronald Kasheija, the District Internal Security Officer advised the participants to embrace technology in their businesses and take advantage of the numerous opportunities that government will avail to people in the informal sector.

Specifically, he urged them to get organized into groups of 30 in order to benefit from the Emyooga scheme that the government is rolling out to support artisans.

He advised them to observe COVID-19 Standard Operating Procedures (SOPs) in their businesses, in order to prevent the further spread of the pandemic.

Participants share experiences

Joan Musiimenta, 45, a tailor from Kabale knitting masters said she has lost several lifetime opportunities for not having computer skills.

"At one point I lost a deal where I was going to work with one of Uganda's best industries soon after my tailoring course. A friend of mine who works there tipped me about the deal and I got ready for it," narrated Musiimenta.

To her disappointment, Musiimenta could not access the application forms that were sent online in time because she did not have computer skills.

"I kept waiting for someone to help me download the application forms and fill them, for me. When I finally got one person to assist me, it was already late for me to benefit from the deal because the deadline had passed. I regretted my computer illiteracy," said Musiimenta.

Timothy Muramye, a phone mechanic who has been in business for 10 years said he has for long desired to acquire computer skills to boost his performance at work.

"Phone mechanics at times require the use of computer soft wares to analyze the phone system but I was far from that stage in my work. I am sure that since I have started on this, I will learn the various software related to this work," he said.