"I am struggling to get help for my baby to see that she lives but people in my neighborhood have made my life hard. They laugh at my baby's condition. Wherever I pass they mock me. It is painful."
HEALTH
By any measure, 8 months old Ariana Namata should be a busy little baby exploring and crawling to discover the world.

However, her weak and emaciated body cannot allow her. The little baby developed a heart condition which has affected her growth and general body development. She weighs below like any normal child.

Her mother Robina Nakiganda Mwesigwa, a resident of Nasana in Kabulenga village told New Vision that at one month her baby developed constant cough and flu.

When she went to the hospital, she was given cough medicine. After two months, the baby started sneezing, crying and having difficulty in breathing.

"The first time I took her to the hospital, the doctor diagnosed her with pneumonia, after 10 days they sent me to Uganda Heart Institute, it is from the institute that her condition deteriorated and that is where doctors found her with two holes on the heart," noted Nakiganda.

What hurts Nakiganda is that whenever she walks with her baby who was also diagnosed with down syndrome, people judge her and make fun of her.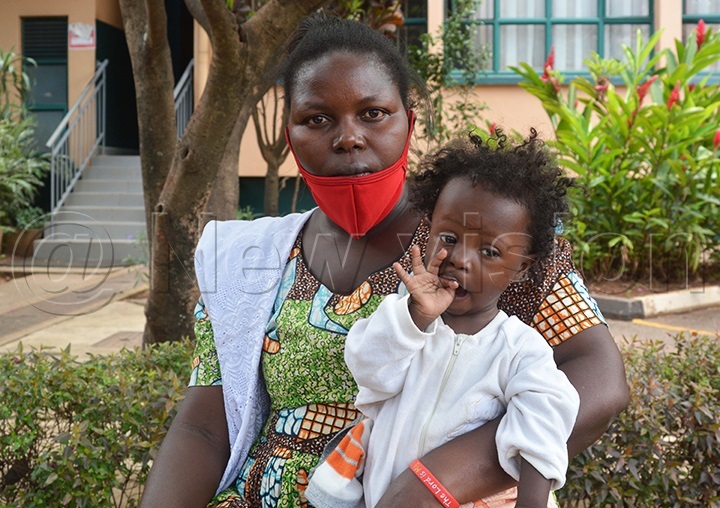 "I am struggling to get help for my baby to see that she lives but people in my neighborhood have made my life hard. They laugh at my baby's condition. Wherever I pass they mock me. It is painful," Nakiganda said with a heavy voice with tears flowing.

According to Dr Hilda Tumwebaze, a paediatrician cardiologist at Uganda Heart Institute, Namata has Atrioventricular Canal Defect, a condition that occurs when there's a hole between the heart's chambers and problems with the valves that regulate blood flow in the heart.

Right now Namata, does not want to eat, she gets tired easily, she only breastfeeds, and sometimes she vomits after breastfeeding.

Doctors recommended that she should have an urgent surgery before she makes one year to save her life. Past that the heart will be too weak to function.

Namata was referred to Narayana Health Hospital in Bangalore, India but chances of surviving are becoming limited because the mother has no funds. Her husband who sells electrical appliances cannot also afford.

A quick intervention by well-wishers could save Namata's life. To help, well-wishers can contact 0786 145 102.