"Using my mother's tailoring machine, I started making masks for the family members at home."
Mishael Kiza is a 14-year-old boy who resides in Seeta Namilyango village, Mukono district. He is in senior two at Namilyango senior secondary school.

As schools closed because of the COVID-19 pandemic, children were left with plenty of time to play, watch television, do chores and also revise books.
However, with time Kiza got bored from doing the same activities over again so he decided to kill boredom by gaining a new skill.
Starting out
Kiza's mother is skilled in tailoring and whenever she started making and mending, kiza would watch her. He later picked interest in learning the skill.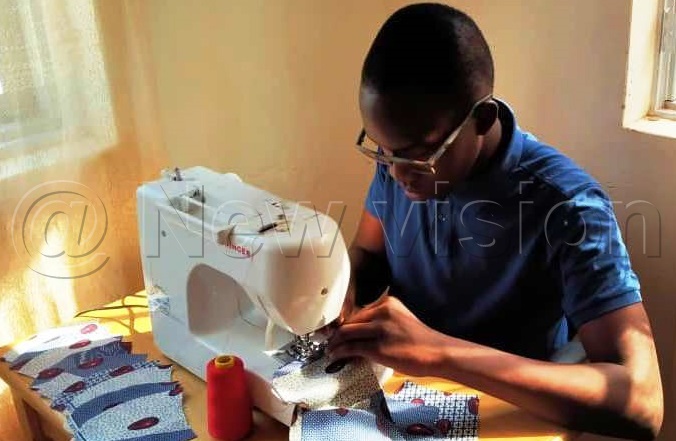 With time the boy started practicing with the help of his, little did he know that at some time he would make earn from the skills he learnt.

Applies skills in lock down

When he heard of people having to wear masks while in public, he decided to pay attention to mask making, but he had no idea, so he decided to make good use of the internet.

"I watched several videos on how to make masks and that's how I got the idea of how to make them," says Kiza.

"Using my mother's tailoring machine, I started making masks for the family members at home. They came out perfectly well and my father loved them so much," explains Kiza.

He adds that his father started bring him fabric so that he could make masks for sell.

Kiza made as many masks as he could and when the fabric was finished, his father went ahead and bought more.

"My father didn't stop at buying the fabric, he also started marketing the masks to his friends and neighbors. This motivated me to make more," says Kiza.

To date Kiza is making masks. He makes some on orders while others are made to sell to whoever wishes to buy from him.

He sells his masks at sh2000-3000 and this has changed his life.

Achievements

Kiza reveals that from making masks, he has been able to buy himself a smart phone which he is currently using to market his masks.

"I post pictures of my masks on the different social media platforms and that way people get to like them and they buy," explains Kiza.

He adds that this kind of work has revealed to his parents how innovative and creative he is.

"They are proud of me and they keep encouraging me to make more," he says.

Kiza encourages fellow children not to be idle but to think of things they can do while at home to keep busy.