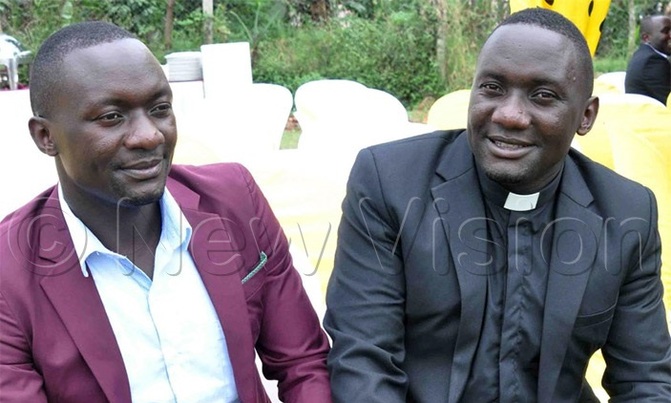 TWINS FESTIVAL |

When Paul Kato and Peter Wasswa made a decision to join the seminary, the latter was advised to leave after two years.

The twins were born on July 9, 1989 to Ssalongo Joseph Lubanja and late Nnalongo Rosemary Nambuubi in Narozari parish, Masaka diocese.

They attended St Gerald Grammar Primary School Masaka from 1998-2001 and then later went to St Jude Primary School Kabuwoko for P.7.

Since they look alike, throughout school, their friends couldn't tell them apart. They used to mistake one for the other.

Their paths led them to make different life choices, as one is a priest and the other is a father of two.

"From a very early age, we were attracted to the ministry. When we were young, we played priests," Wasswa said.

The twins are the fifth and sixth in a family of 15 children.

"We joined Bukalasa Seminary in S.1 in 2003. We studied together up to S.2 in 2004 and then the rector advised me to leave. I left Kato there and went to Masaka Town College," said Wasswa.

He added, "Kato and I have always been together until on August 3, 2019, when he, along with 19 other seminarians, received the sacrament of Holy Order from Bishop Serverus Jjumba of Masaka diocese."

Wasswa relates how when they were 13-years-old in S. 1, they came into contact with the vocational ministry of the seminary of Bukalasa along with other classmates in their catechism class.

At the time, neither of the brothers had considered the priesthood. In an interview in Bikiira Parish, Wasswa said, "Surely, at 13 that was our ambition. We used to walk together. We used to share everything and also wear the same clothes."

Kato and Wasswa acknowledge the fundamental support they received from their parents.

Wasswa thanked Kato with words that reveal the strength of their bond.

"Thank you, Kato, for fulfilling our promise. It was also my desire, but I was advised to try another path. Now I am father of two children. You are my brother, my twin, my companion on the road, and my true friend; thank you, because you have walked beside me. I have prayed for you in your journey to priesthood."

Fr Kato attended Bukalasa Seminary at O and A level, and Katigondo Seminary from 2011-2014. He did his pastoral work at St. Charles Lwanga Villa-Maria Catechetical Centre and the Theological National Seminary Ggaba.

The pandemic episode

Fr Kato said the lockdown due to the COVID-19 pandemic presented them with challenges, especially that he missed his twin.

"Before (the lockdown) Wasswa used to visit me, but since then, we talked on phone," said Fr. Kato.

Wasswa, who works in an arcade, stopped working in the lockdown because businesses were shut down.