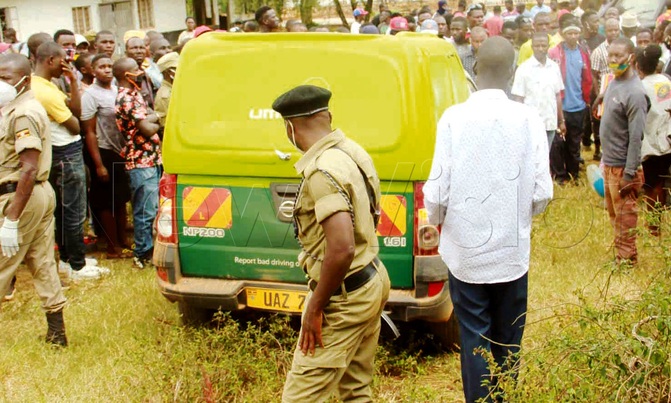 The residents said the duo was working on a transformer located on Katosi Road.
MUKONO - Fear gripped the residents of Wantoni Cell in Mukono Central division, Mukono Municipality as they witnessed the death of two men who were electrocuted at 11:00am on Friday.

The Kampala Metropolitan deputy Police spokesman, Luke Owoyesigyire identified the deceased as Moses Kasiita and Jacob Mutalaga.

The residents said the duo was working on a transformer located on Katosi Road. Fisal Kigenyi, one of the witnesses, said one of the men climbed and tampered with the transformer without knowing that the electricity was on.

Kigenyi said another, who had remained down, immediately climbed the electric pole to save his colleague, but he was also electrocuted and they all died instantly.

Samuel Ntwatwa, a resident of Wantoni said other UMEME staff, who had moved in the company of Kasiita and Mutalaga disappeared with Mutalaga's body to an unknown location.

Ntwatwa said UMEME officers undressed Kasiita from the UMEME uniform he was putting on and dressed him with other clothes.

"They put the body in a UMEME van registration number UAZ 704Q and tried to drive away, but the residents refused them to leave; asking for the Police to first carry on their investigations first," he said.

UMEME spokesman Peter Kaujju said Kasiita was not a staff of UMEME whereas Mutalaga was attached to MUTICO contractors.

Kaujju, however, said UMEME was working together with Police to investigate the cause of this accident.

On Saturday, Kasiita's family members stormed the UMEME offices in Mukono demanding justice for their deceased relative saying he was working for UMEME, but the company had disowned him after his death.

The family led by Derrick Isabirye said he was working for MUTICO contractors, a company subcontracted by UMEME.

"No one can get the guts to climb the UMEME transformer moreover in presence of other UMEME staff and other company equipment including the vans. We need justice for the family members including Kasiita's children and the widow," Isabirye said.

He added that even Kasiita's private motorcycle which he used to reach UMEME offices before going to the field is also parked at the UMEME offices.

Rev. Peter Bakaluba Mukasa, whom the family contacted to help them engage the UMEME officials said the officers said they are going to seek advice from their bosses in Kampala and promised to give a concrete response soon.