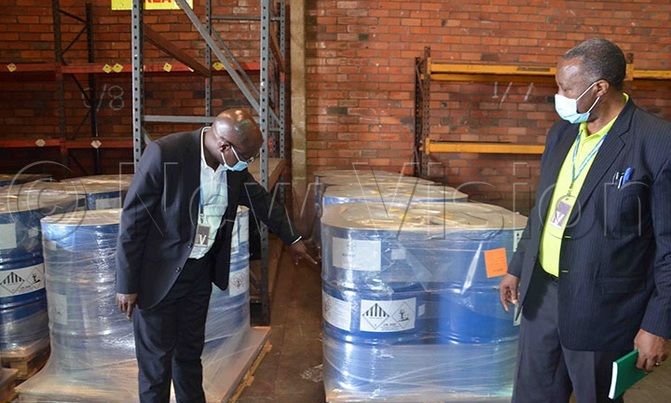 Uganda has had four major invasions since January 2020.
LOCUST INVASION
The Ministry of Agriculture Animal Industry and Fisheries (MAAIF) has received 19 pallets of Deltamethrin ULV chemicals. These were handed to Pius Wakabi the Permanent secretary at Entebbe International Airport.

Wakabi who was accompanied by Stephen Byantwale the commissioner for crop protection, received the shipment recently at Entebbe International Airport . The 50,000litres desert-spray chemical is part of the donation from Bayer company.

Bayer Company also donated 120,000 litres of the same chemical to Kenya in its fight against desert locusts. While receiving the consignment, Wakabi noted that this chemical which is used in aerial spray and control of desert locusts, would go a long way in fighting locusts.

"The chemicals we had earlier bought in March from Japan, just arrived in August because the initial lock-down affected manufacturing areas on addition to growing demand of pesticides in countries of the middle-east which were also invaded by desert locusts," said the permanent secretary. Wakabi lauded Bayer company which he said, came to Uganda's rescue at the right time.

According to Stephen Byantwale the commissioner for crop protection, it requires between 1-2 litres of this pesticide to spray an area covering one hectare. "However, it can only be used when you have an aircraft or ultra-low volume spray pump," adding that the consignment will be kept at MAAIF stores in Namalere.

From the onset of the waves of desert locusts invasion, the task force which is coordinated by the office of the prime minister and led by the Ministry of Agriculture instituted a surveillance team made of crop protection experts, officers from the Uganda People's Defence forces, entomologists from National Agriculture Research Organisation and reserchers from FAO and district sector officials.

Uganda has had four major invasions since January 2020. The first wave on February 9; followed by another one all the way through March and a third one in mid-April and the last one happened between 20-24 July. Byantwale explained that the latest invasion was of second-generation breeding of locusts from Kenya.

Deltamethrin is a synthetic insecticide based structurally on natural pyrethrins, which rapidly paralyses the insect nervous system giving a quick knockdown effect.

According to a report issued by a surveillance team from FAO, Desert Locust Control Organization for Eastern Africa and the World Food Programme, millions of eggs are currently being hatched in several parts of Kenya, which poses a danger to Uganda. FAO designated the desert locust upsurge in East Africa as one of its highest corporate priorities this year.

The agency however says, the situation is particularly worrisome in Ethiopia, Somalia and Kenya where swarms of desert locusts are extremely large, highly mobile and are damaging food crops and forage.