Since he replaced Rev Hamlet Kabushenga in 2006, voters say Baryomunsi has never faced stiff competition, until Deus Nkwasibwe announced that he will contest on the National Resistance Movement (NRM) ticket.
POLITICS 2021 ELECTIONS
Recently Police in Kanungu arrested Ian Niwaha, a 16-year-old boy, for allegedly defacing campaign posters of state minister for housing, Dr Chris Baryomunsi.

The poster defacing, which took place at Kambuga Township, political analysts say, paints a 'perfect' explanation of the political pulse in Kinkiizi East.

Since he replaced Rev Hamlet Kabushenga in 2006, voters say Baryomunsi has never faced stiff competition, until Deus Nkwasibwe, a State House employee and former guild president of Mbarara University of Science and Technology, announced that he will contest on the National Resistance Movement (NRM) ticket.

"He has got his match politically," David Masiko, a resident of Kambuga said, adding that the competition is likely to be akin to that of former Prime Minister, Amama Mbabazi and businessman, James Musinguzi Garuga, many years ago, for Kinkiizi West.

The only game-changer right now, voters added, is the fact that Nkwasibwe enjoys the support of Garuga, who is considered a big wig in the area.

The Anglican Church, observers of political trends in Kanungu say, has also sided with Nkwasibwe—even though he is a Catholic.

As a result, the race to unseat Baryomunsi, who is the longest-serving MP for Kinkiizi since its creation in 1993, has attracted about six contenders.

Others in the race include Ruth Karungi Tukahirwa, who is the only woman, an avid supporter of NRM.

CANON'S SON ENTERS RACE

The other NRM contender is Fulugensio Muhumuza. Oscar Kasya, a son of a Canon of Church of Uganda, has also joined the race, a move, voters say, creates a towering impact on the political dynamics in the constituency for contenders, especially the incumbent.

By joining the race, it means, Baryomunsi will have to jostle for the NRM ticket with Nkwasibwe, Tukahirwa, Kasya and Muhumuza.

Samuel Renzyaho, who some voters expected to contest on the NRM ticket, has opted to stand as an Independent for the Kinkiizi East seat.

The Forum for Democratic Change (FDC) has fronted a veteran journalist, Arans Mark Tabaruka, for the seat.

Speaking to Sunday Vision, Nkwasibwe said that although he is a catholic, given what he described as "overwhelming" support from all people in the constituency, he has opted to front the unity card rather than the divisive politics of religion.

"Actually, one of the reasons for me to come in politics is to unite the people of Kinkiizi East," he said.

"I know the current MP has done some developments in the area though on small pace, but people are tired of having one MP for many years and are ready for change, which I am ready to make," Nkwasibwe added.

Comprising of 215 cells, 54 parishes and six sub-counties of Kambuga, Rugyeyo, Katete, Kirima, Rutenga, and Kinaba and two town councils of Kambuga and Kanungu, Kinkiizi East is a stronghold of NRM, which means whoever clinches the NRM ticket, has high chances of winning the seat in the forthcoming 2021 general elections.

This voting trend, voters say, will also make the contest between Baryomunsi and Nkwasibwe, during the NRM primaries, an interesting event.

POLITICAL TRENDS

In the 2016 general elections, Kinkiizi East voted for 99% for NRM. This, going by the voter statistical projections, has been the trend since the Constituency Assembly (CA) days.

During the CA vote, Dr Stanley Kinyata sailed through, and in fact, he was re-elected MP in 1996.

Known to be a high dived constituency along religious domain, Kinyata who contested with Darlington Bakunda, won the seat after protectants ganged up against the Catholic candidate, Bakunda.

"Ever since the Kinyata-Bakunda election, religion cannot be separated from Kinkiizi East politics," a voter who resides in Rugyeyo, said.

The reign of Kinyata was ended by Kabushenga in 2001 until Baryomunsi ousted him in 2006.

Tabaruka, a veteran journalist, who has worked with various local and national media organisations in Kanungu, argues that with NRM having enjoyed a long haul within the political realm of Kikiinzi, 2021 could be the time for the FDC party to take charge of the constituency.

"We are on ground, and change is coming," he said.

On the other hand, Tukahirwa, the only female aspirant in the race, also believes that it is time for the female representative for the constituency, which has been largely, an exclusive area for men since CA.

This is not the first time that Tukahirwa has competed for elective politics in Kanungu. She has contested twice for the woman parliamentary seat for Kanungu district, a feat, she says, has prepared her for a decisive contest with men for Kikiinzi East seat.

Tukahirwa adds that she has an advantage of knowing almost all corners of Kinkiizi East, and she will tap into the experience of her former agents during elections, to upset the male contenders, including the incumbent Baryomunsi, who she says, has lost touch of the political reality on ground.

The coming of Kasya, voters say, has now changed the trend of parliamentary politics in the Kinkiizi East election.

"This is the son of a Canon of the Church of Uganda, and one of the longest-serving chairpersons for Kanungu district, Josephine Kasya," a voter from Kambuga said.

Initially, it was anticipated that Josephine Kasya would weigh in and contest, but after several consultations, people close to her say, she chickened out in favour of her son.

"She has since announced that she will not contest for the post come 2021 general elections, paving way for her son to contest for the seat," a family friend told Sunday Vision.

By joining the race, sources say, Oscar Kasya, is viewed as the official Church of Uganda candidate, a trend that is likely to revitalise the old battle between Catholics and Protestants in the Kanungu political framework and Kinkiizi East politics.

"This definitely further complicates the political fortunes of Baryomunsi, who is a Catholic," a voter who keenly follows Kanungu politics, said.

"Oscar is now seen as one to rescue a group of protestants whom they say have been sidelined by Chris Baryomunsi who has been in Parliament for the last 15 years, making him the longest-serving MP in Kanungu after the former Prime Minister, Mbabazi" the voter added.

WHAT VOTERS WANT TO BE FIXED

Yet despite the mounting competition, Baryomonsi, voters say, has over time supported Church work, school projects and health facilities in the district, which may give him an added advantage ahead of the fierce competition.

Currently, Kanungu has two health centres at Katate in Kinkiizi East and Kihihi in Kinkiizi West. A government hospital at Kambuga in Kinkiizi East and one mission Church of Uganda hospital in Kayonza Bwindi in Kinkiizi West constituency are the other facilities that Baryomunsi says he has supported to provide quality health services for voters.

Yet despite what he describes as "monumental contribution" to the area, voters continue to accuse him of not answering telephone calls whenever they want to talk with him.

"Whenever we ask him why he doesn't pick our telephone calls, he says, he is busy with State work and assignments from President Yoweri Museveni. However, it is us who voted him and we expect him to be at our service whenever we are in need," a voter said, adding that at one time he donated 500 substandard iron sheets to Kashayo Church, and when they wanted to notify him about the anomaly, which was believed to be a problem of manufacturers, he never answered his telephone calls until Garunga came to the rescue of the Church by replacing the iron sheets.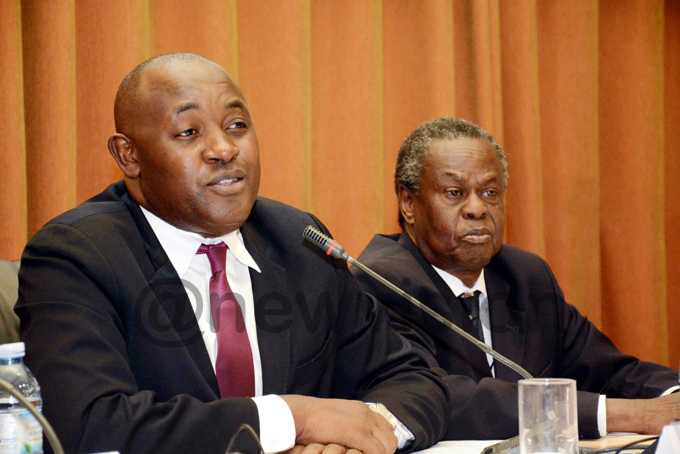 The issue of limited power supply in the constituency is the other roadblock that is likely to hinder Baryomunsi's chances in the constituency.

Baryomunsi, however, argues that major projects are underway and he has used his clout in Government to lobby for grand projects such as the paving of the Kanungu-Rukungiri road.

Yet to some voters, this road project, serves a limited section of the people.

"Voters accuse the minister of failure to influence government to pave the Enengo-Kihihi-Kambuga-Katete road, where the largest numbers of his constituents reside as opposed to the Bwambara through Nyamirama in Kinkiizi West where the current road construction works are stationed," an elder in Kinkiizi East said.

Sam Birungi of Masya Kanungu also said that the promise made by the minister to lobby for electricity distribution in the area has not been fulfilled.

"Load shedding is rampant to an extent that we have power for about six hours a day," he said, adding that availability of clean water has also become a permanent headache in the area.

"A good leader should be able to know the problems faced by people he/ she is leading because when there is no clean water expect many diseases, and when people are always sick they cannot develop," Rev Kenneth Kanyankore, the diocesan secretary and former contestant for Kinkiizi East seat, said, adding that even on the front of education, Kanungu, and Kinkiizi East inparticular, is worse off.

"For over two decades now there is no school in the constituency that can produce 10 first grades at secondary level in government and private schools, a problem the current leaders must address," he added.