The President urged Ugandans to always love God with all their hearts and love their neighbours
President Yoweri Museveni has said that since his youthful days at the age of 22, he had a mission of helping people who were stuck in the traditional subsistence sector working for the stomach only to turn to the money economy where they work for both food and money.
"My aim was to wake up people in my area who were just sleeping, to move away from the traditional subsistence farming, and engage in modern money-making enterprises," he said.
The President was on Saturday speaking as the chief guest at the 'scientific' wedding ceremony of David Aryatamba Tumwine and Sheila Kakwanzi that took place at the Sheraton Hotel in Kampala.
Tumwine is a son to security minister Gen. Elly Tumwine and Jolly Tumwine while Kakwanzi is a daughter to Apollo and Jovansi Mabati.
The President urged Ugandans to always love God with all their hearts and love their neighbours as they love themselves in order to live in a peaceful and harmonious society.
Museveni said that he taught the Tumwines and so many other people together with his colleague the late Black Mwesigwa with whom they went house-to-house teaching people how to make money through modern commercial agriculture and other businesses.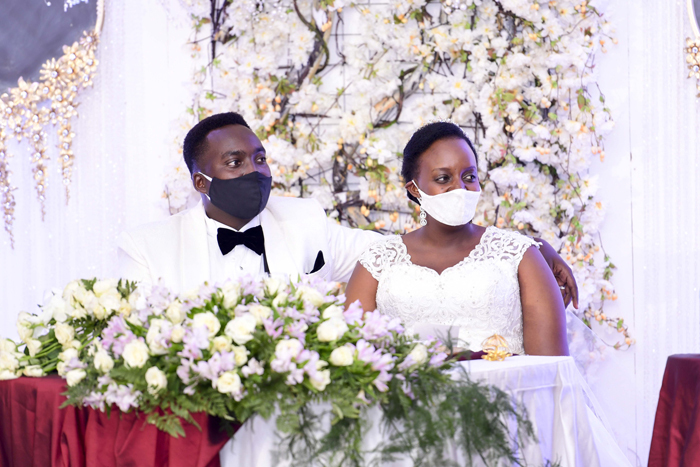 "They first undermined us because we were young asking what we were going to tell them as young as we were. But when we called these meetings we taught them how to work and they started waking up," he said.
That work, the President said, gave him a lot of friends like the Tumwines, Mabatis and so many others that joined him later in the struggle to develop our country.
"I'm happy to see a big tree that started as a mustard seed. Whatever man sows is what he reaps," he said.
He urged people to follow their footsteps and help people to get out of poverty.
"We showed them the way, use your talent, and share it with others. When you do God's will, God will also answer your needs," he said.
Museveni congratulated the couple upon getting married, thanked their parents, the Tumwine family, and Mabati family for raising their children well.
Flanked by his wife Jolly, Gen. Tumwine thanked President Museveni for sparing time out of his busy schedule to celebrate with them their children's marriage.
"President, thank you for coming to witness this day as our children celebrate their marriage. All you see now are blessings and we thank God for this beautiful day," Tumwine said.
He described Museveni as a teacher, mentor, leader and parent to him and many Ugandans. He awarded him and presented to him a gift for steering the country well during this time of COVID-19 pandemic.
The function was also attended by Karamoja affairs minister John Byabagambi, former minister John Nasasira, and Col Fred Mwesigye among others.