Godfrey Kirumira, one of the landlords in Kampala, it is no longer news for him to ask tenants for a certificate of good conduct to know their criminal records and understand people he is dealing with.
CRIMINAL RECORD
I
POLICE LETTER
Robert Sem, a city landlord, has great fear for tenants. His fear started when he nearly lost his house located in Kisugu-Muyenga years ago.
He recalls renting his residential house to Congolese nationals he never thought of being harmful. He narrates that they had never missed paying rent monthly and being a stand-alone house, he did not give it time to study the background of his tenants.
Months later, he received a call that gunshots were heard at his house and that security operatives were trying to arrest suspects who were suspected of engaging in fake gold deals.
It was later discovered that they were armed.
"It is good to understand your tenants. I underestimated my tenants and the outcome was not good. It was a woman and the other two men she said were her relatives. I even abandoned that house," he noted.
Demand for certificates
Jackson Tumwesigye (not real names) was last week found at Interpol picking his certificate of good conduct. He revealed that his new landlord had asked him to provide a certificate of good conduct as a requirement to access the new house.
According to him, he was asked to pay rent first, given receipts and later the house he booked was locked until he gets a Police letter and he would be granted permission to enter the house. The letter took him two weeks to get yet he paid for the house weeks ago.
He said from his experience, many landlords seem to be coming up with this idea to make sure they understand the people that are occupying their houses, which he thinks is a good idea.
If it's not an Interpol letter, one is asked to get a Police letter from the area he/she is shifting from. This seems to be a new idea by landlords commonly in high residential areas," says Tumwesigye
Brian Arinaitwe, a sales and marketing manager at Pearl Marina Estates, says: "It is not a bad thing to know the background of the person you are giving a house because it gives security and comfort so that if anything happens, you know where to start from."
He adds that in other international cities such as Dubai, they are already doing it.
"They already do it because if one wants to rent my house, I must know everything about you, especially your criminal records and if some landlords have started it, it's something that people must adopt. In case one runs away, you have where to begin from.
"If one is asked for that Police recommendation and the tenant doesn't want to provide, he/she should be questioned. That certificate is a must for everyone because here at Pearl Marina estate, we work with many people but everyone is asked for it," he noted.
"We are now property dealers, we build estates for sale but by the time we start renting out apartments, I don't see any problem why we should not ask tenants to provide them," said Arinaitwe
According to Godfrey Kirumira, one of the landlords in Kampala, it is no longer news for him to ask tenants for a certificate of good conduct to know their criminal records and understand people he is dealing with.
He said landlords should think of understanding their tenants while allowing them accesses to their residential houses.
"I ask for criminal records from my new tenants. It is good to know the person you are giving the house. Whether rentals or residential. That certificate is one of the requirements I need from my new tenants. I know it lasts for six months but it is safer the person provides it before entering the house," Kirumira said.
Legal minds weigh in
Isaac Walukagga of MMAKS Advocates says he has not heard of any such inquiries from the landlords but if so, such requests should be challenged in courts.
"There is no legal basis for landlords to request for a certificate of good conduct and if someone comes up with a complaint, it can be challenged," he said.
However, no one is forced to submit it or be evicted from the house for failing to adhere to the landlord's order. It is asked when one is entering a new house and if a tenant feels is not comfortable he/she can try where they are not needed.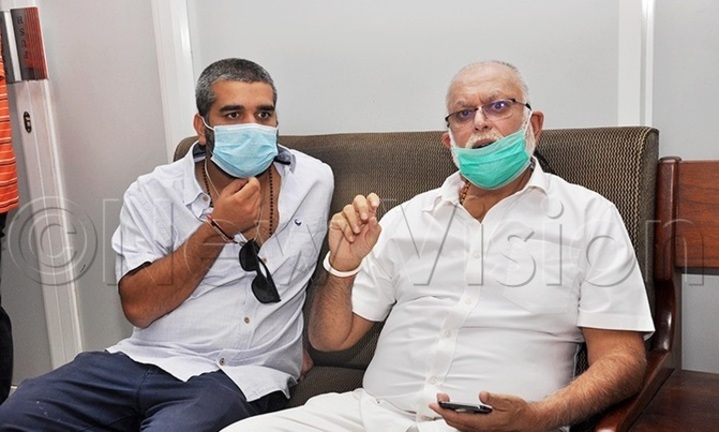 Rajiv Ruparelia, the Managing Director of Ruparelia Group which owns a string of estates, arcades, and shopping malls, said there is no clear procedure for asking for criminal records from the new tenants at the moment, but if a need arises in future, it would be better to understand the person you are giving a house.
Francis Migadde, the owner of Ray Apartments, said each of their clients is asked to provide their criminal records letter since their clients are from different companies.
"We ask for them [letters] and LC letters to know who they are. We keep checking with the human resource managers on an individual basis to make sure they have clean records. It is a good idea to know who your clients are," he noted.
Initially, certificates of good conduct were issued to people who are travelling abroad or to some companies and NGO's who ask for them from the workers. It is, however, not clear whether Interpol has details of everyone because for one to appear in the system as a criminal, his details must appear in the system as a wanted person.
How to acquire a certificate of good conduct
A certificate of good conduct is acquired from the directorate of Interpol and international relations based in Kololo. Of recent, fees have been increased from sh64,300 to sh79,450 including bank charges.
One must have valid documents of either driving permit, National ID, passport or refugee card, and two passport size photos (American standard) and this takes two weeks to get ready.