I do not see why we would fail to handle them. First of all, we have a commendable medical team that has handled dangerous epidemics such as Ebola before and have so far handled the Coronavirus.
HEALTH BUSINESS
In 1996, Regina Mukiibi, a banker together with her brother, Freddie Katamba Mukiibi registered the first funeral services management company in Uganda, popularly known as the Uganda Funeral Services. At the time, management of funerals as a full-time occupation was unheard of, although 24 years later; more than 15 have cropped up.

Uganda Funeral Services is the only company in the Great Lakes Region with a chair at the World Organisation of Funeral Operatives based in the Netherlands. It is also a member of the National Funeral Directors Association based in Washington DC in the US. Edward kayiwa caught up with the mother of fifteen, and below are the excerpts.

Q: Uganda has registered 4 COVID- 19 related deaths since the Coronavirus first broke. Do you think we have the capacity to handle such deaths?

A: I do not see why we would fail to handle them. First of all, we have a commendable medical team that has handled dangerous epidemics such as Ebola before and have so far handled the Coronavirus outbreak in the country so well. That said, we have also got funeral services providers that are specially trained to handle human remains. Currently, we now have close to 15 funeral management companies in the country, and I believe that these can handle any case arising from the coronavirus outbreak.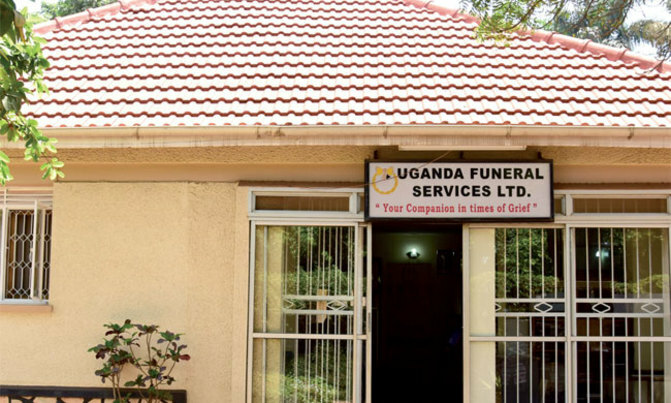 Q: The increase in the number of service providers is definitely an indicator that the industry is not doing badly. However, what is your impression of the performance of the sector?

It has been an uphill task to market the funeral services business in Uganda because many people still don't appreciate it and consider it to be rather odd. However, we are filling a public health sector gap, and at the same time transforming the ugly and traumatic face of death into a more friendly and bearable event in people's lives. We are specially trained to preserve the God-given dignity of the human body even in death, no matter what could have killed the person.

That said, however, funeral management is still a very young industry which needs support to grow. The heavy taxes imposed on our services have stunted growth of the industry, yet from observation, we see that the need for people to bury their loved ones with dignity has grown. In 2002, we complained about the taxes and they some were removed, but in 2005, they were reinstated. If you look elsewhere, across the world, funeral homes are tax-exempt, but in Uganda, interestingly, they are not. The heavy taxes are therefore crippling this promising business.

Secondly, we do not have a unifying body so that we can speak with one voice. Some time back, I tried to form an association, and I had even made arrangements with some of my foreign contacts to train our members in best practices, but they refused because they thought I wanted to bulldoze them. Without a common voice, however, we remain vulnerable.

We also do not have a pool of skilled human resources, since we do not have training facilities in the country. All players in the sector have to incur high costs to train their people, while a few others capitalise on poaching to fill their human capital gaps.


On my part as a woman and mother, I find the job to be so demanding in that many times it requires one to go beyond the call because some of the cases come in at odd hours of the night.

Many of these challenges, however, present opportunities for investment in the sector, and I want to challenge Ugandans to see and take hold of them.

For instance, the lack of skilled personnel in itself would call for investment in a funeral science training Institute in the country, which would also serve the entire East Africa region, because as we speak there is none.

Since more people are embracing the funeral management for their loved ones, more people could invest in this space which would make it more competitive and affordable. On my part, I have tried to make it affordable to all by introducing affordable packages. For instance, for sh42, 000 a year, one can get services worth sh5m. With more players, this could become affordable.

Q: How did you get attracted to this business?

Well, before I joined this industry, I was a banker working as an accountant for 15 years in the former UCB. My late brother, Fred Katamba Mukiibi persuaded me to resign and start a tour and travel business. I became a full-time manager of the travel company and saw it prosper at the time. At the time, we used to get rebut tickets from airline companies and this allowed me to travel extensively across the world. This was when I realised that we had a big gap in the public health sector in our country and opted to bring the solution.

Together with my late brother, we started benchmarking in Europe, USA and the United Kingdom, and later settled on the Funeral Science Training Institute of London for training. This is how the Uganda funeral Services was born because after the training we came back straight home to start.

Starting was hard because we met a lot of resistance since people had a bad attitude towards setting such a business in their locality. If it wasn't for the president, Maggie kigozi and the Catholic Church, I had given up on the venture.

Q: what advice would you give people intending to join the business, especially the young who are the majority of Uganda's population?

I would say that every person can identify a gap in society and take advantage of it to succeed. We can't all do the same thing and succeed, but if we each identify a gap and work towards a solution, we can have thriving businesses.

We must learn to see challenges as opportunities, and stop lamenting. The problem with Ugandans is that we love lamenting. To parents, I would say stop handling children with kid gloves and involve them in your business. Teach them while they are still young and you will not go wrong. Otherwise, we are a rich country resource-wise, and all we need to do is to identify our niche.