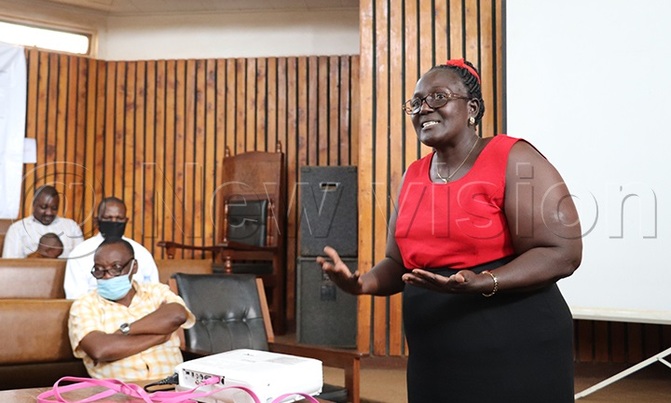 The seed is the main foundation that can improve agricultural production hence to realize this, the use of the right quality declared seeds has to be promoted.
AGRICULTURAL | FARMING
MBARARA- District Agricultural Officers (DAOs) have been asked to take issues of quality seed seriously because it is the only way Uganda will transform from subsistence to commercial farming.

The call was made by Consolata Acayo, the assistant Commissioner Information and Communication from the Directorate of Agricultural Extension, Ministry of Agriculture, Animal industry and fisheries (MAAIF) while addressing DAOs from Ankole region who were attending the Seed Policy dissemination meeting that took place in Mbarara District Council Hall.

According to Acayo, the seed is the main foundation that can improve agricultural production hence to realize this, the use of the right quality declared seeds has to be promoted by DAOs because it is their responsibility.

"If DAOs start encouraging the farmers in their districts to use quality seeds then poverty and food security will be dealt with," she said.

She added that fake seeds are everywhere on the market hence it is the DAOs role to ensure that it is stopped and that all those engaged in producing and selling them, are implicated.

To DAOs who fail to do work because they are intimidated by invisible forces, Acayo said such excuses are not accepted because, in case of any mistake in the district, it is the DAOs to be answerable hence they should use their powers to fight such forces.

Acayo revealed that to further ensure that the DAOs and all stakeholders in the seed sector do the right thing, in 2018, MAAIF drafted a policy titled The National Seed Policy 2018 to contribute to increased use of the quality seed of improved varieties for domestic, regional and international markets.

"To make sure that DAOs understand the policy, MAAIF in partnership with the Integrated Seed Sector Development programme in Uganda (ISSD Uganda) decided to organize a national dissemination meetings were they are explained to, the need to implement the policy," she said.

Eric Kakoole, the assistant commissioner policy and analysis at the MAAIF advised DAOs to always understand the seed facts in their respective districts something that will help them know which one does well in their areas hence allocating more time and resources to develop such a variety.

He asked all the districts to include more women in the formulation of agriculture policies because they contribute most to agriculture hence their involvement helps them to improve.

About the Seed Policy, he advised districts to include it in their work plans such that they also allocate resources for its implementation. This is the only way the country will benefit from the Policy.

In Uganda, most farmers rely on the homemade saved seed which is caused by insufficient availability of affordable high-quality seed and lack of trust in the certified seed available on the market.

Geoffrey Otim, Seed Systems and policy manager ISSD, said that if quality seed is not adopted in the country then the National Seed Policy will be a waste of time. Hence DAOs have to ensure quality seed is promoted.

He asked DAOs to play their roles effectively now that they have a seed policy that guides them in doing their work. He also told them to use the policy as a guiding principle.

"In the case of inadequate resources, DAOs need to work closely with development partners dealing in the seed industry to supplement their activities," Otim said.

Margret Bariyo, a representative from Isingiro district said with the seed policy, she expects the DAOs to now work hard to ensure that agriculture improves in the districts.

She added that they have been faced with the challenge of poor quality seeds hence with the policy now in place, she hopes fake seeds will be phased out.

Nelson Maseereka, the executive secretary Uganda Seed Traders association said now with the seed policy, circulation fake seeds will stop.

He asked all the DAOs to ensure that they punish all those who sell fake seeds because they are enemies of development.

According to Acayo, as a ministry, they have endeavoured to provide vehicles, motorcycles and also extension grants to district agricultural offices to handle the running of the day today agricultural works, however, many are not using these resources to the required need.

"We don't want to hear any extension worker giving excuses for failing to work. All we want is districts performing and making a difference in their respective activities," she said.

If there claims that resources are not enough, then there should be a clear justification of how they have made use of what they already have hence the ministry will see how to add them more resources.