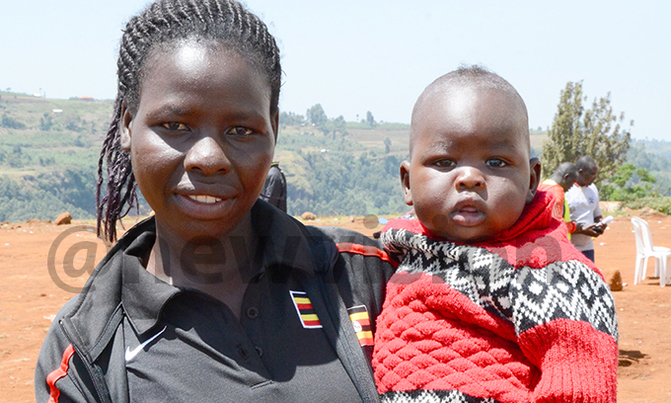 She has many idols to look to. Jamaica's multiple medal-winning star Shelly-Ann Fraser-Price is one of these.
When Mercyline Chelangat got pregnant in 2018 many in athletics circles dismissed her as yet another wasted talent.
Citing numerous athletes who have gone down that road and failed to recover, the Gold Coast Commonwealth Games 10,000 meter bronze medallist was written off.
Thirteen months after giving birth, Chelangat, 22 is about to disprove the pessimists. Her son, Jairus Kiptoo, is not only healthy, but she is also fast getting back to serious running.
Doubts about her recovery are understandable. The effects of childbirth can be particularly weakening in a sports comeback.
Changes a woman's body goes through in pregnancy and delivery include loosening of joints that can be disorienting for an athlete.
That coupled with long periods of lack of training is very weakening. But much as Chelangat says her comeback was a mountain to climb, four months later she is coping.
Equally challenging has been motherhood. "I am no longer that individual who would jump out of bed at 5:00 am and immediately hit the road for the morning run.
I have to ensure that all is well with my son before going out. I also had to get a home baby sitter to ensure my son is comfortable while I train."
In an interview last year, Chelangat said: "It has not been easy being a mother and a first time one at that. I had never babysat anyone because I'm the last born, but my mum has been very supportive; she has helped a lot because I even didn't know how to carry the baby."
On top of motherhood Chelangat, an Assistant Inspector of Police, also has to juggle the responsibilities of the police force. She is married to Police constable Benson Cheboriot.
But perhaps the most difficult bit was getting back to her highly demanding drills.
"I remember early this year it was hard getting back. I didn't have the explosive power of 2018. But I fought on and it paid off," recounts Chelangat.
"She has recovered perfectly. She is in good form and expects to see her on Uganda's Olympic team," promises Police Athletics Club coach Benjamin Njia.
Njia has for four months been keenly following Chelangat's training and is confident she is on course to regaining her elite status.
There is a lot to motivate her from her past performances.
Apart from the bronze medal, Chelangat together with Gold Coast champion Stella Chesang had 2018's fastest times in the 25-lap race.
She believes she can rise back to those heights. She has only been let down by prevailing circumstances. Chelangat like all athletes has been hit hard by the Covid-19 pandemic.
"My target is to qualify for the Tokyo Olympics. My body is responding well to training but it is unfortunate that we can't have trials at the moment.
I would have loved to gauge myself in a serious competition to know exactly where I stand."
Chelangat, who is a staunch Christian, also believes the Almighty not only had a hand in her successful childbirth but also comeback.
"I am a strong believer in prayer," she said in a 2017 interview revealing that she tithed her first earnings and then devoted her second paycheque to building her parents a house, because as she put it then, "they are God's representatives on earth."
But while many elite runners make their children a common feature of their training sessions, Chelangat prefers her son to stay at home.
In fact, she doesn't want him anywhere near athletics. "I don't want him to be a runner like me. I want him to be a lawyer or doctor."
Chelangat has many idols to look to. Jamaica's multiple medal-winning star Shelly-Ann Fraser-Price is one of these.
The 32-year-old sprint legend- who also has two Olympic 100m titles- had also been written off by some when she became pregnant and then launched a comeback last year a few months after giving birth.
She then blazed her way to the women's 100m title, becoming the first person to win four golds over the distance at the World Championships.
She stands alone in terms of the prestigious biennial meet where her four titles are one better than compatriot Usain Bolt and Americans Carl Lewis and Maurice Greene.
With stars like Fraser-Price to look to, Chelangat can only pray that the Covid-19 pandemic ends and she gets a chance to compete again.