Epidemiology is the branch of medicine which deals with the incidence, trends of spread, and most importantly, the possible control of disease outbreaks and other factors relating to health.
HEALTH
Not until this COVID-19 pandemic, the profession of epidemiologist was almost unheard of and seems quite new to a number of people.
But it is not an understatement to say that without epidemiologists, fighting corona virus could be a wild-goose chase.
Epidemiology is the branch of medicine which deals with the incidence, trends of spread, and most importantly, the possible control of disease outbreaks and other factors relating to health.

Epidemiologists have a fundamental role they play in fighting the corona virus pandemic. They do a lot of things, like rapidly responding to health threats through investigation and generation of evidence based interventions to control epidemics, and these range from Measles, Cholera outbreaks to Viral Hemorrhagic Fevers like Ebola outbreak and now the COVID-19 pandemic.

Dr. Alex Ario, an epidemiologist, is the team leader of all epidemiologists at the Ministry of Health and he also heads the Uganda National Institute of Public Health (UNIPH), an integrated control centre for epidemics, located on the 4th Floor of Lourdel Towers, Nakasero.

As a leader, Ario commands a dedicated team including volunteers that help them in the response. He says when COVID-19 was still in China, it found the Ministry of Health responding to Ebola epidemic and they simply transitioned from Ebola response to COVID-19 preparedness.
"Being a novel virus, there was an element of fear in the beginning, whether it was going to go beyond China. Then it started spreading to Europe, US and eventually to Africa. Though COVID-19 delayed a bit to reach Africa, we were nonetheless prepared for any eventuality," says Ario.
During that time of preparedness, he says they looked into their capabilities to respond, looking at various critical parameters. They set up systems to do surveillance because it (surveillance) is a component of epidemiology, which helps them to pick a disease timely when it comes into population, on top of helping them track the people who have come in contact with the persons who are infected.
Ario says even before the coronavirus pandemic, the country had experienced occurrences of some relatives of COVID-19 such as, the severe acute respiratory infection and influenza like illness, which enabled them to set up systems that can pick such diseases when they occur in the population.
On top of that, we have a very robust system of doing surveillance in the country."My fundamental role is to lead my team of epidemiologists to provide disease evidence for control to stop the spread of the virus. We look at what is causing the disease, what we call the determinants, the pattern of the disease, the distribution and the frequency of the disease," he says.

Adding, "We still go ahead to understand who is most affected/vulnerable than the other, whether it is the male, female, young or old, whether it is the health facilities or people in the community."

He says by understanding all these things, they are able to guide the Ministry to make informed decisions on the response including advising the President on the best course of action for the country.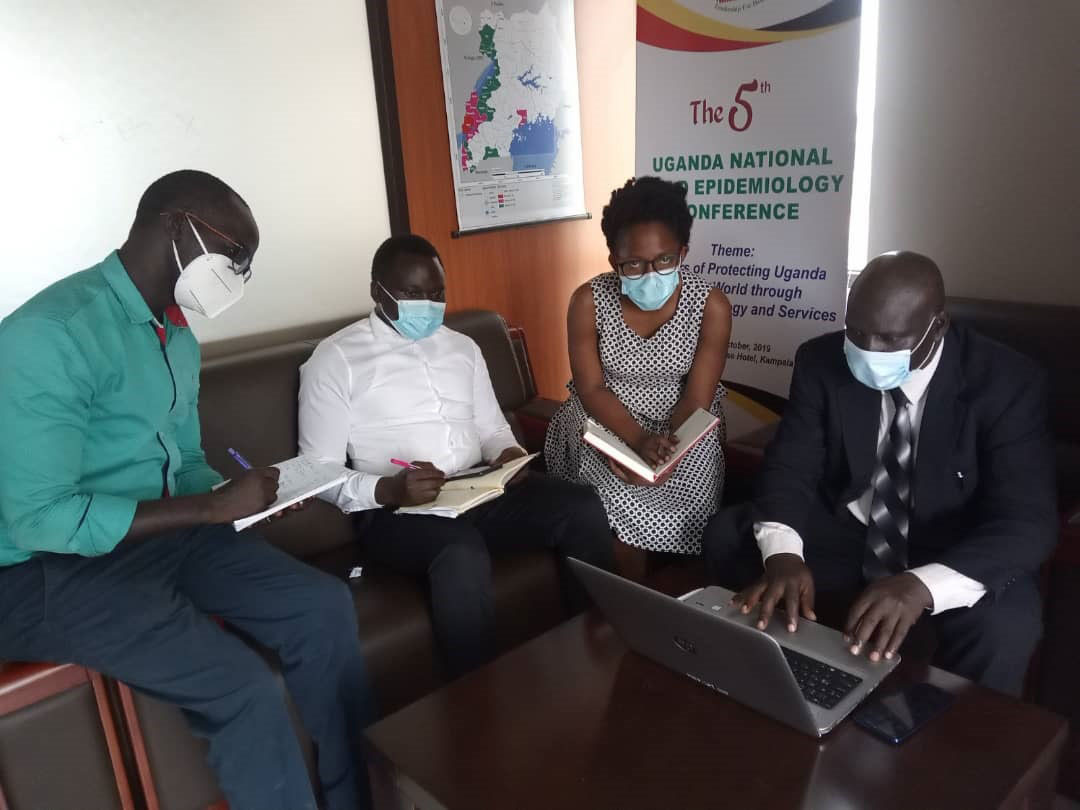 What motivates Ario?
His motivation is seeing the country safe, to save lives by ensuring that people don't get infected and to see that if the infection comes to Entebbe or Kampala it doesn't go beyond that. He says despite the personal risks, he feels obligated to perform his duties to protect the population from the scourge.

"I was also encouraged by the hard work and the passion my team of epidemiologists was putting in to save people who had contracted the coronavirus, tracing those who came into contact with them and ensuring that they get the best advice necessary," he says.

He adds: "The Ministry of Health never took chances, from the onset, it did all it could to prevent the disease from entering the country and when it eventually did, it managed COVID-19 patients very well and continued to provide necessary prevention measures for the country. That also inspired me."

He says government has used incredible efforts to fight this pandemic. There is also a lot of solidarity, information and awareness sharing and co-operation by different stakeholders, which is a powerful tool in fighting the virus, and if we continue like that, Uganda will surely bring victory over COVID-19.

Any scary moments?
Ario says when they initially started COVID-19 response, epidemiologists experienced a very scary moment when they saw the 4th floor on Lourdel building filled with an overwhelming numbers of volunteers who wanted to help in the response. They were scared that anytime they would all get infected.

The second scary moment was when some of his colleagues got infected with Corona virus as they were treating patients, and he knew that any moment any one of them would catch the virus. "But the beauty about it is that i have been working for a long time handling many dangerous infections before, so I am always alert to ensure that i do the right thing,"

Safety measures
There are some measures that all health workers must strictly observe, and these are not very different from the guidelines that we have issued to the population, like social distancing, avoiding crowded places, sanitizing, ,putting on masks etc. In their case, they use N95 mask, goggles, gloves and protective clothes if within a metre from a suspected or confirmed corona virus patient.

He says, naturally, anxiety about patients, the possibility of infecting family members and the social impact of the pandemic are being felt by many of the health workers each passing day. But by the nature of his work, having been a field worker for a while, his family knows very well that he goes to the field and they know he come back safe and sound.

"They know I am a well trained medical doctor who would protect myself, and when I am going home I make sure that I do the right thing to protect them. That gives them comfort," he says.

The birth of UNIPH
When Ario was still central in the HIV fight, he travelled everywhere in this country and as an epidemiologist; he has equally travelled far and wide, meaning he is used to it. He prides in the birth of the Uganda National Institute of Public Health (UNIPH), where he gives a lot of credit to the Hon. Minister of Health, Dr. Jane Ruth Aceng who mooted the idea of this institute when she was still the Director General of Health Services in 2013.

He says because of that, many tenets of epidemic response have been streamlined including COVID-19. He continues to say, the country now has better national coordination mechanisms, better disease detection and response, real time surveillance, good data management systems and efficient laboratory networks.

Dr. Ario fact file
BIRTH: Born in Lira District
SCHOOLS: Attended Angai Primary School in Dokolo District, Dr. Obote College, Boroboro for both O and A level, before joining Makerere University to study Bachelor of Medicine and Bachelor of Surgery.
He has an Advanced Diploma in Health services Management and Master of Public Health from Makerere University. He obtained a Masters of Business Administration and Doctor of Philosophy from California University

He is an Epidemiologist with Ministry of Health. Worked as Medical Superintendent, Apac Hospital and District Health Officer, Apac District. He worked in the AIDS Control Program for many years. He is now the Director of the Uganda National Institute of Public Health.

What others say:
Daniel Eurien, Senior Epidemiologist, MOH.
Dr.Ario is a seasoned public health leader who has worked at all levels of the health sector, who has made it his life's mission to instil his vast experience to build capacity of next generation of Uganda's next public health leaders.

Being an amiable person with an open door policy to all regardless of rank or background has endeared him to many. I find his approach of treating his mentees as colleagues an important leadership attribute that helped build confidence of many. I therefore count myself lucky having benefited from his mentorship.

Claire Biribawa, Senior Epidemiologist, MOH.
It is now close to four years and I feel blessed to be working under the leadership of Dr. Ario, a dedicated, passionate and charismatic Epidemiologist.
He works tirelessly to ensure that for any given outbreak we are able to identify risk factors and evidence based interventions are implemented in order to control the outbreak and prevent future outbreaks. He has good teamwork spirit and makes each one of us feel a sense ownership when responding.