Kalere stopped in Senior Six, after failing to raise school fees to continue with his education. He then joined business in Kampala dealing in electronics, but later found passion in farming after visiting a number of farmers and talking to experts.
FARMING|AGRICULTURE

As many Ugandans burn their fingers over venturing into businesses without research, Philip Kalere 46, the director of Gomba Next Generation Model Farm has walked the journey with experts, making his farm stand out in Gomba district.

As you approach his farm, a beautiful scenery of greenery from the pasture, trees planted to act as windbreaks, banana plantations and infrastructure indicate the zeal and commitment of the proprietor towards his business.

The farm is Kalere's full time job, with his family saying that before dedicating all his energies and time as a business, he was losing a lot of money just of out of the workers' negligence.

THE FARM'S GENESIS

Kalere stopped in Senior Six, after failing to raise school fees to continue with his education. He then joined business in Kampala dealing in electronics, but later found passion in farming after visiting a number of farmers and talking to experts.

"I was into business in Kampala but would hear the president advise especially the youths to venture into agriculture because it's the backbone of Uganda's economy", he said.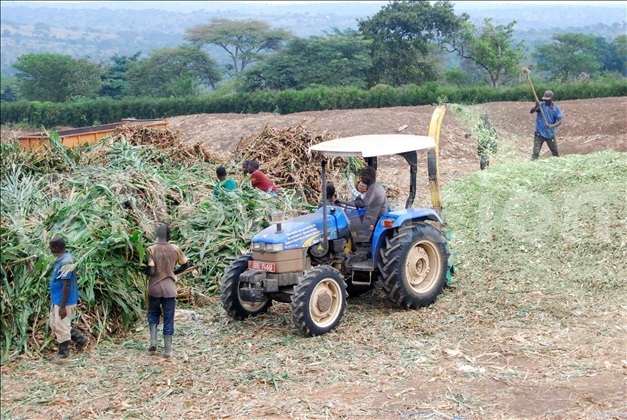 In 2016, he ventured into farming after acquiring 100 acres of land that he bought at shs3m each. He was into bull fattening, targeting markets during the rainy seasons when other farmers would not sale their animals. As he sold his animals, he continued buying land and later switched to dairy.

"After making the decision to venture into farming, I looked around experts who would hold my hand and walk the talk. Among the experts is Dr. Jolly Kabirizi, a retired researcher with the National Livestock Resources Research Institute (NaLIRRi) and Dr William Kabanda, the farm veterinary doctor," he recalls.

These two have been fundamental in training him and giving him hands-on management skills as they have held his hand to walk the journey of farming. "I also attend trainings organized by NAADs and other government institution and shows like the Harvest money Expo at Namboole where we meet several experts.

The farm now lies of a 400-acre piece of land at Kigezi village, Maddu subcounty in Gomba district on which he has a dairy farm under zero grazing with over 200 cows, a banana plantation on 25 acres and over 200 acres of pasture.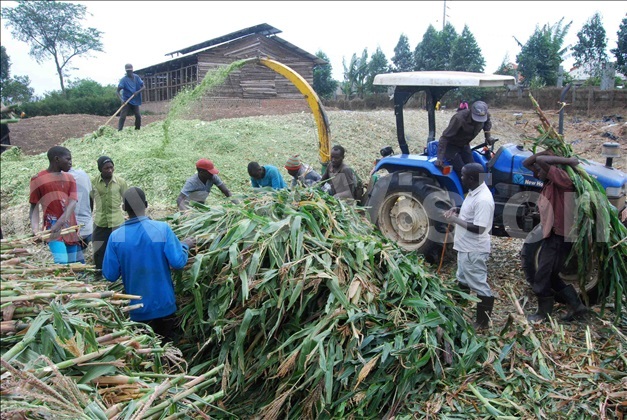 GROWING PASTURE

"From the research, I found out that feeds account for over 70% of a farm's production cost. After acquiring this land in 2006, I planted pasture before procuring the cows," he said.

He planted over 100 acres of chloris gayana from which he makes hay and silage to feed his cows. "I now have enough pasture such that in the event of drought, my cows would not be affected," revealed Kalere.

He also planted over 200 acres of maize, mostly the Hodali variety from Kenya that yield 1½kgs of forage per plant. It matures in 90 days. If one spaced it at 25cm by 70cm, one can harvest 40 tonnes of silage from an acre.

Making silage from maize

The maize is cut down using human labour and fed into a chopper hooked to a tractor. Workers only have to feed the machine with whole maize plants, that is, stalk, leaves and cob and it is chopped into smaller pieces.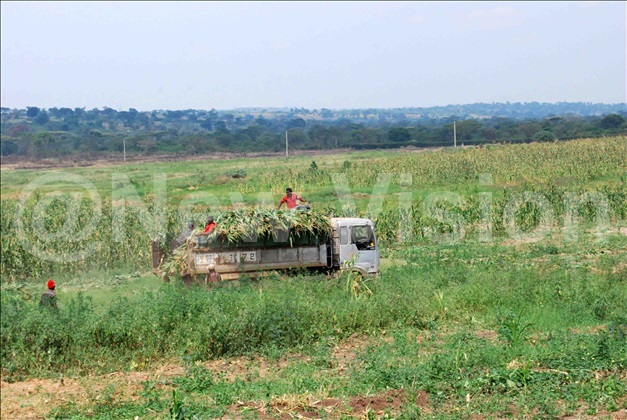 The chopped forage is heaped in one place and covered with a black polythene sheet, before it is compacted using a tractor. "If well-compacted with no air spaces, in about three weeks it will be ready to be fed to the animals. If it is not compromised by moisture and air, it can be kept for years."

Making Hay

For the hay from Chloris gayana, he uses a New Holland tractor, equipped with a sickle bar for cutting the grass and left standing to dry from the gardens. He uses a baler to compact and bale the grass. The bales are kept in a clean and dry store.

"We have plenty of pasture, but we still want to have more pastures because we plan to have about 800 dairy cows and also make it as another business by selling pasture to other farmers. We are already selling pasture and we believe it can be a viable business," he added.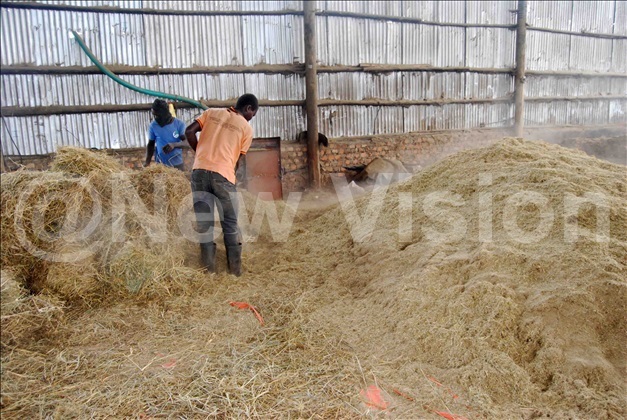 He has now cleared another 50-acre piece of land to plant lablab and other legume pastures to increase on the nutrition intake of his cows.

THE HERD

After securing pasture to feed his cows, he brought cows to the farm in 2018. He started with 50 cows he bought from various farms.

"A cow that will give you 25 litres of milk a day will cost about sh5m. Many farmers tend to sell only mature cows with problems, therefore, we opted for heifers."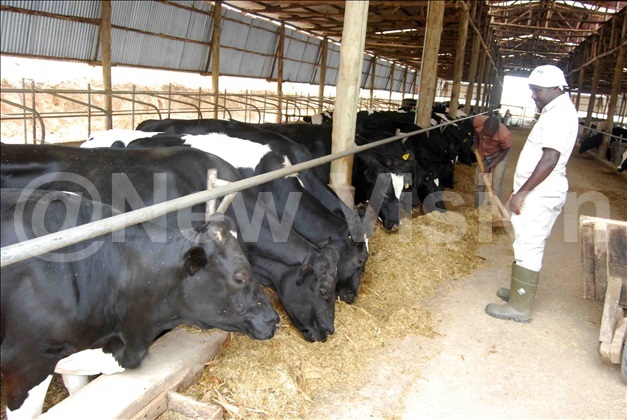 From research, Kalere learnt that a cow makes milk every after eight hours and if it is not milked, the body will be reluctant to make more. Thus, Kalere's cows are milked three times a day.

They have 60 milking cows yielding 1,100ltrs of milk a day. The rest are in-calving, heifers and 20 young bulls that we will fatten for beef," he says.

The farm uses sexed semen, getting more heifers than bulls. The farm is focused on stock multination to improve milk production because we aim at getting a cow that can produce 40 litres a day.

MARKET

The milk is stored in cooler before it is transported for sale in a milk tank truck. The truck not only transports his, but other farmers' milk as well to promote cooperation, which attracts higher prices.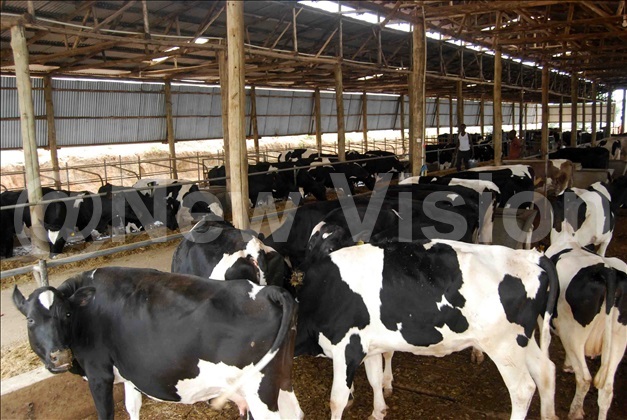 Part of the milk is transported to Kampala, while the rest is sold at local entities like Gomba Dairy at Sseguku along Entebe Road, Bugolobi and Kalerwe at sh1, 000 a litre.

SPECIAL CARE

The pen is washed clean twice every day to ensure proper hygiene and prevent diseases that would result from poor hygiene. The gunk is then taken to the banana garden as fertilizer which has improved soil productivity, yielding big bunches that fetch more money.

He chops the hay and mixes it with silage, before feeding his animals. "This makes the pasture nutritious and palatable," he said.

The animal shelter is surrounded by crops, which has prevented cows from neighboring farms from entering his farm, preventing the spread of diseases and ticks.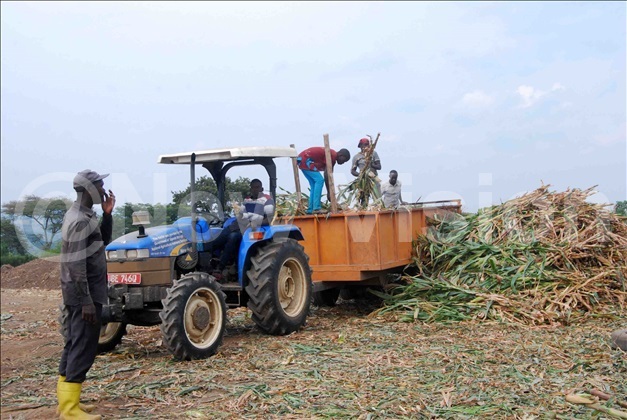 IMPROVING THE BREED

His aim is to have over 800 milking cows with each producing 40 litres of milk a day. To reach this goal, he uses sexed semen imported from the USA and other countries known for high quality breeds.

"Because we understand that it is from those heifers that we will attain our dream, we take good care of our calves right from semen selecting to caring for them as they grow. We give them milk and concentrates which make them grow strong and healthy."

BANANA PLANTATION

At the beginning of 2019, he ventured into growing bananas on 25 acres. He opted for local varieties like Kibuzi, Musakala, Mbwazirume and Nakitembe that he bought from AGT laboratories at Buloba at she2, 500 each, for the first five acres for multiplier.

After the five-acres multiplying, we then started planting the other acres to the current 25 acres of matooke the farm has.

The spacing was 4 meters by 4 meters. Each acre has 250 plants and he harvest an average of three bunches per clump. Thus, he harvests 18,750 bunches of matooke a year, with each sold at sh10, 000.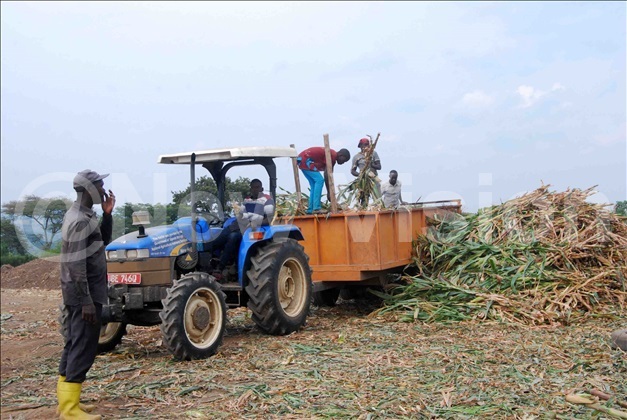 WATER

Gomba suffers long dry spells. Therefore, Kalere has to think about water availability for a sustainable farm business.

"We wanted to dig underground wells, but the three attempts we made, were futile. We then went to harvesting running water and dug a dam of about 60 meters by 20 using a tractor and we collect water for the animals and home consumption." He said.

He adds that because they have plans of irrigating the banana plantation and pasture gardens, they have dug two other dams to collect more water.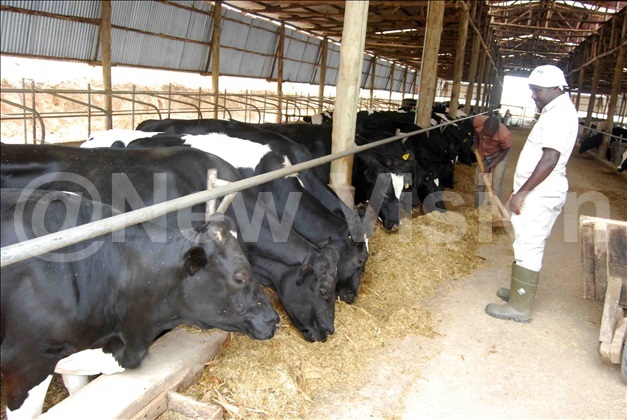 SECURITY

The farm is surrounded by a live fence called 'Olukoni', reinforced with a barbed wire. Just as you turn off from the main road, is a main gate kept locked all the time and only authorized persons are allowed access.

About 300 metres from the main gate, is a footbath for both human visitors and vehicles.

WORKERS

The farm has 15 permanent workers with each paid between sh150, 000 and sh300, 000, depending on their roles.

When making silage, about 30 casual workers are employed and paid sh7, 000 a day. These work under strict supervision to avoid cheating.

Labour costs sh4m per month.

"Both permanent and casual workers are served with breakfast and lunch but the permanent are housed at the farm and served with supper," he said.

He said because the farm is his business and want to run it professionally, there are professional employees like the veterinary doctor in charge of artificial insemination, the doctor among others. This is to have a professional and well researched touch on the farm for better results.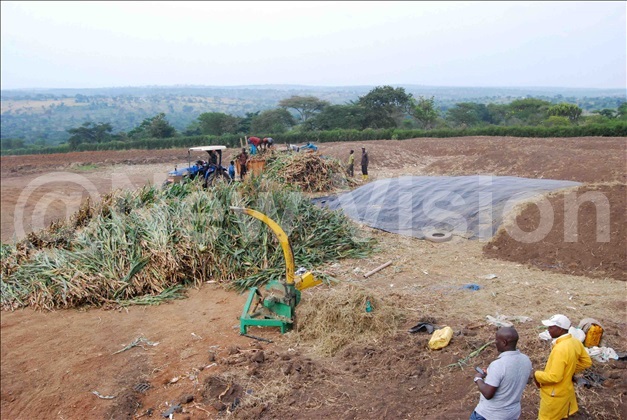 COMMUNITY IMPACT

The farm is about 16km from Kigezi, the nearest town. Kalere invested in extending electricity to his farm. Therefore, the villages were connected to the national grid.

There is plenty of milk in Gomba and the surrounding areas, but farmers were struggling to access market. Kalere, bought a milk truck that collects milk from the community, records each farmer's output and takes it to the various selling outlets like Gomba dairy at Ssekugu. This has increased the price of milk and the returns as well.

"Before establishing this farm, it was difficult to find a well-managed banana plantation because the community people perceived this area as one where banana don't grow. However, after seeing how beautiful hour plantation is, they have now started planting bananas," he narrated.

BOOK KEEPING

The farm is sectioned into departments, with each having its own manager. This makes record keeping simple as every department supervisor is mandated to make a report that they submit to the director every day showing expenditure and income as well as other activities of the day.

He explains that, after registering this farm in 2019 as a business, they opened up an account where their revenue is kept.

FAMILY INVOLVEMENT

He stated the wife in also part of the farm but by the time I visited, there were three of his children at the farm directly involved in farm activities.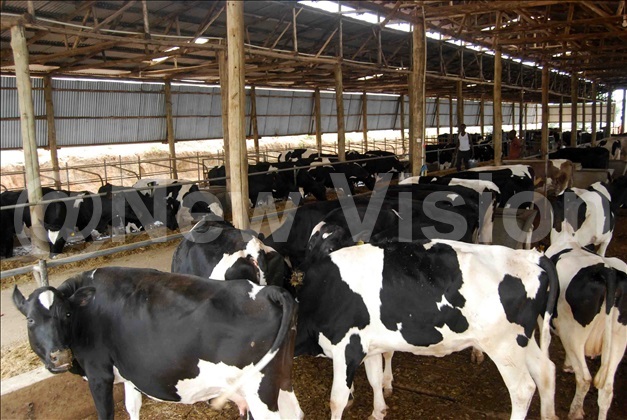 Leticia Batamuhiza in her S6 vacation says although she was not used to farming from her childhood, the time she has been to the farm has shown her that agriculture is the way to go.

"I have picked much interest in the dairy section. For this I have learn silage making, milking and cleaning the pen, among others. I have learnt that success in life takes love for work, commitment and expertise," she revealed.

She intends to study business accounting at the university to help her father in the department of bookkeeping to ensure sustainability of the farm.

Deo Luzindana, in S3, said the lockdown occasioned by COVID-19, has given him the opportunity to learn a lot in agriculture. He has been fully involved in farm activities like caring for calves and banana plantation where he discovered that farming is a profitable venture and has dreams of expanding the family farm.

MISTAKES

"The mistake I remembers was not giving full time to the farm but think I would get 100% profits. When I devoted myself to the farm, I realized that I more than tripled the revenue I earned from my farm", he recalls and advises anyone who wants to venture into farming to so give take it as a full-time commitment.

CHALLENGES

Kalera says that challenges are unavoidable but they are trying to work around them. One of the challenges is workers who at times don't know what to and yet they don't want to learn. Therefore, they must be under strict supervision which at times my not be available.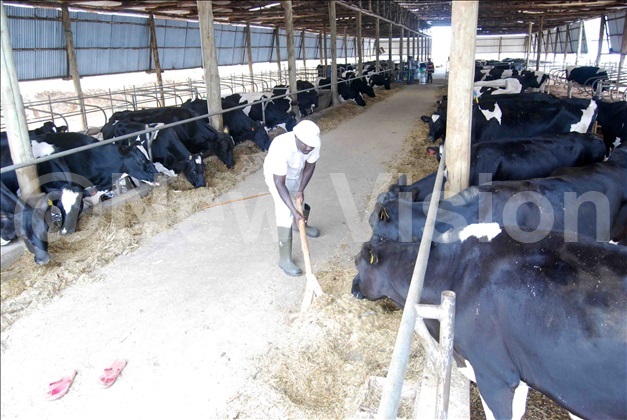 COVID IMPACT

He explains that pandemic really slowed business because the market was limited. But because they have their own milk truck and agricultural produce delivery vans were allowed to move; they would still transport the milk to the selling points.

"We have a buyer who we have been supplying 40 bunches of matooke every day at shs15, 000/- a bunch. These provided market for the matooke", he says.

Kalere says that this experience has greatly impacted their expansion and innovation plans as they want to build coolers, milking palla and value addition not only for the milk but also matooke to have products like wines, flour among others.

PLANS

Kalere says he wants this farm to be the best and most modernized farm in Uganda and in the region. For this he is investing into mechanization where he is building a modern mechanized milking parlor alongside a storage room with coolers for the milk.

"With the aim of attaining 800 cows with an average of 40ltrs per a cow a day, we need to have machines for milking and also a storage facility to keep safe and in the best condition the milk we will be getting," he says.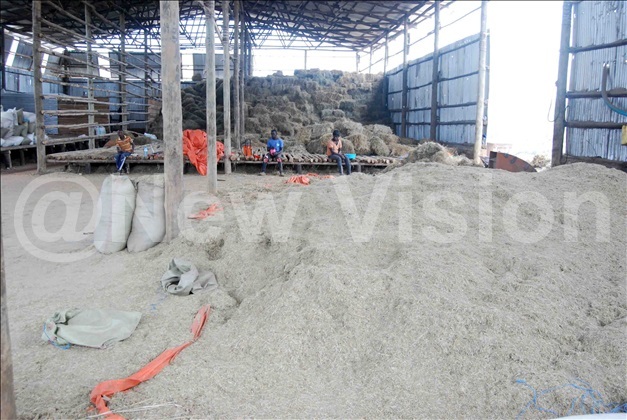 There are also plans of constructing a processing unity of electricity from Bio gas that will be used to run the milking machines and the coolers and then after process fertilizer. This will not only reduce on the expenditures but also create another income generating venture for the farm.

Residents speak out

Carlos Pambala, farmer: I think this farm will be the best farm in Uganda where we can learn much on dairy farming because there are many things like pasture growing, processing that make farming lovely and profitable.

Racheal Mugisha, farmer: I came to fall in love with farming when visited this farm. I was moved and overwhelmed by the professional ways Kalere does his things. It's a true testimony that if you entered farming with passion and love guided by a clear vision and goal, the sky will always be the limit.

Simon Kavuma, Community youth: I thank Kalere for his commitment into modern farming. At this farm you can see and experience the technology and innovations in farming that have been talked about for years by experts. With such farms we will get hands on experiences that we can use to transform our own farms to become more profitable.