Causes include friction while handling hard tools, gardening without protective gear which exerts pressure on the dermis leaving it dry and blistered, as well as using sanitizers and exposure to air conditioning.
SANITIZERS I MOISTURIZERS
"My hands are hard," is a common complaint. But, how many follow it with finding a remedy, is a statistic for another story. This begs the question, what causes hard hands?
According to Stella Nabuguzi, a beautician at Sparkles Salon, a number of things lead to hardening of hands. These include; exposure to fire or heat, hard soaps (detergents, JIK) which absorb, moisture from the hands leaving them peeling and cracked. Not moisturizing hands- letting them dry a lot, also contributes to hardness.
Other causes include friction while handling hard tools, gardening without protective gear which exerts pressure on the dermis leaving it dry and blistered, as well as using sanitizers and exposure to air conditioning, which make the skin dry if ones does not apply a moisturizer.
Harriet Josephine Nafula, the head beautician, Inspirations World of Beauty, says many things cause hands to harden. "These range from welding, mechanical work, driving a lot - if you keep your hands on the steering wheel for long hours, farming, aging, spending a lot of time typing away on the keyboard and genetics.

"In addition, the acetone used to remove artificial nails also dries and burns hand skin, leaving it hard. As a precaution, one should avoid alcoholic nail polish removers. Persons with sensitive skin need to be extra careful with the products they apply on their hands as the wrong products increase chances of hard hands," explains Nafula.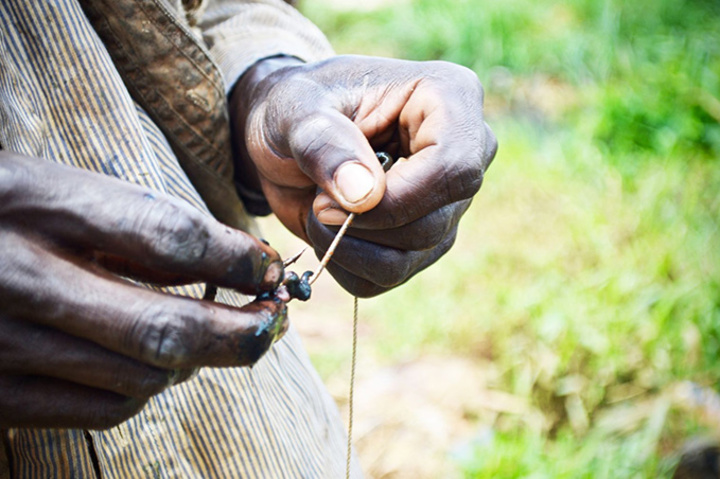 Reliefs for hard hands
Exfoliate them: One can use scrubs (it does not matter what skin type you have, anything can do) and then steam them a bit (at least once a week).

"Wet your hands and then apply the scrub, lightly rubbing it on and then place them above a bucket of steaming hot water for 10 - 15 minutes. Then rinse and apply a moisturizer," says Nabuguzi.
Alternatively, she adds, "One can make their own scrub by simply mixing sugar, lemon and some olive oil. The quantity you use depends on the size of your hands."
Always carry moisturizer (yes, even men!!), "You pick out your moisturizer according to your skin type, if you have oily skin, avoid lotions with heavy oils like coconut and argan instead use lotions with avocado oil," adds Nabuguzi.
Soaking them
"You simply put some essential oils like olive oil in warm water and you dip your hands into the water for roughly 5-10 minutes. Do this at least once a week," she advises.
Use protection like cooking mittens or gloves. In addition, immediately after washing, apply a moisturizer. Avoid hand lotions, unless you have added some drops of oil to them, cautions Nafula. It is better, though, to invest in a hand crème as it leaves hands well moisturized.
Eat lots of vegetables as they contain phytol proteins, which help a lot with the skin. Supplement this with drinking water as it keeps one's skin hydrated.
Prevention
Avoid using cotton towels and instead, use satin/silk ones. Nabuguzi explains that cotton towels usually absorb a lot of the moisture from the hands - far more than recommended.
"It is far better to apply a moisturizer to your hands when they still have water traces. Do not wipe them dry. It is also important to note that wiping the body with cotton towels is not good. The towels rid the skin of any moisture and skin protecting oils.
If you use cotton towels for the body, you must apply a moisturizer all-over, which might be hard to do. You are better off using a lesu/kanga to wipe the body; the same applies to hands, so that some water remains on the hands," cautions Nabuguzi.
Visit the spa

For hands which are okay, go every two weeks for a manicure and for those whose hands are badly off- cracking nails, peeling, tough and corny skin, they can have a manicure every week.
As a rule for hand care, Nafula says one should at least receive a professional touch once a month. This also helps to avoid contracting fungal infections and treating them early if detected.
Where the hands are hard due to aging, one needs to do anti-aging treatments for hands and nails, using products rich in tea tree oil.
For women of childbearing age, Nafula advises disclosing to the beautician about a pregnancy. This is because the sensory nerve endings are concentrated in the centre of the palm of your hands and feet. If massaged too hard, during the first trimester, this may cause miscarriage.
How to massage the hands
While attending to the hands, it is common practice for the beautician to give a client hand massage, adds Nafula. Whereas this is good for easing tension and increasing blood flow to the hands, consequently softening them, it is better to do it gently.
A beautician should follow gentle movements, from the elbow to the tip of the fingers, using either massage oil, or almond oil, among others.
In case one has very hard hands, Nafula recommends using hand boots. These are glove-like treatments that warm the hands while ridding them of accumulated dead cells. "If you receive weekly hand treatments using boots, you will notice an improvement within a month."
Alternatively, if the time to access the spa for a professional touch is limited, Nafula advises using home remedies at least once a week. Make your own exfoliator using lemon and sugar, and gently scrub with a pumice stone, to rid the hands of dead skin. And thereafter, apply a hand crème moisturizer.
An experience at the spa
Having a manicure is not just about filing nails and slathering colour on them, it also involves sharing a bit of nail history. Questions like, "When was the last time you had a manicure", "what work do you do?" or "Which shape would you like your nails to be filed in?" are asked.
These questions help the beautician to gauge the products they are going to use and how much time they are going to spend attending to your hands.
Before the beautician attended to my hands, she put cream on them, "to soften the cuticles", she explained. She then used a cuticle pusher to push the nonliving tissue around my nails.
She proceeded to file my nails into the desired shape and then applied an apricot scrub to my hands and lower arms. She mentioned that this was to soften my skin and rid it of any dead cells.
After gently wiping it off with a warm damp cloth, she massaged olive oil in circular movements, starting from the elbows to the palm, which made the skin noticeably softer and begin to glow. She wrapped it up with a paint job.